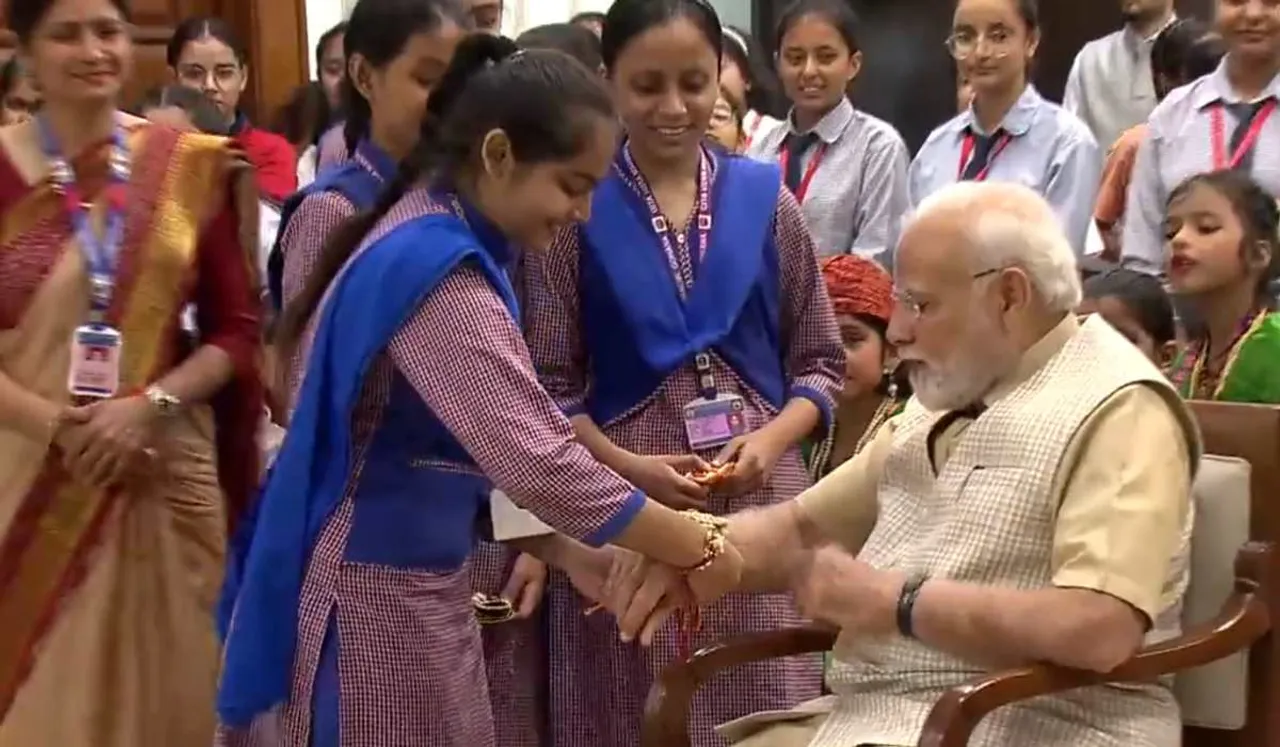 In the spirit of the festival of Raksha-Bandhan, politicians from the Prime Minister of our nation to Chief Ministers Arvind Kejriwal and Yogi Adityanath and Union Home Minister Amit Shah celebrated the festival of Rakhi, promising the women of the nation safety and empowerment.
While these little schoolgirls in Delhi celebrated the festival of Rakhi with Prime Minister Narendra Modi, it left us all in awe.
Raksha Bandhan 2023: Watch Delhi School Girls Tie Rakhi To PM Modi:
On August 30, Prime Minister Narendra Modi celebrated the festival of Raksha Bandhan with schoolgirls in the nation's capital, Delhi. The schoolgirls tied the sacred thread of rakhi, celebrating the festival of the bonds of brothers and sisters.
As the Prime Minister entered the classroom, schoolchildren greeted him with smiles and tied sacred ties of rakhi to him. While PM Modi also greeted them with affectionate smiles, asking them their names and classes. The rakhis that were tied to PM Modi were customised with his photograph on the rakhis.
#WATCH | School girls tie Rakhi to Prime Minister Narendra Modi in Delhi, as they celebrate the festival of #RakshaBandhan with him. pic.twitter.com/Hhyjx63xgi

— ANI (@ANI) August 30, 2023
In the adorable moment, one little girl even gave a peck kiss on the Prime Minister's cheeks as he bent to give them blessings, making him smile and caress her affectionately in awe of the cute gesture.
In the wholesome celebration, PM Modi also posed for photographs with schoolgirls and teachers. The Prime Minister also greeted the whole nation at the festival on his X handle, wishing the nation Happy Rakshabandhan, as he wrote. The festival is dedicated to unbreakable trust and immense love shared between brothers and sisters. This auspicious festival is a sacred traditional reflection of our culture. He wishes this festival would fill everyone's lives with love, respect, and harmony.
मेरे सभी परिवारजनों को रक्षाबंधन की हार्दिक शुभकामनाएं। बहन और भाई के बीच अटूट विश्वास और अगाध प्रेम को समर्पित रक्षाबंधन का ये पावन पर्व, हमारी संस्कृति का पवित्र प्रतिबिंब है। मेरी कामना है, यह पर्व हर किसी के जीवन में स्नेह, सद्भाव और सौहार्द की भावना को और प्रगाढ़ करे।
— Narendra Modi (@narendramodi) August 30, 2023
Apart from PM Modi, many schoolgirls tied the sacred thread of rakhi to CRPF Jawans in Udhampur district of Jammu and Kashmir in the spirits of them protecting them like a brother and as they are far away from their homes and sisters. In the Samba district of the Valley, BSF Jawaans celebrated the festival of Raksha Bandhan with schoolchildren.
Uttar Pradesh's Chief Minister Yogi Adityanath announced free bus rides to women in the state as a gift of Rakshabandhan after he celebrated the festival with schoolgirls tying rakhi to him.
---
Suggested Reading: Sisters Tying Rakhi: Women Can Be Protectors, Not Just Protectee