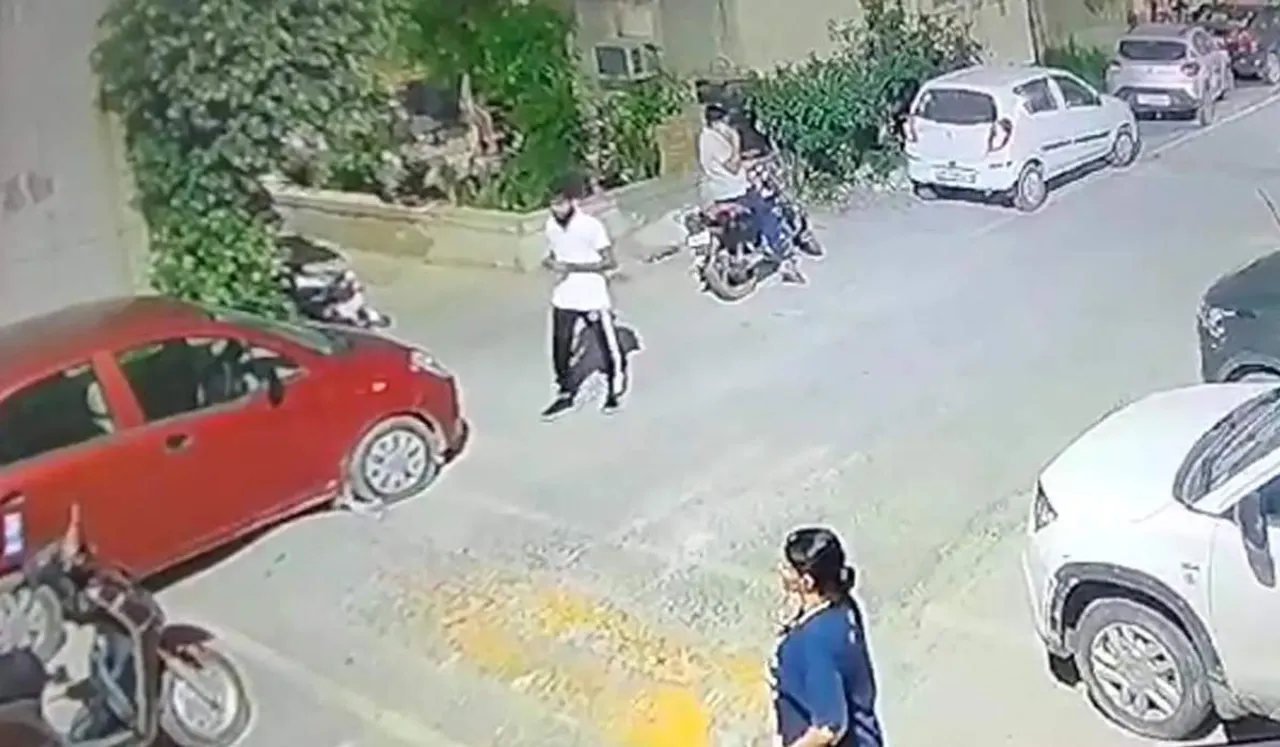 A CCTV video from a locality in Delhi revealed how a woman aggressively attacked a delivery agent on the road after he sought her help to figure out an address.  
According to reports, the incident happened in Delhi's Dwarka area where the woman created a terrifying scene upon being asked by a delivery agent for an address he was looking for to deliver some products.
Woman Attacks Delivery Agent With Knife
The Delhi police recently arrested a 42-year-old woman from Delhi's Dwarka sector 23 for allegedly attacking a delivery agent with a knife and assaulting a police officer. 
The incident was caught on CCTV where the woman could be seen walking past a delivery agent who attempted to engage her in a conversation to seek the woman's help in locating a delivery address. The woman swiftly turned around and attacked the delivery agent with a knife gripped in her hand slitting the man's throat. She then seizes the keys out of his scooter and flings them into the bushes.
The footage further shows the delivery agent dismounting from his scooter as the woman forcefully pushes his scooter to the ground. Several onlookers approached the scene to de-escalate the scene gathering a small crowd an argument breaks between them and the woman. As the delivery agent turned to talk to the crowd the woman repeatedly attempted to slit the tire of the delivery agent's scooter for 20 seconds.
As the police approached the scene, the woman continued brandishing her knife towards the crowd and kept one foot on the vehicle. The woman also picked up a stick and started damaging nearby cars and police vehicles after the knife was snatched away from her.
Her assault escalated further as she tried resisting her arrest by pulling the hair of a woman police officer and scratching her. Eventually, she was apprehended and taken to the police station. 
The residents shared that the woman was a tenant living alone in DDA flats and has a history of igniting such disputes with her neighbours while no actions have been taken against her. 
The delivery agent identified as Golu sustained some severe injuries and is undergoing treatment in a hospital. He recounted in his statement to the police that he arrived in the area to deliver a package when he approached the woman to ask her to help him with the address but she suddenly started hurling abuses and attacked him. 
He also alleged that the woman used a brick to damage his scooter and chased him while holding a knife in her hand. 
A case has been registered against the woman and she now faces charges of endangering other's safety and assaulting a police officer. 
---
Suggested Reading: 'I Got You': Delivery Guy Helps Woman Plan Surprise For Fiancé