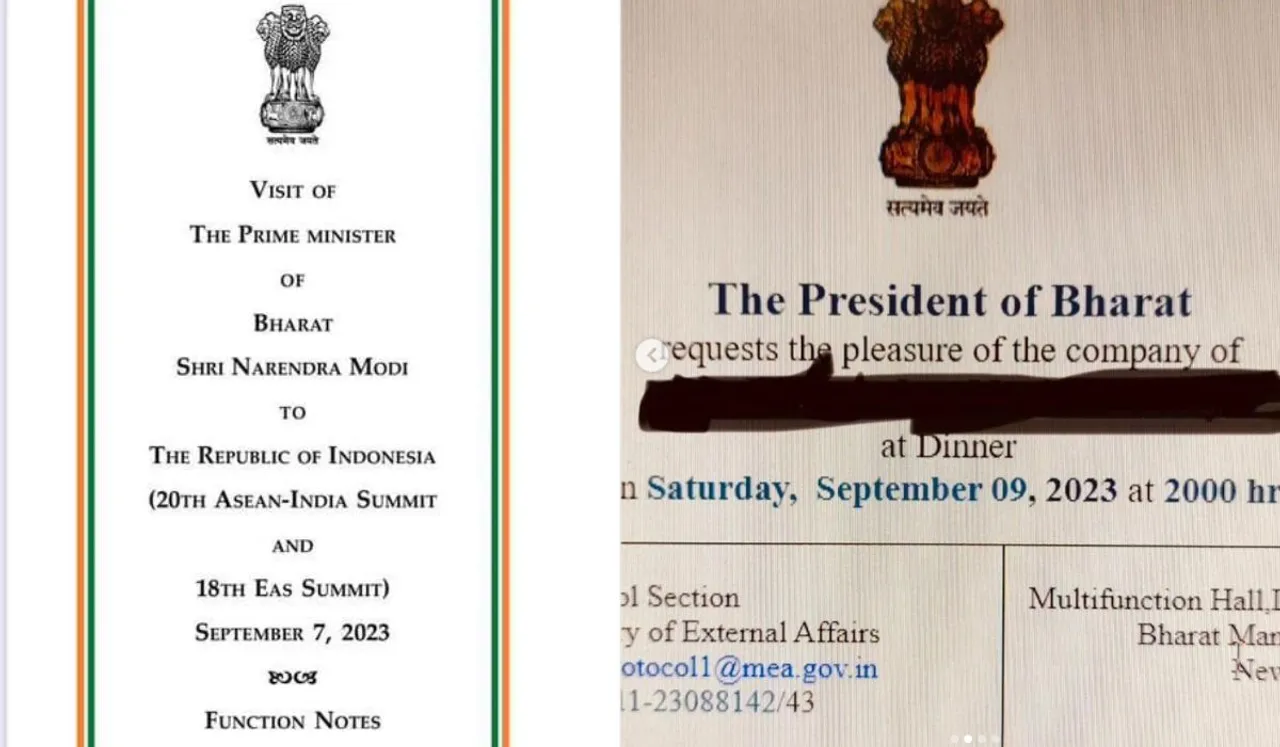 The decision to use the 'President of Bharat' instead of the conventional 'President of India' on official G20 Summit invitations has generated significant attention and discussion. This move, occurring just days before a special parliamentary session, has stirred heightened political tensions.
The use of 'Bharat' has extended to an official G20 booklet designed for foreign delegates, titled Bharat, The Mother of Democracy. This booklet emphasises that 'Bharat' is the country's official name, referencing its presence in the Constitution and discussions held between 1946 and 1948. This shift in nomenclature on the global stage becomes particularly significant as India prepares to host prominent world leaders, including US President Joe Biden and UK Prime Minister Rishi Sunak.
BJP Spokesperson Shares Official Note
Additionally, BJP spokesperson Sambit Patra shared a document regarding the Prime Minister's visit to Indonesia, where he was referred to as the "Prime Minister of Bharat."
The Prime Minister Of Bharat' pic.twitter.com/lHozUHSoC4
— Sambit Patra (@sambitswaraj) September 5, 2023
Rumours Regarding The Bill For Formal Change 
Sources have indicated that the government may introduce a resolution to officially change the country's name later this month during the five-day special session of parliament commencing on September 18. Reports indicate that the Union government might potentially present a bill during the upcoming special session of Parliament scheduled from September 18–22 to formally change the name of India to 'Bharat'. 
Opposition And Controversy
While there hasn't been an official confirmation regarding the introduction of the renaming bill, numerous opposition figures have shared official invitations that clearly reflect alterations made in the wording of the invitations.
The decision prompted sharp criticism from the Opposition, with members of the Opposition INDIA bloc accusing the Narendra Modi government of "manipulating historical facts and creating divisions within India."
Sharad Pawar, the leader of the Nationalist Congress Party, firmly asserted that altering the country's name was not within anyone's authority. He expressed bewilderment at the ruling party's concern over a name, in this case, the INDIA bloc, which is connected to the country. He said, "I don't understand why the ruling party is perturbed over a name (INDIA bloc) related to the country"
G20 Summit India
The G20 Summit, presided over by India, is scheduled to take place in New Delhi from September 9 to 10. This prominent global event will be attended by various world leaders, with the notable presence of US President Joe Biden among them. Furthermore, reports claim that the identity cards for Indian officials attending the G20 Summit on September 9 and 10 will now bear the designation 'Bharat Official'.
---
Suggested Reading: Here's What You Need To Know About 2023 G20 New Delhi Summit