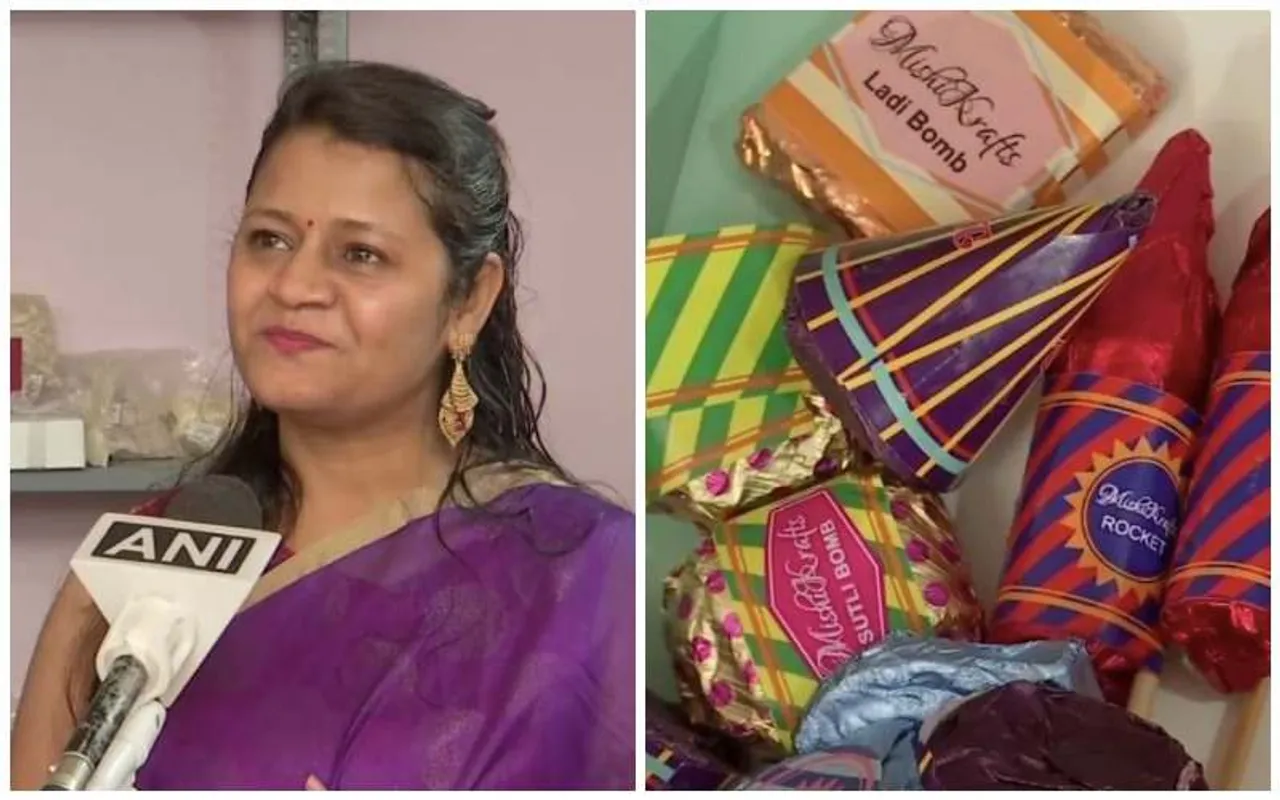 Following the message of having a green Diwali on November 15 this year, a Bengaluru-based chocolatier is selling cracker-shaped chocolates at her shop in Karnataka. With COVID-19 on the rise, surmounted by fears of air pollution that surrounds the festival of Diwali every year, these chocolates are as eco-friendly as crackers could get. The chocolatier, Priya Jain, has thus come up with the innovative messaging of "don't burst crackers, eat crackers" this time to keep environmental damage at bay. Stomachs may grow a little. But who minds putting on some extra kilos around Diwali?
Also Read: History Repeats Itself: Tanishq Pulls Down Ekatvam Diwali Ad Amid Religious Outrage
"Many kids, as well as adults, cannot think of a Diwali without crackers. So, I decided to make sweets in the shape of crackers," Jain told ANI. The customer response to her chocolate creations have been fantastic, she claims. A customer was quoted saying, "I tried these chocolates and they are very tasty. The sweets are of several different flavours. I have ordered it for all my friends and will gift it to some of my colleagues as well. I will suggest everyone try it."
Karnataka: Ahead of #Diwali, Bengaluru-based chocolatier has come up with the concept of 'Don't burst crackers; Eat crackers.' She has named chocolates after crackers like rockets, sutli bomb, Laxmi patakha, Flower pots, among others. pic.twitter.com/hnyGcZKEmB

— ANI (@ANI) November 12, 2020
The Internet Is Buzzing With 'Sweet' Talk
That Indians love their sweets whenever the festive season rolls around is now commonly understood. We reported yesterday how American actress Mindy Kaling, who has Indian roots, took to social media to enquire about sweets in Los Angeles in the run-up to Diwali. She was joined in her excitement by Meena Harris, the niece of Vice President-elect Kamala Harris, who too shares a South Indian ancestry. The duo's discussion on mithai had kicked up a gastronomic storm on desi Twitter and left many salivating in the comments below. Read more here.
omg please share

— Meena Harris (@meenaharris) November 10, 2020
Also Read: Why Dysfunctional Indian Families are like Chai
Other Indian Women Celebrating Unique Diwalis
Many women across India have been bringing their own spin to Diwali products as the festival approaches. We reported earlier how rural women in Jaipur, Rajasthan, and other places are using cow dung to make eco-friendly diyas for Diwali. Further in Agartala, a group of over 20 women is hoping to revive their pandemic-hit business by making Diwali candles. Read more here.
In Vrindavan, widows celebrated Diwali by lighting diyas at the famous Keshi Ghat along the river Yamuna on Wednesday, November 11, shedding the social stigma attached to Indian widowhood. Read about it here.