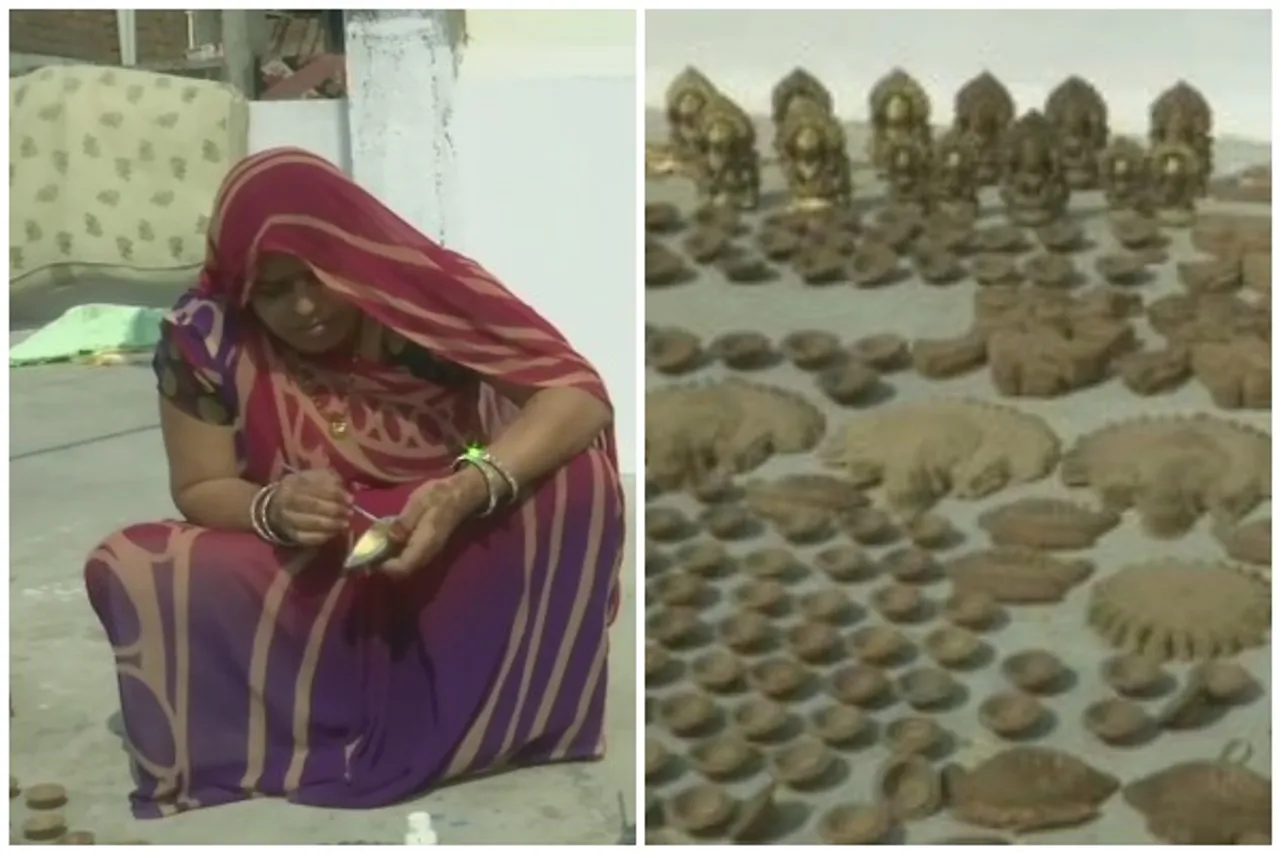 Not more than a week is left when the country will revel in one of its most favourite festivals, Diwali. But the celebration of the year will be in tandem with the pandemic and financial crisis that the country is undergoing. The preparations and marketing strategies for the same have also changed, keeping in mind the balance of health and finance. Manufacture and sales of eco-friendly diyas, lanterns and firecrackers are being encouraged. So here is a look at how women artisans are turning the festival into an opportunity to not only showcase their talent but also to be an 'Atma Nirbhar' entrepreneur.
Women of a self-help group in Bhopal of Madhya Pradesh are making low-cost and eco-friendly diyas and lanterns out of cow dung for Diwali. In an interview with ANI, the women said, "We wanted to become #AatmaNirbhar following PM Modi's appeal. So we started making low-cost cow dung diyas for everyone."
Madhya Pradesh: Women of a self-help group in Bhopal are making low-cost & eco-friendly earthen lamps (diyas) from cow dung ahead of #Diwali.

"We wanted to become #AatmaNirbhar following PM Modi's appeal. So we started making low-cost cow dung diyas for everyone," says a woman. pic.twitter.com/8e7Bfg3HJ9

— ANI (@ANI) November 9, 2020
Also Read: Carried In Utensil, Lack Of Infrastructure Failing Pregnant Woman In Rural India
Women of another self-help group in Raipur in Chhattisgarh are also making diyas and flower pots from cow dung. The group of women have made 17,000 to 18,000 diyas till now and are sending them for sale in the markets. Apart from diyas, they are also making 400-500 kg of vermi-compost and cow-dung cakes. The cow-dung cakes are also being sold in the markets. Pramod Jadhav, the nodal officer told ANI that three stalls have been set up for the women to sell their articles. "By selling all these we can provide financial assistance to women. We are getting orders from the department and public representatives for these products," he added.
Rural women in Jaipur, Rajasthan are using cow dung to make eco-friendly diyas for Diwali. The group consists of over 100 women who are making 1000 diyas per day. Through their craft, they are also promoting PM Modi-led Vocal for Local initiative. Read the full report here.
Rajasthan: A group of women are preparing eco-friendly 'diyas' with cow dung in Jaipur.

"Cow dung is believed to be pure in our tradition.Over 100 women are making 1000 pieces each day. Made in China material pollute environment but they'll decompose easily,"says a woman(20.10) pic.twitter.com/PJUXXjraVx

— ANI (@ANI) October 19, 2020
In Agartala, a group of 20-25 women work extra hours to make 1-1.5 quintiles of colourful candles every day ahead of Diwali. They are hoping to sell all their candles and boost the small scale business they have set up. Read the full story here.
Tripura: A group of women in Agartala are making candles with hopes that their business will revive this #Diwali.

One of them says, "There is a huge demand for candles ahead of Diwali, we hope to sell all our products. We are giving extra time to fulfil customer's demand." pic.twitter.com/rJ6sBLQPPH

— ANI (@ANI) November 5, 2020
Also Read: Festivals Via Feminist Lens: Diwali Should Be About Celebrations Not Stereotypes
However, the pandemic has dampened the usual buzz in the market during Diwali. The sales of decorative stuff, diyas etc for Diwali has suffered a loss. Sales of diyas and firecrackers in Hyderabad has gone due severely compared to last year due to the pandemic, as reported by TimesNow. Not many customers can be seen strolling in the markets while the shopkeepers still wait for them with a glimmer of hope.
Picture Credit: ANI
Also Read: Many Rural Women Suffer From Discrimination Says UN Secretary General António Guterres