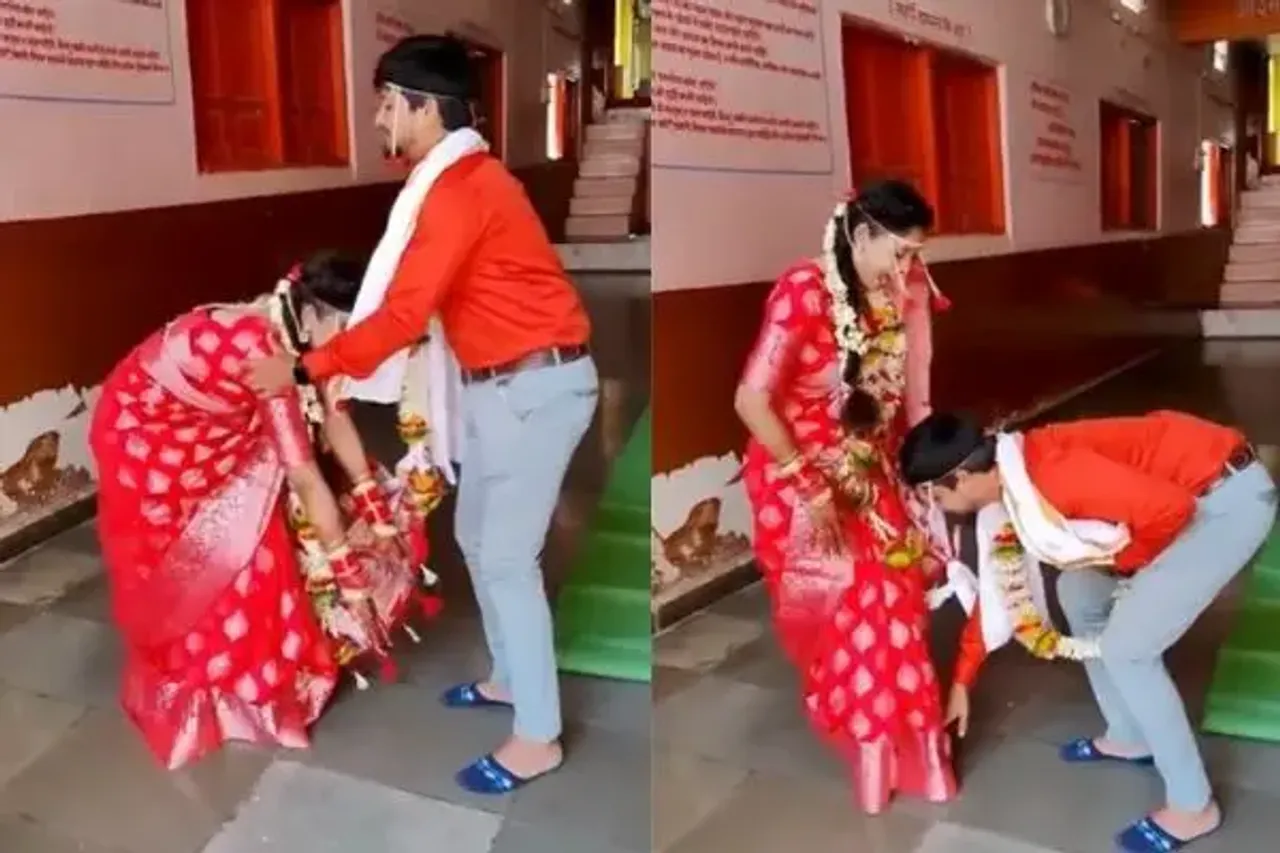 Groom Touches Bride Feet: You must have seen brides touching the feet of their husbands after the saat pheras in many Hindu weddings. In a bid to establish equality in the relationship,  a groom touched his bride's feet at his wedding. The special moment has been captured in a video that has now surfaced online. The video was posted by Instagram user Piush Avchar.
The clip shows the bride bowing down to touch the groom's feet but he refuses. Instead, he bends down and touches her feet. The bride is startled at his gesture. She can be seen jumping back. The video seems to be captured after their wedding rituals got over. The heart warming video has been viewed more than 34.5 million times and has racked up over 2 million likes. Here's the video. 
A lot of netizens have blessed the couple in the comment section and also praised the groom for what he did.
A lot of videos from Indian weddings seem to go viral on social media these days. A few weeks ago, a video showed a groom working on his laptop on his wedding day. His wife was seen laughing at this bizarre situation. Here is the video.
Another video was shared on social media where a bride could be seen throwing a sweet at the groom in front of the invitees as he was not eating it leading to an unnecessary delay in the wedding processions. Read more about this.
In another one breaking the internet, a video of a bride eating gol gappe on her wedding day went viral on the internet. Her friend is helping her in eating them by holding her plate. The bride can be seen enjoying eating the tasty snack. Read more about it here. 
---
Suggested Reading
Viral Video: Coach Slaps German Athlete Martyna Trajdos On Live TV, Twitter Reacts
Bizarre: Wedding Planner Hides Under Bride's Gown To Achieve That Perfect Aisle Walk, Video Goes Viral
Hyderabad Pub Gets Notice After Viral Video Of Minor Girl Dancing In The Crowd