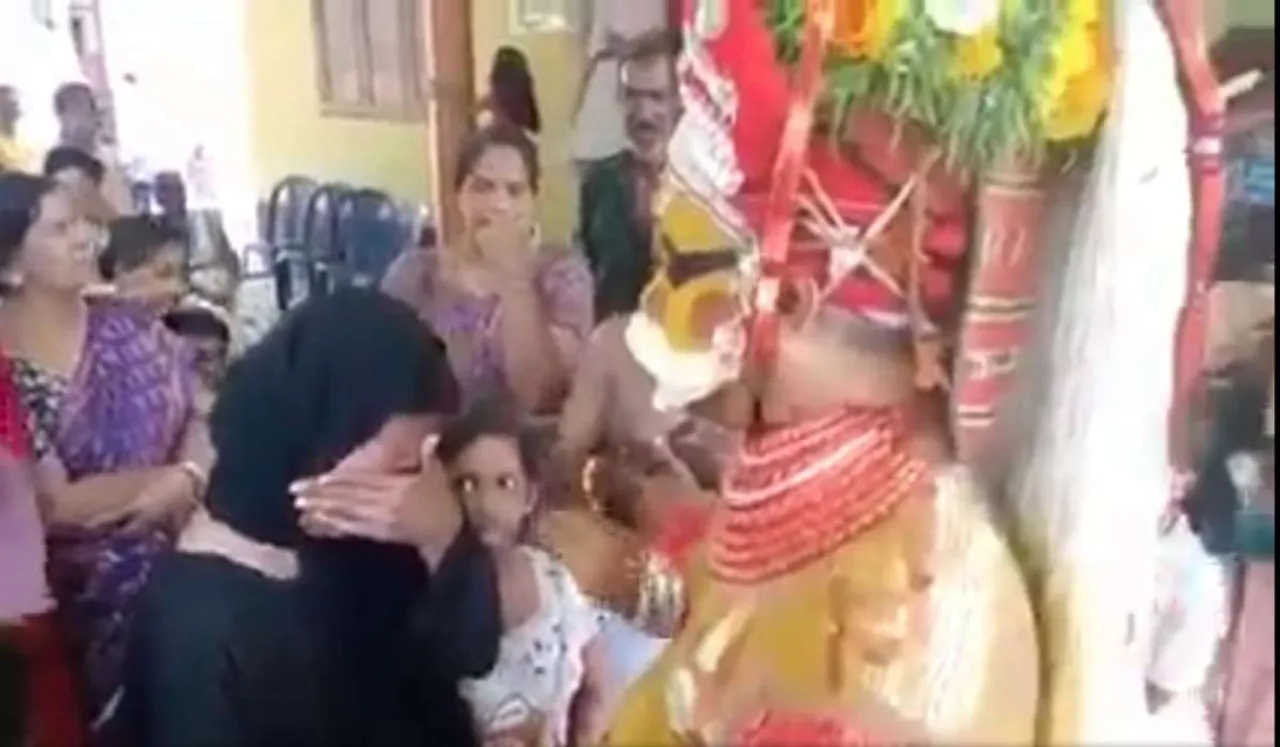 As the hijab row grows in India and particularly Karnataka, a video from Kerala of a Theyyam artist blessing a woman in hijab is being applauded on the Internet for the warmth and hope that the video gives to the people on communal harmony.
In the video, the Muthappan Theyyam saw a timid Muslim woman in the crowd waiting to approach him. He greeted her with warmth and their interaction has taken over the internet. Muthappan is a deity, who is commonly worshipped in the Kannur, Kasargod, Kozhikode and Malappuram regions of Kerala. They are also prayed in the Coorg region of Karnataka.
They are said to be the personification of two Hindu gods, which are Thiruvappan (Vishnu) and Vellatom (Shiva). They generally perform Theyyam dance in the Parassinikkadavu temple and the rituals are conducted by people from the Thiyyar community.
---
Suggested Reading: How Media Coverage Has Shifted From The Core Issue In Hijab Row To Sensationalism
---
Viral Theyyam Artist Video
The incident which was captured on camera took place at Padna Kadappuram in Valiyaparamba panchayat. Ramlath, a housewife whose husband lost his job in Mumbai two years ago, had been invited by her neighbour to attend the Theyyam ritual.
Ramlath was visiting the Theyyam with hopes and prayers for a better time ahead and was waiting to interact with the deity soon. But little did she know that it would turn into such a heartwarming conversation.
According to The Quint, the viral video was shared by one KV Shaju. When asked him the purpose of uploading the video, to which he said that it was to showcase the culture and traditions of his village.
The Muthappan Theyyam's shrines are open to all castes and cultures. In the video, Muthappan can be heard tealling Ramlath, "You are not an outsider. Come here. Did you think you are different because of your religion or caste?" To which Ramlath shakes her head and the Muthappan goes on to ask if she is happy and what does she need to tell him.
Ramlath recounts her troubles, to which Muthappan asks her to remain strong. "You must be wondering you pray five times a day and follow the tenets of Islam and yet why you are not getting lasting happiness in this world. Hold tight to your faith," he said.
Ramlath told news media that after the video went viral, many people have come forward to help her.
Feature Image Credit: Nammude Payyaur