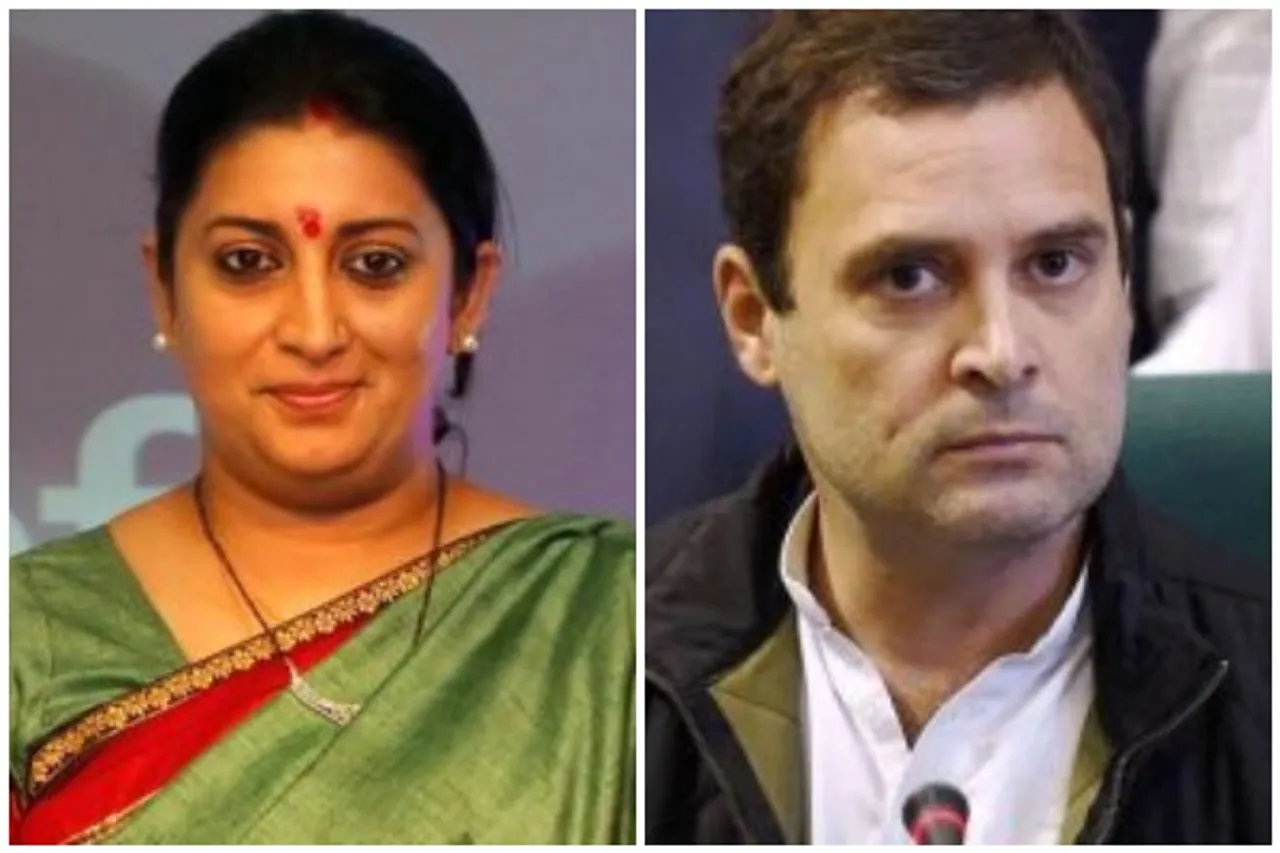 Union Minister Smriti Irani slammed Congress leader Rahul Gandhi in a press conference saying that his visit To Hathras is strictly for "politics and not for justice to the victim". A 19-year-old Dalit woman was allegedly gangraped by four men on September 14. The woman passed away on September 29 in Delhi, where she was undergoing treatment. Following her death, her family has alleged that UP police "forcibly" cremated her body. Gandhi has reportedly said that he will make an attempt to visit her family this afternoon.
While criticising Gandhi's move to visit the family, Irani assured that the "Yogi government will ensure strict against the culprits," adding that "an SIT has already been formed." to investigate the case. Meanwhile, the Special Investigation Team (SIT) has completed its probe into the case, a Hathras administration official said on Saturday. Reportedly, the administration has also lifted restrictions on the media's entry into the village.
Gandhi and his sister, Congress general secretary, Priyanka Gandhi Vadra had tried to enter Hathras on Thursday and were briefly taken into custody from UP's Greater Noida (near Delhi). The brother and sister will make a second attempt this afternoon to meet the woman's family.
#WATCH Delhi: Congress leader Priyanka Gandhi Vadra on her way to meet the family of the alleged gangrape victim in #Hathras (UP), with Congress leader Rahul Gandhi (Source-Congress) pic.twitter.com/TSy7gLaxPL

— ANI (@ANI) October 3, 2020
After remaining silent on Hathras gangrape case for three days, Irani further claimed that the Congress leader is just playing politics over the Hathras incident. "People are aware of Congress's tactics... That's why they ensured a historic win for the BJP in 2019 elections," the BJP leader, who happens to be a Member of the Parliament from Amethi in Uttar Pradesh, told reporters today.
People are aware Congress' tactics of that is why they ensured a historic win for BJP in 2019 polls. People understand that their visit to Hathras is for their politics & not for justice to the victim: Union Minister Smriti Irani on Rahul Gandhi's scheduled visit to UP's Hathras pic.twitter.com/bZIyXGwuyt

— ANI (@ANI) October 3, 2020
"I cannot stop a leader in a democratic nation but people understand that their visit to Hathras is for their politics and not for justice to the victim," she added.
Meanwhile, security has been tightened at the Hathras village's borders after outsiders, including politicians, were barred from meeting the woman's family due to the SIT probe, which was instructed to be submitted by October 14, according to officials. Now, borders have been opened after 48 hours, however, a senior official said that only reporters are allowed, and "Rahul Gandhi is not allowed... currently the arrival of any political party leader is banned," Hathras Joint Magistrate Prem Prakash Meena told, NDTV reported.
"No power in the world can stop me from meeting this grieving family and sharing their pain", Gandhi said in a tweet this morning.
Noida: Security beefed up & barricades put up at the toll plaza on Delhi Noida Direct Flyway in view of the visit of a Congress delegation led by Rahul Gandhi to #Hathras. pic.twitter.com/AWVs9AW9gC

— ANI UP (@ANINewsUP) October 3, 2020
Post-Hathras Smriti Irani faces backlash
On Thursday, Irani had also addressed the United Nations on women empowerment that led to an outrage on social media. "The government of India took a series of measures for ensuring safety, security and wellbeing of women during the coronavirus pandemic," she had said at the 25th anniversary of the Fourth World Conference on Women. "India remains ready to work with all international partners to build a more just and equal post-COVID world for us and our daughters."
Also Read: Delhi, Hathras And Now Balrampur: India Continues To Be In Denial Of It's Rape Culture
She had also stressed that the Indian government is ensuring gender parity in all spaces and said that "several of our legislations in India such as those pertaining to sexual harassment of women at workplace, protection of women from domestic violence, protection of children from sexual offences, and our criminal laws' amendments have been strong enablers of women empowerment and protection of children especially girls, over the past six years."
At Beijing+25 High-level meeting of the @UN General Assembly on Accelerating the Realization of Gender Equality and the Empowerment of All Women & Girls, highlighted measures undertaken by PM @narendramodi Ji led Government for all-development & welfare of women. @IndiaUNNewYork pic.twitter.com/xvg1eJqYCk

— Smriti Z Irani (@smritiirani) October 2, 2020