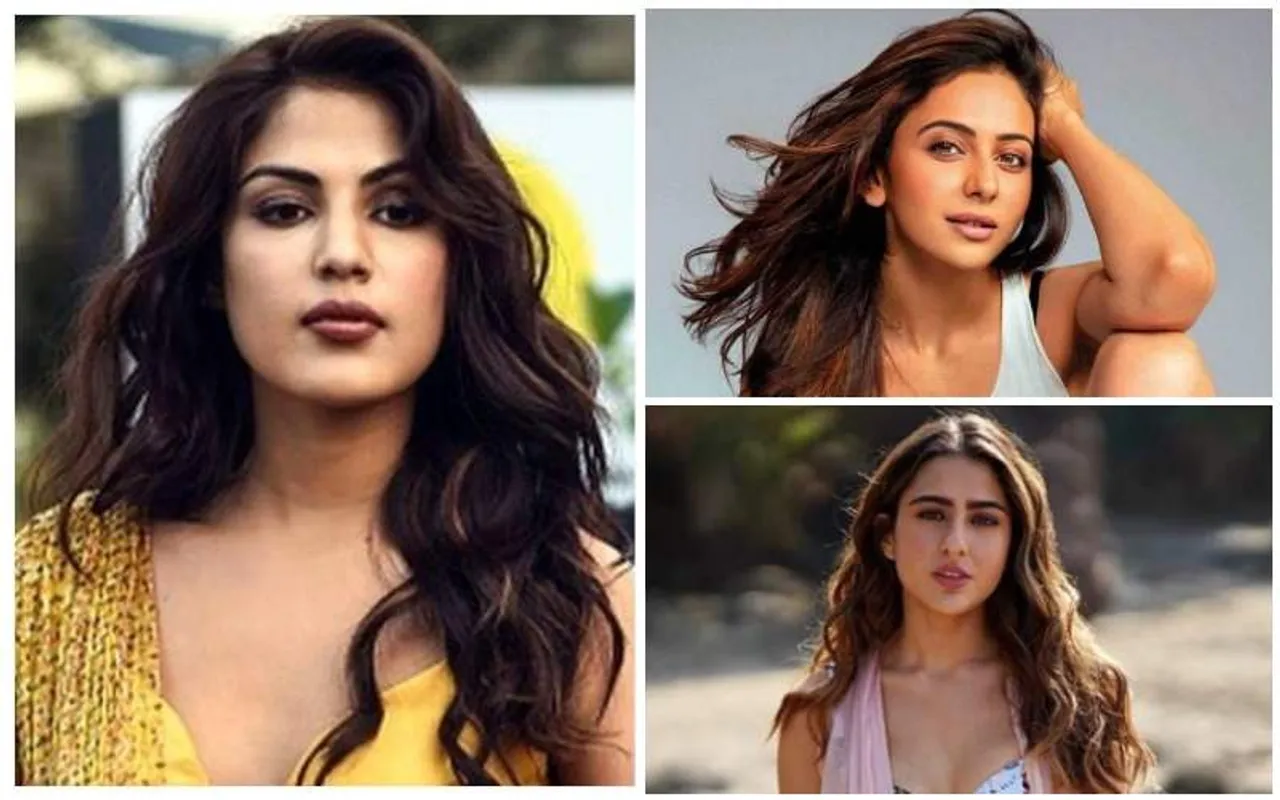 Rhea Chakraborty has reportedly named actors Sara Ali Khan, Rakul Preet Singh, and designer Simone Khambatta in the ongoing drug probe into Sushant Singh Rajput's death. Narcotics Control Bureau (NCB), the body heading this investigation, confirmed the news on Monday. Chakraborty is to stay in custody till September 22, after her bail plea was rejected last week.
KPS Malhotra, the agency's deputy director, reportedly said that the three women's roles can't be given out right now and that NCB has not yet issued summons to them so far. He said that they "can't comment on the further course of action," TOI quotes.
Also Read: Hunt News, Not Women: Over 2500 People Sign Open Letter Slamming Media Coverage Of Rhea
Who Are These Three Women?
The three women who have been named by Chakraborty are all linked to the Indian film industry. Sara Ali Khan, daughter of actors Saif Ali Khan and Amrita Singh, had previously worked with Rajput as his co-star in the 2018 film Kedarnath.
Rakul Preet Singh, meanwhile, has worked largely in Tamil and Telugu films. She starred in noted Hindi films like Aiyaary and Yaariyan. Singh and Chakraborty are rumoured to be good friends, and gym partners, who were often snapped together by the paparazzi in Mumbai.
Khambatta is a fashion designer and YouTuber. Her work as an influencer is centred around her channel Mama Says, that primarily discusses themes of motherhood, parenting, health, nutrition, etc. She is allegedly a childhood friend of actor Ranveer Singh. Ever since her name emerged in the drug probe, Khambatta made her Instagram account private.
Also Read: Star Kids Folding Their Hands To Bag A Film Role: This Is Exactly How Nepotism Works
NCB Conducts Raids
Led by Sameer Wankhede, the NCB conducted raids in Mumbai and Goa as part of the ongoing drug angle of the case and arrested six more people, reports say. The people arrested have been identified as Karamjeet Singh, Dwayne Fernandes, Sanket Patel, Ankush Arneja, Sandeep Gupta, and Aftab Fateh Ansari. This totals a tally of 16 people who have been rounded up in the alleged drug link to Rajput's death.
Among the other people rounded up by the NCB are the Chakraborty siblings Rhea and her brother Showik, Rajput's house helps, and alleged drug peddlers. Three others – Ebrahim, Karan Arora, Abbas Lakhani – were also arrested but were soon granted bail.
Karamjeet had allegedly supplied drugs to Sushant Singh Rajput through his cook Dipesh and manager Samuel Miranda more than ten times, according to India Today. NCB has also "recovered Hookah pots, medicines, ashtrays and more" following a raid at Rajput's Pawana Lake farmhouse.
Also Read: Coverage of Rhea Chakraborty Signals New Low for Indian Media
Rhea Chakraborty and brother Showik's bail pleas rejected
Chakraborty, arrested on September 8, and Showik, arrested on September 4, were both remanded to custody by courts in Mumbai. Chakraborty's bail plea was rejected on September 11, extending her 14-day custody till September 22.
She has denied the charges, saying "she was "coerced" into making "self-incriminating confessions." She also mentioned that no female officer was present during her interrogation.
Also Read:Most Media Reports In Sushant Singh Rajput Case Are Not Based On Facts: CBI
The siblings have reportedly said that "their alleged role in Rajput's death is the same as Ebrahim's who was granted bail within a day of his arrest."
Their lawyer, Satish Maneshinde, has said that they may move the Bombay High Court to seek bail.
Picture Credit: BBC/Instagram