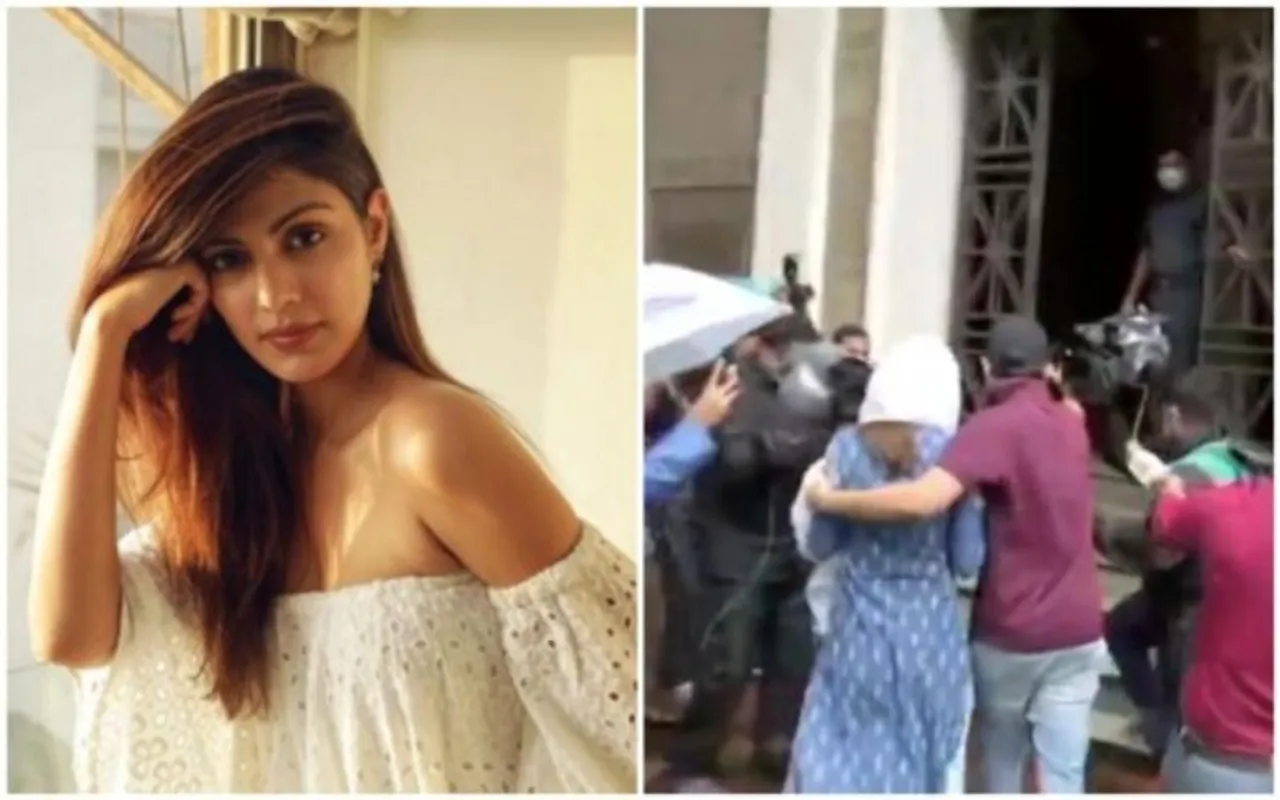 Rhea Chakraborty has reportedly arrived at the Enforcement Directorate (ED) office in Mumbai for her questioning by the Central Bureau of Investigation (CBI) scheduled for today, in the ongoing probe into actor Sushant Singh Rajput's death. Chakraborty's earlier plea for deferment of questioning was denied by the ED, which stated that it would register fresh summons against her in case she didn't show up by 11:30 am today. The case of Rajput's alleged death by suicide was handed over to the CBI on August 5, following a directive by the Centre to the Supreme Court.
Chakraborty had asked for a postponement of her enquiry by the CBI since her petition for the FIR transfer is due to be heard next week by the Supreme Court. This morning, her lawyer, Satish Manshinde, said, "She has requested a postponement of the recording of her statement because of the Supreme Court hearing." However, news agency ANI reported that following the rejection of her earlier request, Chakraborty duly reached the ED office.
Also Read: "CBI It Is" Tweets Sushant Singh Rajput's Sister, As Centre Backs CBI Probe Into His Death
Rhea Chakraborty To Be Questioned For Alleged Money Laundering
The ED had reportedly said that Chakraborty's absence from the questioning would prompt them to mark it as "non-compliance of summons." ED had registered its case under the prevention of money laundering act (PMLA), according to Hindustan Times.
Falling under the jurisdiction of the central government's Ministry of Finance, ED is an economic law agency that presides over money laundering cases and tackles economic crimes. Chakraborty has been called in for questioning by them, following a case registered on July 31 based on Rajput's father KK Singh's FIR against the late actor's girlfriend. He allegedly accused Chakraborty and her family of suspicious transactions worth Rs 15 crore from his son's bank account, India Today reports.
Also Read: Complaint Against Rhea Chakraborty Cites Abetment To Suicide, Cheating & Conspiracy
CBI Probe Ordered After Bihar And Mumbai Police Lock Horns
The decision to hand the case over to the CBI came after the public tussle between the Bihar and Mumbai police forces regarding jurisdiction in Rajput's death case. KK Singh had filed an FIR in Patna, Rajput's hometown, alleging Chakraborty's "abetment to suicide" of his son. Meanwhile, Chakraborty had asked for the FIR to be transferred to Mumbai, where she currently resides, and where the police have been investigating the case since June.
On July 16, Chakraborty had made a public appeal to Home Minister Amit Shah to initiate a CBI investigation "in the interest of justice" for Rajput's death. However, as reported by NDTV, she later claimed that a probe by the investigation bureau would be "totally illegal and beyond any known legal principles, affecting the Federal Structure of the Nation."