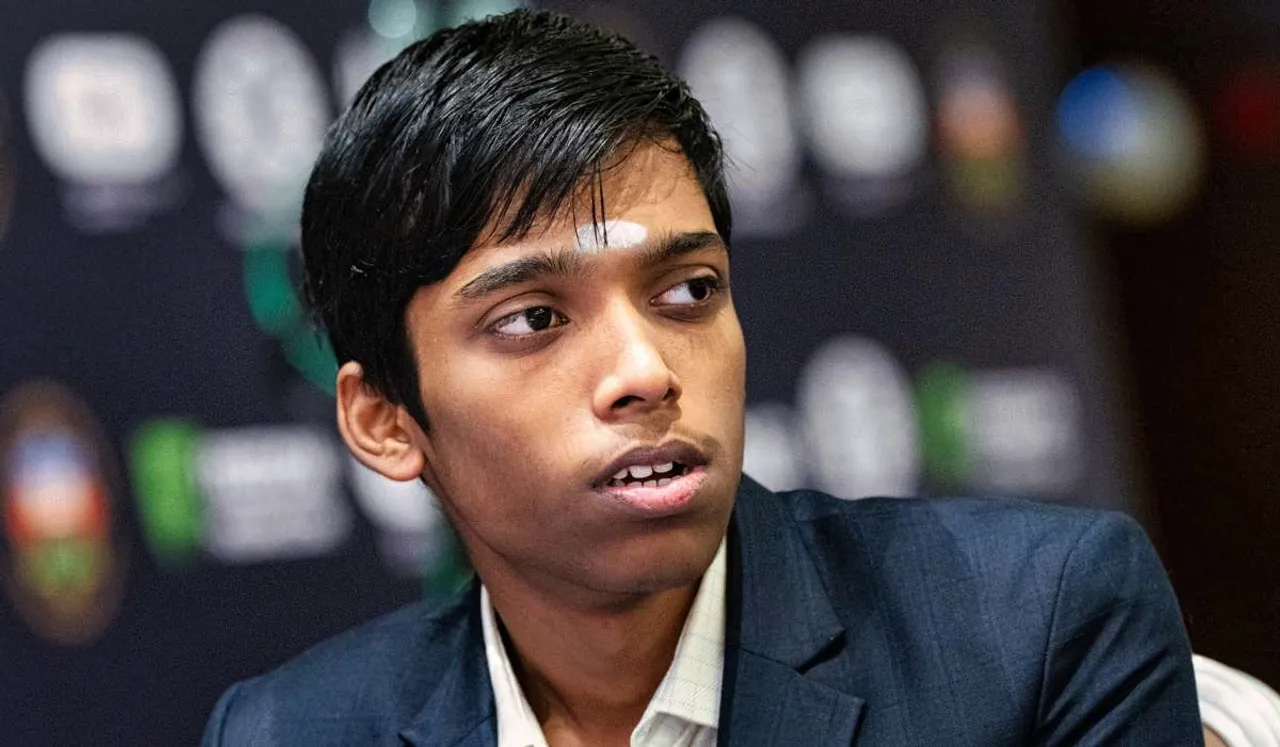 R Praggnanandhaa after defeating the World No.3 Grandmaster in the FIDE Chess-World-Cup tournament became the second Indian to reach the finals of the Chess World Cup at the age of 18. 
R Praggnanandhaa will now be facing the World No.1 chess player Magnus Carlsen in the final of tournament of the Chess World Cup. 
R Praggnanandhaa's Historic Win
While many young teenage minds from India are setting a remarkable benchmark in global chess, the OG child prodigy and chess player Rameshbabu Praggnanandhaa who internationally goes by the name Pragg reminded us all why he is the OG. 
On Monday, 18-year-old Indian chess prodigy Pragg nudged us with a reminder by defeating the reigning 31-year-old US Grandmaster Fabiana Caruana with a tie-breaker to enter the finals of the World Chess Championship in Baku, Arizona. 
Benefitting from the remarkable victory in the semifinals, Pragg will now be facing the No.1 Grandmaster Magnus Carlsen, today. Pragg will be the youngest and only second Indian chess player to be competing in the final summit of the Chess World Cup Tournament after legendary chess master Viswanathan Anand. 
Viswanathan Anand impressed by the young Pragg and his victory breathtakingly Tweeted about Pragg's win celebrating his victory. 
Pragg goes through to the final! He beats Fabiano Caruana in the tiebreak and will face Magnus Carlsen now.

What a performance!@FIDE_chess #FIDEWorldCup2023

— Viswanathan Anand (@vishy64theking) August 21, 2023
Many politicians including Rahul Gandhi congratulated young Pragg for his astounding victory in the World Chess Tournament, making the country proud on a global platform. 
While many other chess enthusiasts celebrated Pragg's victory, one Twitter user wrote "This guy is already a legend! I hope he gets even 1% of the recognition that cricketers get."
18 years old Indian chess sensation Praggnanandhaa defeats 31 years old Fabiano Caruana (who's the third highest rated chess player ever) & qualifies to the finals.

This guy is already a legend! I wish he gets even 1% of the attention that cricketers get. pic.twitter.com/va15T49Nlw

— Mr Sinha (@MrSinha_) August 21, 2023
Pragg orchestrated one of the biggest victories in the FIDE tournament after a breathtaking defeat of American Grandmaster Hikaru Nakamura in yet another tiebreaker making his mother emotional. 
Rameshbabu Praggnanandhaa entered the International chess tournaments at the age of 10 and was the youngest player to become the International Master at that age. Praggnanandhaa at the age of 12 became the chess grandmaster, the second youngest player to ever achieve the title. 
---
Suggested Reading: Who is Vaishali Rameshbabu? Chess Star On Path To Grandmaster