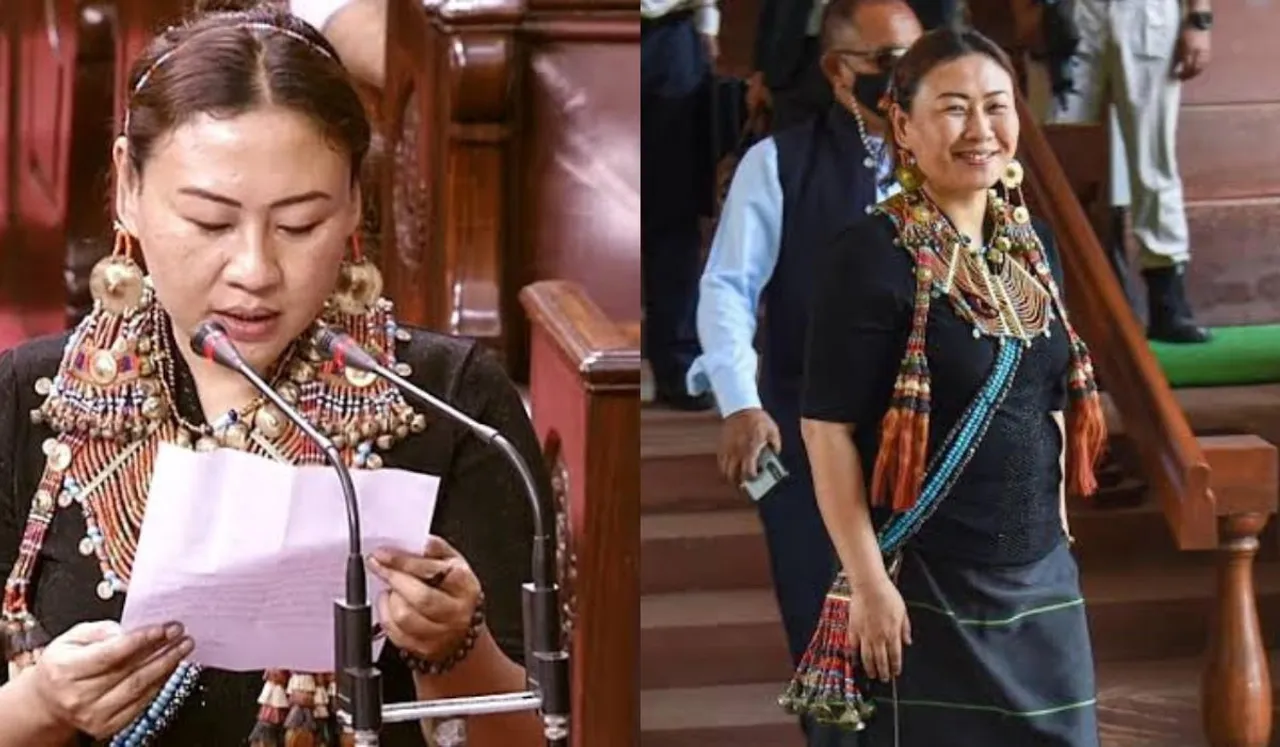 In a historic moment, S Phangnon Konyak, the only Member of Parliament from Nagaland in the Rajya Sabha, has been nominated as one of the vice chairpersons of the upper house.
The official communiqué from the Rajya Sabha states that under the Rules of Procedure and Conduct of Business in the Council of States (Rajya Sabha), Chairman Jagdeep Dhankhar has nominated Konyak to the Panel of Vice Chairpersons, effective July 17. This appointment is a momentous honour and recognition of her role in the Upper House.
Konyak expressed his readiness to take on the new responsibility of serving the nation humbly. She conveyed her sincere gratitude to Dhankhar for placing their trust in her. Phangnon vowed to put in her utmost efforts to fulfil the role to the best of her abilities, as mentioned in her tweet.
Who Is S Phangnon Konyak?
Phangnon Konyak, the newly nominated vice chairperson in the Rajya Sabha, hails from Oting village in the remote and underdeveloped Mon district.
In December 2021, the Modi government and security forces faced criticism for an incident where 'innocent Konyak mine workers' were mistakenly killed and wrongly identified as Naga insurgents in Oting village. Mon district is part of Eastern Nagaland, and seven tribes, including the Konyaks, have been advocating for the early establishment of an 'autonomous territory' for the region.
The nomination of Phangnon as the second Naga woman parliamentarian is an influential and pioneering choice, particularly in light of the prevailing influence of patriarchy and male chauvinism in Nagaland's political sphere. This decision is viewed as a constructive step towards enhancing gender representation and diversity in the region's political arena.
Notably, Phangnon becomes the second Naga woman parliamentarian after Late Rano Shaiza, who was elected to the Lok Sabha in 1977.
Her nomination to the Panel of Vice Chairpersons is indeed a prestigious occasion. This position will provide her with opportunities to preside over the proceedings of the Upper House, especially during the Monsoon Session of Parliament, which commences on July 20.
Before the 2023 assembly elections, Nagaland had never elected a woman to its state legislature. However, this year's elections saw two women candidates from the NDPP elected to the assembly, reflecting a notable shift in the state's political landscape.
Despite boasting a high literacy rate and English being the official language, Nagaland has remained opposed to the women's reservation bill, which aims to reserve 33% of legislative and parliamentary seats for women. As far back as 1997, the Nagaland Assembly unanimously passed a resolution opposing the bill, arguing that it goes against Naga tradition.
---
Suggested Reading: Manipur Women Paraded Naked: How Low Will We Fall As A Nation?
---