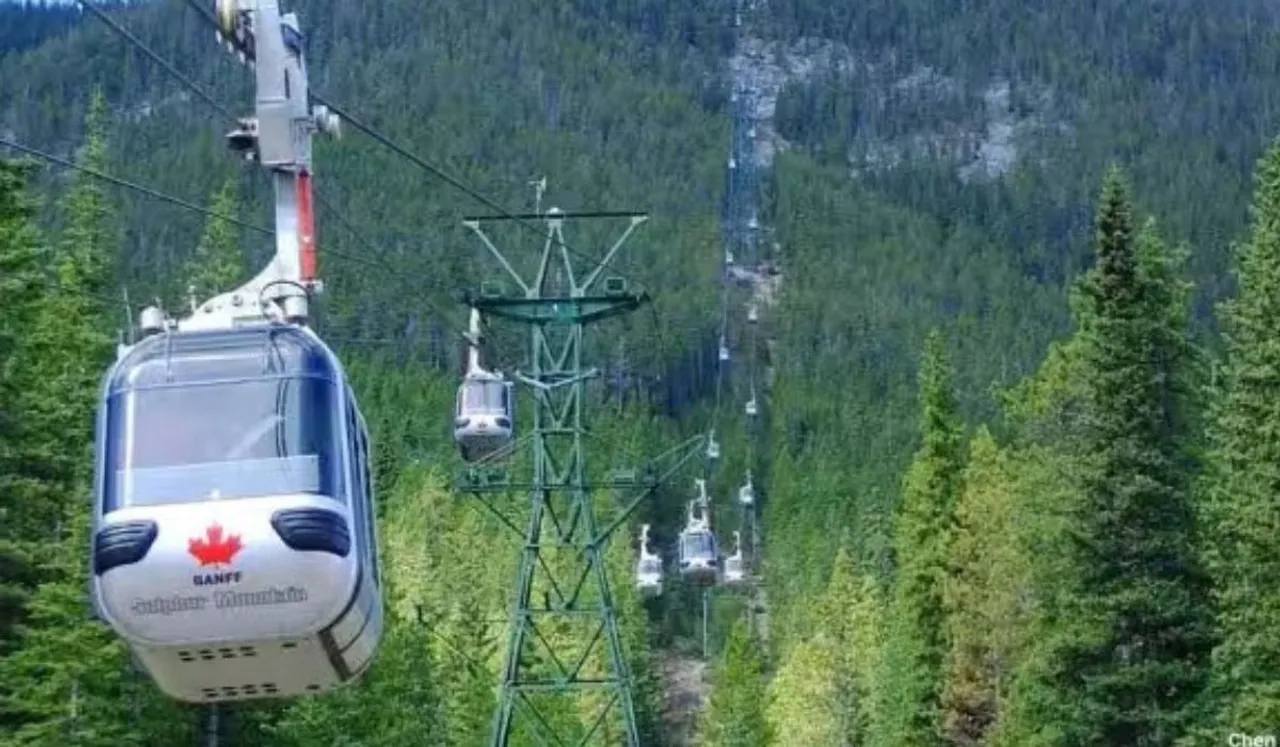 A group of visitors, who took a cable car to the summit of Sulphur Mountain, located in Banff National Park in Canada, had to spend the entire night in the cable service's summit lodge after a lightning storm caused a power outage, leading to a complete shutdown.
The visitors who were stuck in the gondola cabin were rescued using an emergency drive system. However, those who were already on top of the mountain had to spend the night there before they were brought down in helicopters the next morning.
Newlywed Stuck In Cable Car In Canada
Interestingly, some people choose to hike down the mountain in the middle of the night despite the dangerous weather. According to the National Post, among the people who were stuck on the lodge were Jaclyn and Brennen McConnell, a newlywed couple who had taken the Banff Gondola cable service to the mountaintop to click their wedding pictures. However, the couple had to spend the night on the cold floor of the lodge.
The social media posts of the visitors stuck at the summit went viral; the situation was made further uncomfortable due to a lack of communication from employees of Banff Gondola. It created more panic among the visitors.
One of the visitors who was at the summit shared a video that showed people lying down on the Gondola's company premises. The video caption said that this was the current situation at Banff Gondola. Further, they pointed out how astonished they were at the lack of preparation. They also explained that even a small gift shop wasn't willing to give blankets or sweaters. Only after two hours did the restaurants start providing food, but no one told them what was going on.
On Wednesday, Banff Gondala posted a clarification regarding the incident. The cable car service said that following the power outage, their first priority was to ensure the safety of people in the gondola cabins.
The team provided upper-terminal food, beverages, and blankets to ensure that everyone is as comfortable as possible. It was reported that the company tried to keep them updated about the situation.
However, many people criticised the company for not dealing with the situation well. One user claimed in the comments that the company was lying and that they didn't provide any information to any of them. They further mentioned that they had specifically asked the management to keep them updated so they would feel less afraid.
"We asked for blankets, but nothing was provided to us because you gave everything away. When we asked for at least a hoodie, we had to pay for it. Stop pretending you did everything to handle the situation while it was a massive shit show. What about the ticket we originally paid for when we hiked down? What about any compensation for all of that?" she asked.
---
Suggested Reading: How Did Canada's Musher Katherine Langlais And Her Huskies Create History?