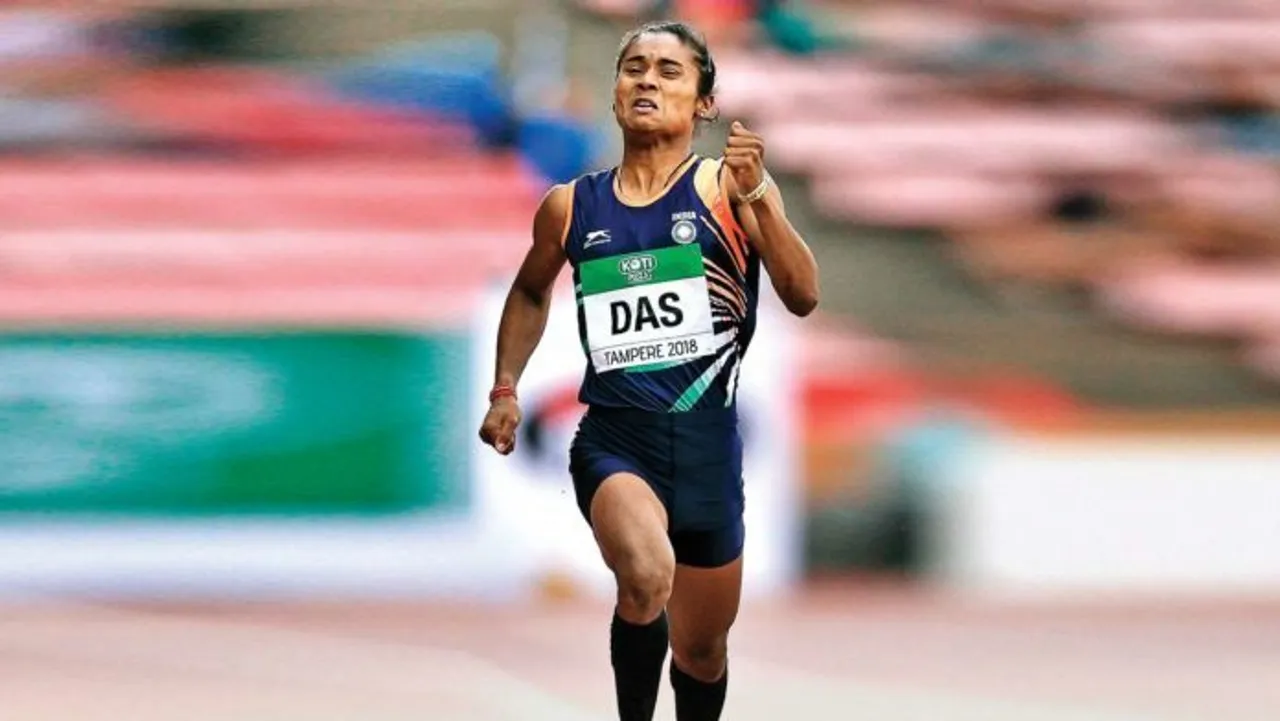 Indian sprinter Hima Das has been temporarily suspended by the National Anti-Doping Agency (NADA) for failing to provide accurate whereabouts information on three occasions within a 12-month period.
The Suspension
Reportedly, an anonymous Indian team official confirmed the suspension, stating, "Yes, she has committed three whereabouts failures in a one-year period, and as a result, she has been provisionally suspended by the NADA."
Das now faces the possibility of a maximum two-year ban, which may be reduced to a minimum of one year depending on the extent of her culpability.
The Registered Testing Pool 
According to the rules of the World Athletics Anti-Doping (WADA) regulations, any combination of three whereabouts failures, which can include failures in filing information or missing scheduled tests, within a 12-month period constitutes a violation of anti-doping rules.
The specific details regarding whether Hima's whereabouts failures were related to filing inaccuracies or missed tests have not been disclosed. Athletes included in the Registered Testing Pool (RTP) are required to provide their complete addresses for overnight stays, the names and full addresses of locations where they train, work, or engage in regularly scheduled activities, as well as the usual timeframes for these activities.
RTP athletes must also designate a 60-minute time window and location for each day of the quarter during which they must be available for testing. Non-compliance with these whereabouts and testing obligations results in a whereabouts failure.
Das' Career
Das had previously secured a silver medal in the 400m individual event at the 2018 Jakarta Asian Games. She was also a member of the gold and silver medal-winning women's 4x400m and mixed 4x400m relay teams in Jakarta.
The 23-year-old athlete from Assam, who had previously incurred an injury earlier this year, has not been included in the Hangzhou Asian Games team.
Das has been dealing with a persistent lower back issue for the past few years. Indian athletics chief coach Radhakrishnan Nair had previously stated that Hima had suffered a hamstring injury in April, just before a Grand Prix event in Bengaluru, and she had been undergoing medical evaluation and treatment.
This is why Das was unable to participate in the Federation Cup in Ranchi in May and the National Inter-State Championship in Bhubaneswar in June, which was the final event for Asian Games selection.
Other Whereabouts Failures Cases
Recently, race walker Bhawna Jat withdrew from the World Athletics Championships in Hungary following three whereabouts failures and was provisionally suspended by NADA.
Earlier, Tokyo Olympian and 2021 Asian Championships bronze medalist wrestler Seema Bisla received a one-year ban from the Anti-Doping Disciplinary Panel (ADDP) of NADA for whereabouts failure.
In July, NADA issued a notice to multiple World Championships medalist and Asian Championships gold winner Vinesh Phogat for her first whereabouts failure in 12 months.
---
Suggested Reading: Watch: Man Sprints 100-Meters In High Heels, Creates World Record