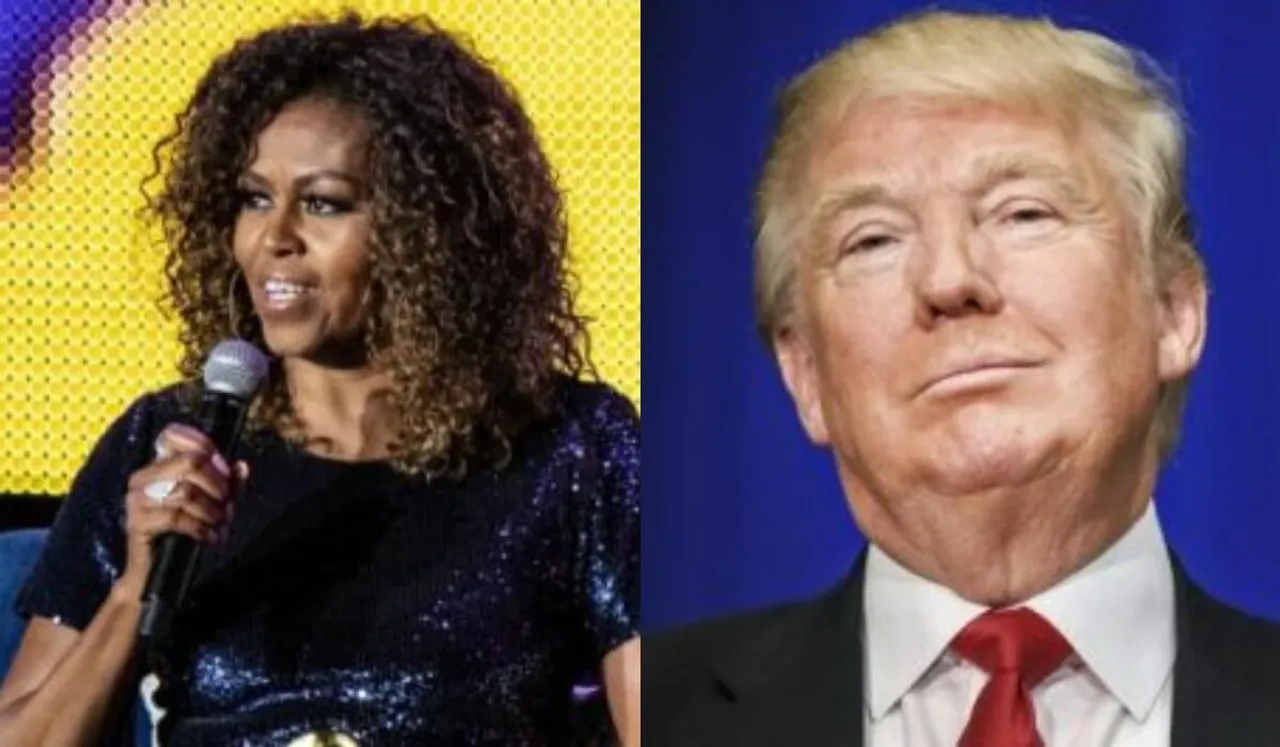 A day after the horrific violence led by supporters of outgoing President Donald Trump erupted at the United States' Capitol Hill, former First Lady Michelle Obama issued a statement calling him "infantile and unpatriotic." In a note posted on social media, Obama expressed deep sorrow over the January 6 Capitol siege, bemoaning the desecration of the American government. Earlier, her husband and former President Barack Obama had strongly condemned the event, calling it a "moment of great dishonour and shame."
Obama wrote, "Like all of you, I watched as a gang—organized, violent, and mad they'd lost an election—laid siege to the United States Capitol. They set up gallows. They proudly waved the traitorous flag of the Confederacy through the halls... The day was a fulfillment of the wishes of an infantile and unpatriotic president who can't handle the truth of his own failures."
Also Read: I'm Proud Of My Doctorate: Jill Biden Responds To Article That Suggested She Drop "Dr" Title
She further recalled the Black Lives Matter movement from last year, during which several peaceful protests had been disrupted by police violence. "It all left me with so many questions—questions about the future, questions about security, extremism, propaganda, and more," she wrote.
Read her post below: 
January 7, 2021
This is Michelle Obama's first public statement after Wednesday's incidents.
Adding to the tweet thread, she continued her lengthy statement, saying, "I hurt for our country. And I wish I had all the solutions to make things better... All I know is that now is a time for true patriotism... And if we have any hope of improving this nation, now is the time for swift and serious consequences for the failure of leadership that led to yesterday's shame."
A day after the Capitol siege, Speaker Nancy Pelosi called for the 24th Amendment of the Constitution to be invoked against Trump, ensuring his early removal from office until President-Elect Joe Biden is sworn in on January 20. If this failed, the "Congress may be prepared to move forward with impeachment," she said. Read about it here.
Also Read: Vice President-Elect Kamala Harris Condemns Capitol Hill Attack On Twitter
Barack Obama Issues Statement After Capitol Attack
Barack Obama, who preceded Trump in Presidency, in a social media note of his own criticised the outgoing leader for inciting mob violence over claims of election fraud. "History will rightly remember today's violence at the Capitol, incited by a sitting president who has continued to baselessly lie about the outcome of a lawful election, as a moment of great dishonor and shame for our nation. But we'd be kidding ourselves if we treated it as a total surprise," he wrote.
Here's my statement on today's violence at the Capitol. pic.twitter.com/jLCKo2D1Ya

— Barack Obama (@BarackObama) January 7, 2021