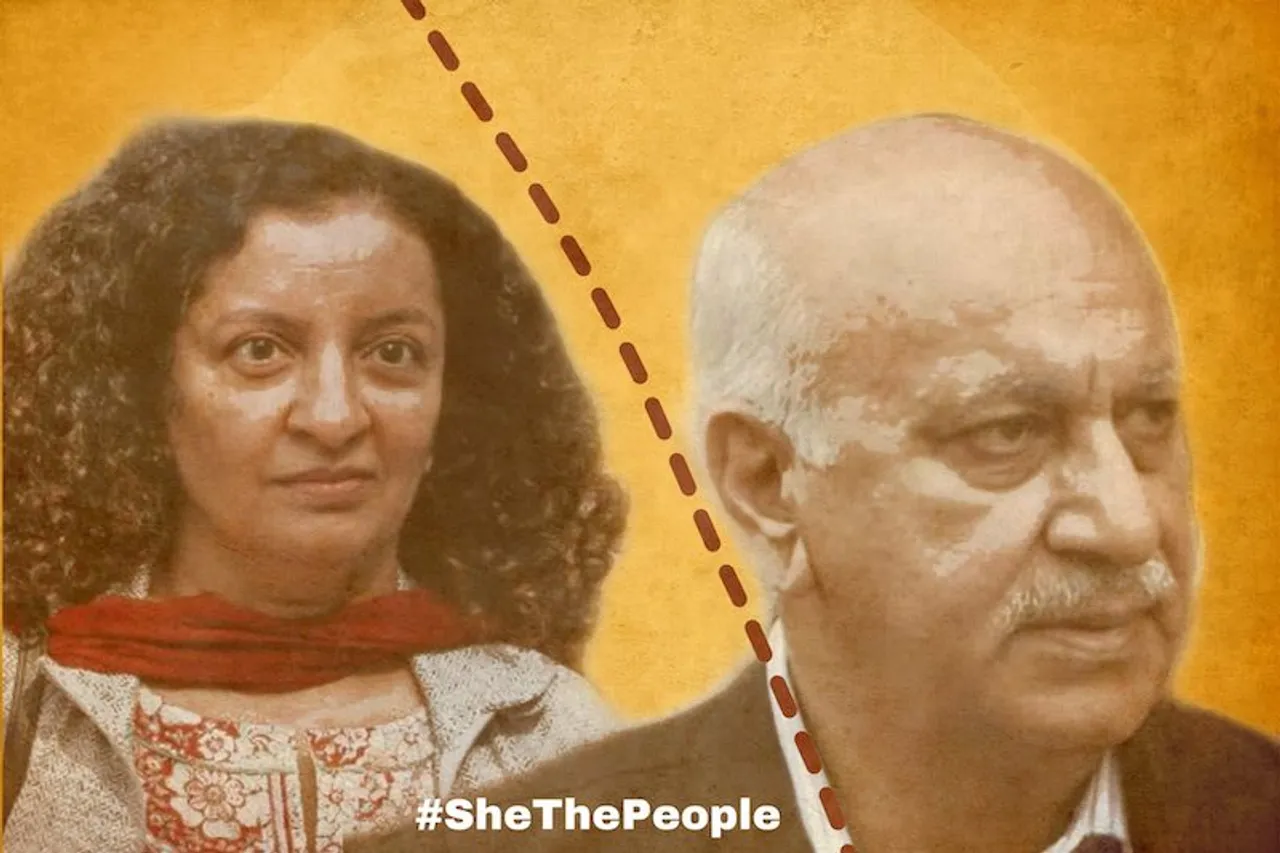 The cross-examination of Priya Ramani in the defamation case filed by former minister and journalist MJ Akbar resumed on Thursday in Delhi court. The defamation case filed by Akbar against Ramani for mentioning his name in a sexual harassment case that Ramani accused him of has reached a one year mark this October.
Niloufer Venkatraman's statement
While Ramani reached the court of Additional Chief Metropolitan Magistrate, Samar Vishal with her counsel Rebecca John, Akbar's counsel Geeta Luthra insisted the court record statement of Ramani's witness, Niloufer Venkatraman's statement first. After the request was granted, she proceeded by probing Venkatraman's background, to which she responded, "I live in Mumbai with my family. I work as an editorial consultant for Roundglass Sustain which is a wildlife and conservation website."
During the hearing, she recollected how on October 8 last year, she found that her friend, Ramani, had tweeted in which she called out the sexual harassment she had faced from Mr. Akbar and referred to an article she had written in Vogue a year earlier. She told the court that just a few days prior to this, she remembered thinking if Ramani would call out Akbar as she was well aware of the incident because she was present on that very day with her until a few mins before the incident had happened. She added that Ramani had told her the details about the incident later that night when it happened.
"I immediately sent her a WhatsApp message saying that I had been thinking just two days ago about whether she would call out Mr Akbar and I expressed my support for her..."
"Priya responded with heart emojis. A few mins later, I messaged her again telling her that I had delayed my daughter's bedtime that night to explain to her what MeToo was about and that Priya had spoken out," Niloufer said.
She then told the court about her association with Ramani and how both came to know of each other and became friends. Venkatraman remembered what transpired on the day Ramani was scheduled to go for the interview that Akbar had called her for at The Oberoi. She said that she accompanied Ramani to the hotel and when Ramani went in, she left to go to her house.
ALSO READ: #MeToo India: Bringing Sexual Misconduct Out Of The Whisper Network
She explained in detail about what happened after Ramani came out of the interview. She recalled, "To begin with, it was not conducted in the coffee shop or lobby. Instead, she had been called upto Mr Akbar's room where they were alone. I recall that she went on to describe her extremely uncomfortable details of what had happened a few hours earlier. She described feeling extremely uncomfortable as he offered her an alcoholic drink and was having a drink himself."
"She also described him singing old Hindi songs to her, which sounded most unprofessional..she narrated how he patted the surface next to him on a small sofa and asked her to sit close to him," Venkatraman added.
The details she described were so bizarre and inappropriate that I have a picture of it in my mind to this day, she said. She also remembers recommending to Ramani that in case she gets the job, she must take it.
"In hindsight, I can see it was inexperience and naivete with which I said that. Priya also confided with me that she was not going to tell her parents the uncomfortable details of the interview as it would upset them," claims Venkatraman.
To Venkatraman's account, Akbar's counsel Luthra retorted, "I need time to cross-examine her because she has come prepared like she was a ghost in the room (at The Oberoi). She quickly corrects herself and says, "Ghost in the alleged room I said."
The hearing ended at that as the cross-examination will proceed in the next session on November 6.
ALSO READ: Here's Why MeToo Needs To Be Celebrated Instead of Being Criticised
Case history
Last year around the same time when Ramani exposed that the sexual-misconduct case that she wrote about in one of her Vogue articles in 2017 was, in fact, an incident that involved Akbar's allegedly inappropriate behaviour against her. She disclosed this in a tweet after a few women including journalists like Ghazala Wahab, Prerna Bindra, Saba Naqvi and others had already accused him of sexual harassment.
In all, around 20 women have accused Akbar of sexual harassment including Pallavi Gogoi, who accused him of rape.
In her previous disposition on September 9, Ramani had pointed, "This case has come at a great personal cost to me. I have nothing to gain from it."
To Venkatraman's account, Akbar's counsel Luthra retorted, "I need time to cross-examine her because she has come prepared like she was a ghost in the room (at The Oberoi). She quickly corrects herself and says, "Ghost in the alleged room I said."
Akbar, who was the Minister of State (Foreign Affairs) in the first NDA government, felt that Ramani's tweet lowered his "reputation in the eyes of the right-thinking members of the public, my friends, colleagues, peers and professional and political fraternity", thereby "causing irreparable loss" to his reputation and goodwill. After which he filed the case against her.
In 2017, Ramani wrote an article in Vogue alleging inappropriate advances made by Akbar when she first met him in his hotel room because he had called her there to conduct a job interview. However, she did not name him in the article then.
Last year in October when MeToo movement swept the country, particularly within the media industry, Ramani named Akbar on Twitter in a series of tweets. To retaliate against Ramani, Akbar filed a defamation case saying his name and reputation were tarnished on social media.
ALSO READ: #MeToo: MJ Akbar Cross-examination,"I Don't Remember"