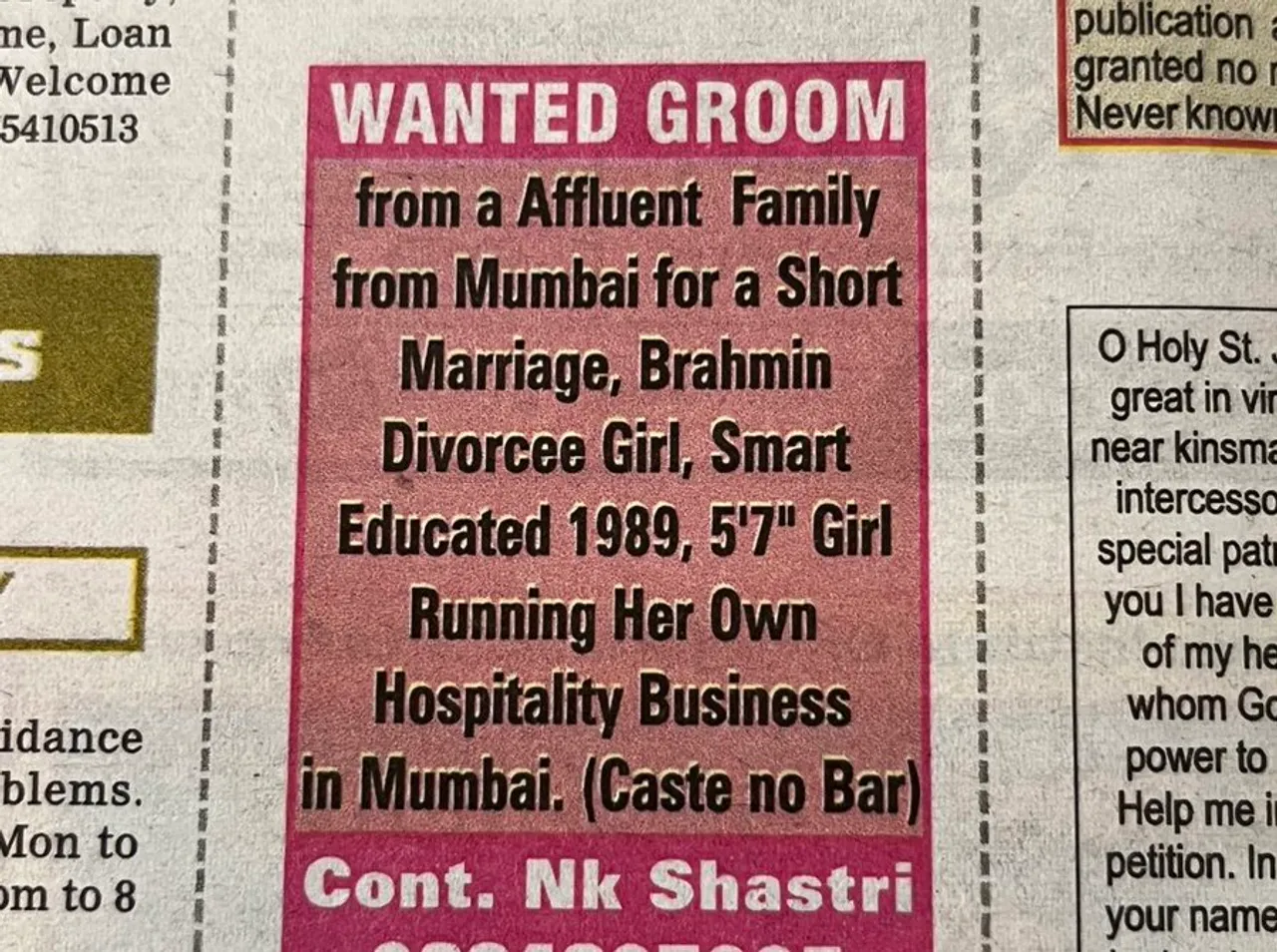 Matrimonial advertisements commonly found in newspapers often seek weird details while looking for a potential bride or groom. While the internet is known for showcasing instances of people adding unique criteria when searching for potential partners, a recent newspaper ad took this to another level.

Short Marriage Sought
In this particular case, a family was in search of a groom for their daughter, but with the specific requirement of a 'short marriage'. The question arises: what exactly does 'short marriage' mean? This intriguing query gained attention when a snapshot of this amusing ad went viral, prompting an eruption of laughter among internet users.
A snapshot of the advertisement was shared on the platform 'X' by a user named Tanishka Sodhi. The ad detailed, "Seeking a groom from an affluent family in Mumbai for a concise marriage. Brahmin divorcee girl, intelligent, educated, born in 1989, standing at 5'7" tall. The girl manages her own hospitality business in Mumbai. (Caste no bar)."
Tanishka expressed her astonishment with the caption, "A 'SHORT marriage'?????" This left others equally bewildered.
SHORT marriage?????? pic.twitter.com/AW33Tu3Yiw

— Tanishka Sodhi (@tanishka_s2) August 20, 2023
Netizens React
Taking inspiration from the series 'Made In Heaven', known for its portrayal of brief marriages, one user humorously commented, "Made In Heaven S3." Another quipped, "We'll complete the wedding rituals in just 4 rounds." A third user suggested, "Perhaps it's because the girl is 5'7" tall."
A more reasonable interpretation was provided by a fourth user, suggesting, "The intended meaning could be a marriage characterized by a brief duration or a simple arrangement, rather than implying that the marriage would be short-lived."
Not The First Bizarre Ad
Previously, a snippets of unusual ads have surfaced online, igniting viral amusement. In a previously published advertisement, specific professional and caste-based preferences were outlined by the bride's family. They explicitly mentioned their lack of interest in proposals from software engineers, stating, "Software engineers, please refrain from contacting."
The print ad was on the lookout for a husband for a 24-year-old woman described as 'fair and attractive'. The ad also indicated that she holds an MBA degree. As for her family background, it appears that the 24-year-old comes from an affluent family that possesses a thriving business. The ad was in search of a husband who was either an IAS or IPS officer, a practicing medical doctor, an industrialist, or a businessman within the same caste.
Suggested Reading: Man Abducts And Robs Woman He Met On Matrimonial Platform