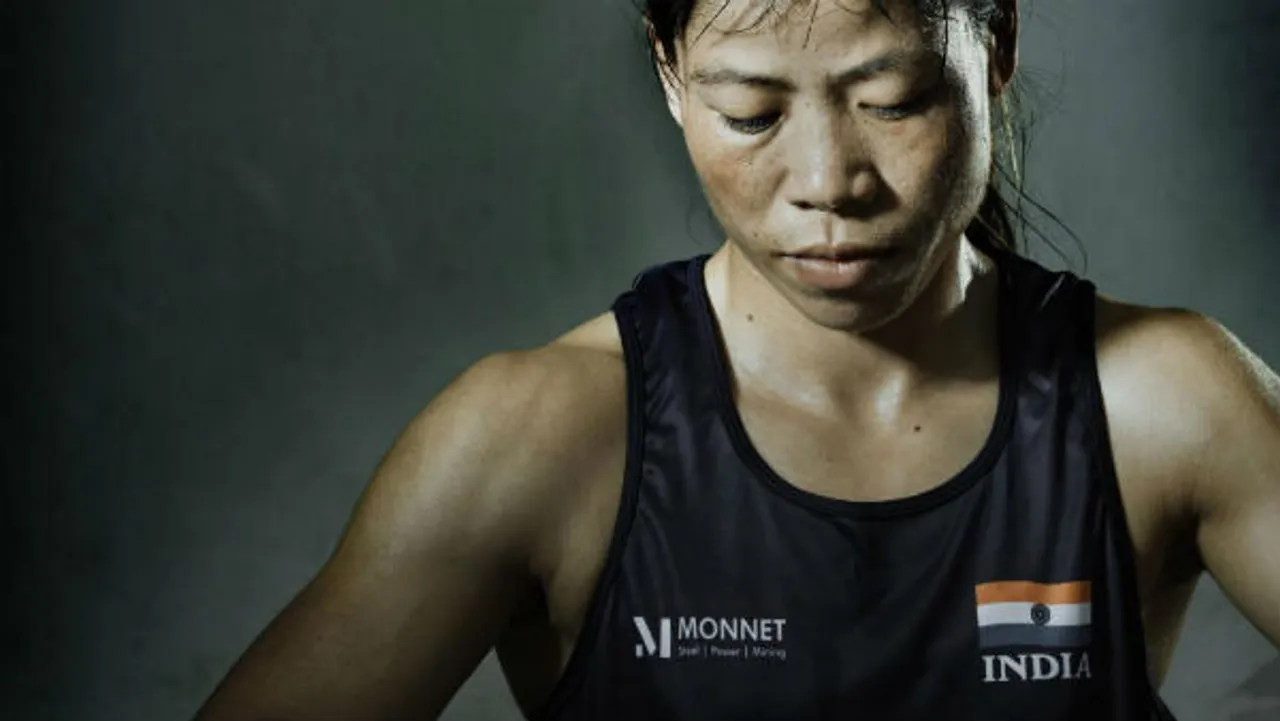 Mary Kom assured herself of (at least a bronze) a medal in the 51kg category of Women's World Boxing Championships in Ulan Ude on Thursday. The six-time World Champion and 3rd seed Kom reached the semi-final by blanking Rio Olympic bronze medallist Ingrit Valencia of Colombia in a 5-0 verdict to reach the final four.
Kom won her first World Championships medal in the 51kg category. 2016 was a disappointing year for Kom as she failed to qualify for the Rio Games. After that she had changed her weight category to 48kg but now the pugilist from Manipur is back to competing in the 51kg.
The celebrated athlete Kom also became the first boxer in the history of World Championships to win eight world meet medals. She and Cuban men's legend Felix Savon were tied on seven after winning the gold in the 48kg category in New Delhi last year. With the win, Kom improved her own record and became the most successful boxer (men and women's boxing combined) in the history of the tournament.
In her nearly two decades long illustrious career, Mary became the most successful boxer in world championships' history when she claimed the 48 kg category top honours in November last year in Delhi. The mother of three has won gold at prestigious events —the Commonwealth Games, India Open Boxing Tournament and now the World Championships.
This year alone, she won gold medals at the India Open in Guwahati and President's Cup in Indonesia.
The 2012 London Olympics bronze-medallist now aims to change the shade of her medal to gold, eyes to seal a Tokyo Olympic Games berth in the new weight category. Mary has six gold medals and silver at the World Championships so far.
Key Takeaways:
Mary Kom became the first boxer in the history of World Championships to win eight world meet medals
She now is the most successful boxer in history of World Championships
Mary surpassed Cuba's Felix Savon as the most successful boxer (men and women's boxing combined) in the history of World Championships.
Mary will next face off second seed Busenaz Cakiroglu of Turkey on Saturday, 12 October.
History Scripted!💪

India's @MangteC becomes 1st and only boxer to win 8⃣ medals in #aibaworldboxingchampionships since its inception, aims 7th Gold as she cruise past her 🇨🇴opponent to reach the Semis. 👏

Way to go as 🇮🇳 assures first medal#GoforGold#PunchMeinHaiDum #boxing pic.twitter.com/VXI883zs96

— Boxing Federation (@BFI_official) October 10, 2019
'Magnificent' records
Also a sitting member of the Rajya Sabha, this Olympic bronze medallist is a star with six World Championships and five Asian Championships to her credit. She is the only woman in the world to win the boxing world championship six times. 'Magnificent' Mary is also an Asian Games (2014) gold medallist, a Commonwealth Games (2018) gold medallist.
Retirement plans
Mary Kom has recently announced her retirement plans after the Tokyo Olympics, as she will be retiring after winning the elusive gold medal missing from her trophy shelf. "After 2020, I want to retire. So my main mission is to get gold for India. I really really want to win (gold)," legendary boxer said at an event, India Today reported.
"I always try my best to give a medal to the country and if possible a gold. I will be starting my preparation for the Olympic qualifiers and the World Championship. I want to win a gold medal this time," she added.
READ:What Makes Mary Kom's Life So Inspirational, Every Single Day
"I have fought hardships outside and inside the ring for so long. Nobody can keep doing it forever. There are so many bright and upcoming youngsters and I hope and pray that we find a new Mary Kom soon."
Earlier this year, her stellar sixth world title triumph secured her the number one position in the International Boxing Association's (AIBA) latest world rankings. Same year she was also seen gracing the cover of fashion magazine Femina.
In the 2012 Olympics, she became India's first woman boxer to clinch an Olympic medal. Now, the 36-year-old is looking forward to her 2020 Olympic dream, and her punches are becoming stronger than ever.
Feature Image Credit: thetraveltrunk.in