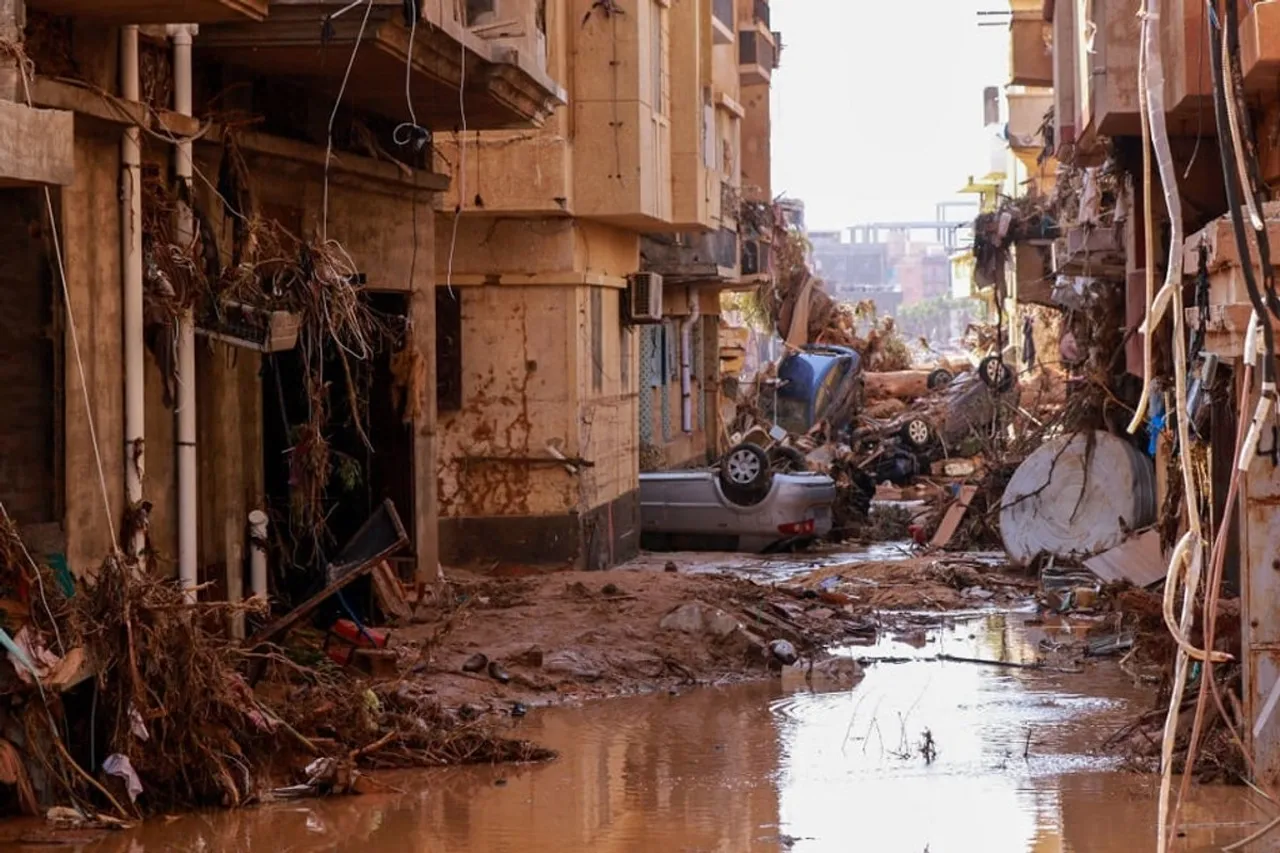 Residents and rescue workers in the devastated Libyan city of Derna are struggling to cope with the thousands of corpses washing up or decaying under rubble, after a flood that smashed down buildings and swept people to sea. 
A UN report said more than 1,000 people had so far been buried in that manner since Libya, a nation divided by a decade of conflict and political chaos, was hit on Sunday by torrential rain that caused two dams to burst.
"Bodies are littering the streets, washing back on shore, and are buried under collapsed buildings and debris. In just two hours, one of my colleagues counted over 200 bodies on the beach near Derna," Bilal Sablouh, International Committee of the Red Cross (ICRC) forensics manager for Africa, told a briefing in Geneva.
Ibrahim al-Arabi, health minister in Libya's Tripoli-based western government, told Reuters he was certain groundwater was polluted with water mixed up with corpses, dead animals, refuse, and chemical substances. 
"We urge people not to approach the wells in Derna," he said.
Calls for Improved Burial Practices and Aid
The International Organization for Migration mission in Libya said more than 5,000 people were presumed dead, with 3,922 deaths registered in hospitals, and over 38,640 were displaced in the flood-stricken region. 
The true death count could be far higher, officials say.
"We should be afraid of an epidemic," 60-year-old Nouri Mohamed said to Reuters, at a bakery offering loaves for free. "There are still bodies underground ... Now there are corpses starting to smell."
The UN health agency together with the ICRC and International Federation of the Red Cross and Red Crescent Societies called for burials to be managed better.
"We urge authorities in communities touched by tragedy to not rush forward with mass burials or mass cremations," Kazunobu Kojima, medical officer for biosafety and biosecurity in the WHO's Health Emergencies Programme, said in the statement.
It called for individual graves, demarcated and documented, saying that hasty interments could lead to mental anguish for families as well as social and legal problems.
A doctor in Derna said this week that photos were being taken of unidentified bodies before burial, in case relatives could identify them later on.
Thursday's UN report said more than 1,000 bodies in Derna and over 100 in Al Bayda, another coastal city hit by flooding, had been buried in mass graves.
The Norwegian Refugee Council, which has a team of 100 in Libya, said dead body management was the most pressing concern.
"I've heard from my team that there are mass graves where rescue workers were appealing: 'Don't bring us food, don't bring us water, bring us body bags'," the NRC's Ahmed Bayram said.
The ICRC sent a cargo flight to Benghazi, eastern Libya's largest city, on Friday with 5,000 body bags. Other aid has also been coming in from abroad.
The Danish Refugee Council said it was sending a team of explosives disposal experts because of the risk of landmines being dislodged by flooding.
Turkish President Tayyip Erdogan said his country, which has already sent three aircraft and a ship with supplies, had now sent two amphibious landing ships carrying 122 vehicles including ambulances and rescue vehicles.
Some residents were frustrated that Libya's fractured authorities were not acting faster.
UN aid chief Martin Griffiths told the Geneva briefing that Libya needed equipment to find people trapped in sludge and damaged buildings, as well as primary health care to prevent a cholera outbreak.
This devastating flood in Derna has left a trail of destruction and tragedy, with both residents and humanitarian organisations struggling to manage the overwhelming aftermath. 
The urgent need for proper burial practices and international aid cannot be overstated as the city faces the daunting task of recovering from this catastrophic event.
---
Suggested Reading: Women's Mobility Highly Restricted In Middle East: Human Rights Watch
---