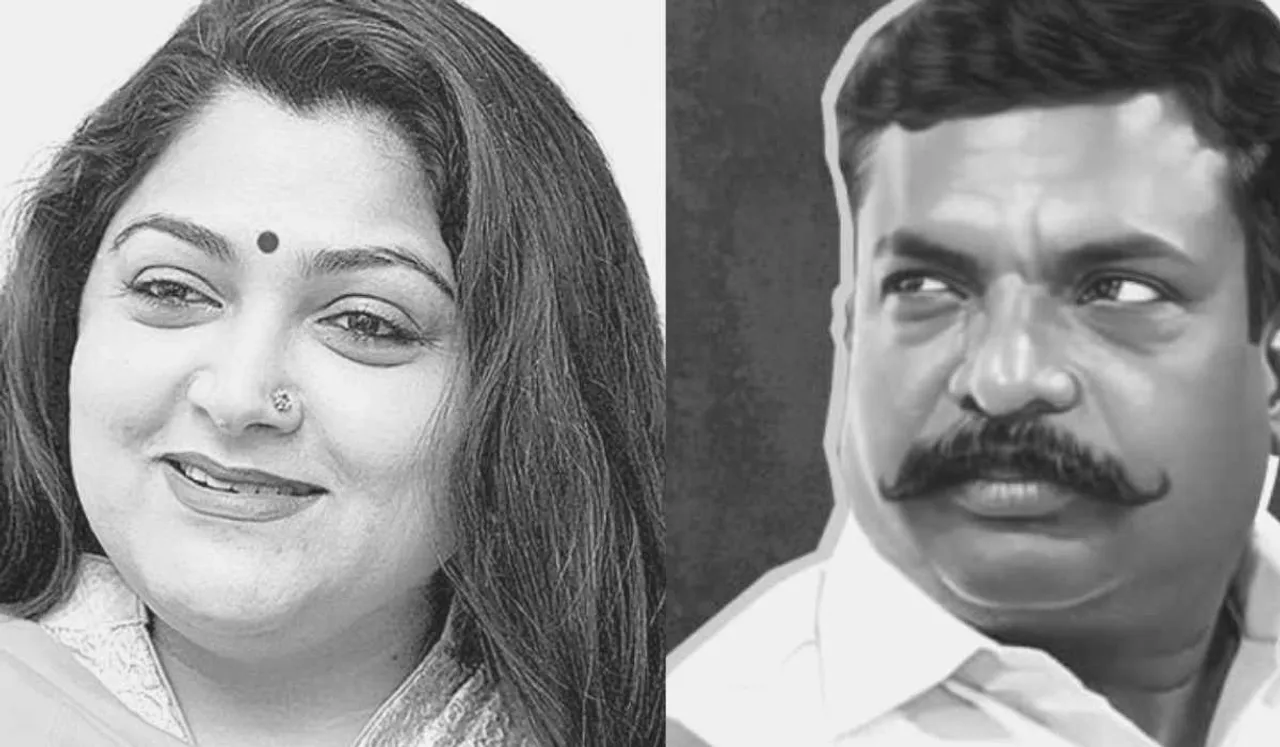 Khushbu Sundar and other BJP party politicians took on politician Thol.Thirumavalavan for making derogatory remarks against women. A Lok Sabha MP and founder of Viduthalai Chiruthaigal Katchi (VCK), the politician allegedly demeaned women while speaking about their portrayal in Manusmriti and Sanatan Dharma. A video with his speeches went viral. Sundar hit out at Thol.Thirumavalavan by asking him to be careful about what he speaks as a political leader.
The video which seems to be a collation of different speeches delivered by Thol.Thirumavalavan, went viral on Twitter on Thursday, October 23, 2020. Since then Twitterati, BJP leaders including Sundar have been criticising Thirumavalavan for openly objectifying and demeaning women.
In the video clippings that went viral, Thirumavalvan can be seen speaking about Hindu scriptures like Manusmriti that have portrayed women in derogatory light. He said that according to Manusmriti and Sanatan Dharma  all women are prostitutes. He further added, "If one were to look at how women are valued in Sanatana Dharma… how they are treated, how they are being suppressed for time immemorial, how they are being exploited… what does Sanatana Dharma say about women?" "That is how they have been created by God," he continued,  "They are of lower status than men. This is applicable to Brahmin women as well as women of other castes. This is what the Sanatana Dharma says".
Also Read: The Hathras Gang Rape Exposes The Control Of Brahmanical Patriarchy In Indian Society
Since the video went viral, he is being accused of demeaning women, religious sentiments and scriptures. He is being blamed for not understanding the scriptures properly and consequently speaking ill of women. However many feminists would question Manusmriti for its patriarchal script.
Tamil Nadu BJP's IT Head CT Nirmal Kumar also shared the clip on twitter saying that Thirumavalavan demeaned Hindu women and hurt their sentiments.
Thirumavalavan MP(TN) has said,

Video 1-Construction with Ugly Statues are Hindu Temple
Video 2-All actress undress for money & call that as art
Video 3-All Hindu women are prostitutes @thirumaofficial made several similar comments, sad part is no media in TN has picked up. pic.twitter.com/psrPUoWcsO

— CTR.Nirmal kumar (@CTR_Nirmalkumar) October 22, 2020
Moreover, Sundar criticised him of using religion against women and objectifying them. "He is a political party leader and should be aware of what he is saying..women cannot be objectified... you should apologise," she said, as quoted by HT. She also reminded Thirumavalvan that he has women folk in his family too. Sundar also said that the womenfolk of leaders also go to temples and click pictures.
Thirumavalvan Denies Accusations
However, Thirumavalvan has been consistently denying all the accusations of degrading women. He alleged that the communal forced have recording parts of his videos to create a wrong impression that he was denigrating women.
Adding that the words in the video have been twisted with an agenda to spread hatred, he wrote on Twitter, "Manu Dharma and Sanatana Dharma are scriptures that have degraded women from time to time. Some groups are twisting what I spoke in an online forum meeting over a month ago and spreading lies about it."
"Those with an eye on political mileage, a casteist-communal group is spreading falsehood against me and creating an impression as if I spoke against women," he wrote.
He also wrote, "Dr Ambedkar had, back then, highlighted how Manu Dharmam degraded women and had burned a copy of it. Periyar had also spoken about the atrocities and burned a copy of the Manu Dharmam. Time and again several leaders have highlighted this and yet injustice towards women prevails."
He further added, "We are struggling for women's emancipation and those unable to tolerate this are doing such things to create a flutter in the DMK alliance during (ahead of) elections." Since Thiruvalavam's post on Twitter, #BanManu has been trending on Twitter. His party will be holding a protest on October 24 in Tamil Nadu against Manusmriti.
Picture Credit: Indian Express
Also Read: Khushbu Sundar Apologises For "Mentally Retarded" Comment: Why Do Politicians Think It Is Okay To Demean People With Disability?