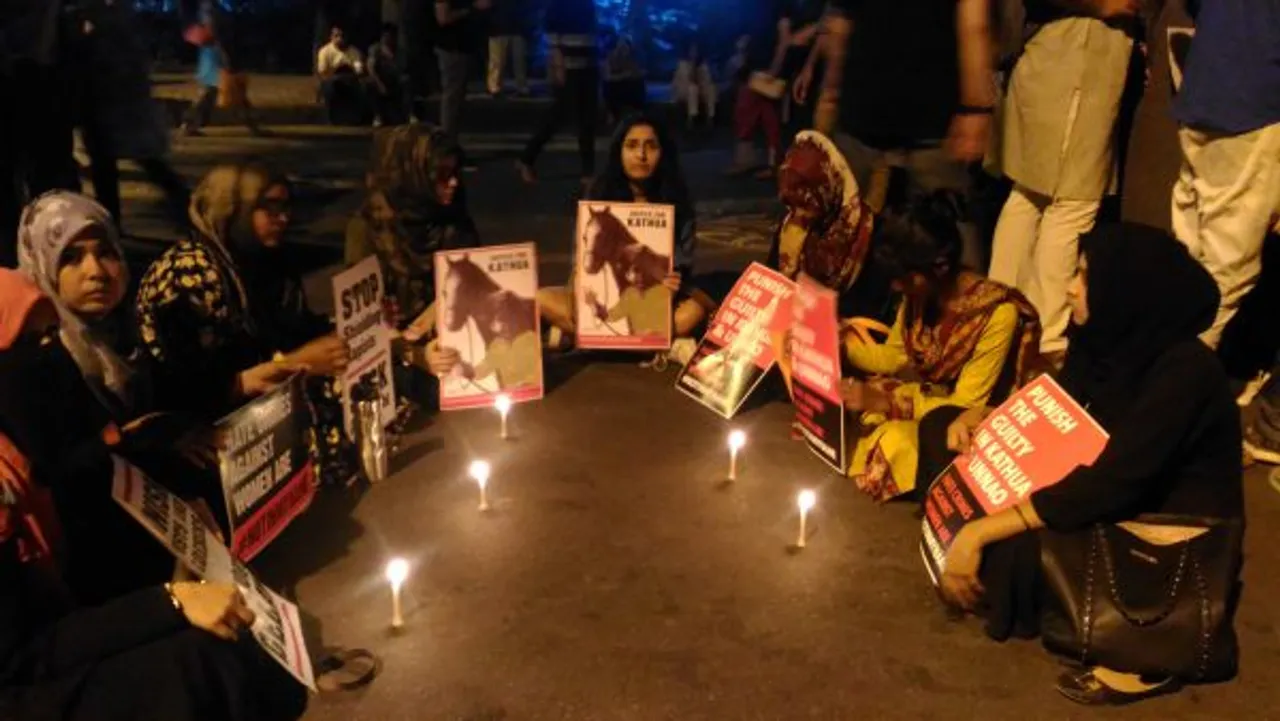 The Pathankot court, hearing the gang rape-and-murder case of an eight-year-old girl in Jammu and Kashmir's Kathua district, on June 7 framed charges against seven of the eight accused. The eighth accused is a juvenile and will have a separate trial in Kathua.
On the seventh day of the pre-trial, seven accused men were charged with gangrape, murder, kidnap, criminal conspiracy. The district and sessions court framed charges under the provisions of Ranbir Penal Code. The formal trial will begin from today.
Under Ranbir Penal Code, charges have been framed against sections 120B (criminal conspiracy), 328 (causing hurt by means of poison with intent to commit an offence), 363 (kidnapping), 343 (wrongful confinement for three or more days). The seven accused have also been charged against sections 376D (gangrape), 302 (murder), and 201 (causing disappearance of evidence of offence).
Also: Accused In Kathua Case Produced Before Pathankot Judge
The trial court has framed charges against the seven accused under two main heads. One is alleged for criminal conspiracy whereas another is for the actual crime
The seven accused against whom charges were framed were Sanji Ram, his son Vishal Jangotra. It also includes special police officers Deepak Khajuria and Surinder Verma, Parvesh Kumar, head constable Tilak Raj, and sub-inspector Anand Datta.
Sanji Ram, alleged conspirator has been charged under Section 376D/120B (conspiracy for gang rape).
Also: Mumbai Unites for Justice for Kathua and Unnao Cases
Among them, two investigating officers, head constable Tilak Raj and sub-inspector Anand Dutta, will the face charge of criminal conspiracy. Both the officers have been separately charged with Section 161 (Public servant taking gratification) of the RPC. Both the accused officers are alleged of destroying crucial evidence.
Along with other charges, the other three accused special police officers Deepak Khajuria and Surinder Kumar and Vishal Jangotra will also face the charge of rape whereas accused Parvesh Kumar will face the charge of attempt to rape.
Also: I Don't Know Till When I Will Be Alive Says Kathua Rape Case Lawyer
The sessions court issued summons to 17 witnesses for examination. They will be examined on the first day of the trial. Around 221 witnesses will be examined during the trial.
On May 7, Supreme Court had directed the sessions court to conduct a speedy, day-to-day trial, transferring the case to Punjab's Pathankot from Kathua court.
Thrity-eight advocates, including five main counsels, are representing the seven accused. The J&K government has chosen two Special Public Prosecutors to prove its case.
Also Read: Nationwide Protests Seeking Immediate Justice for Kathua & Unnao
Deepali Is An Intern With SheThePeople.TV