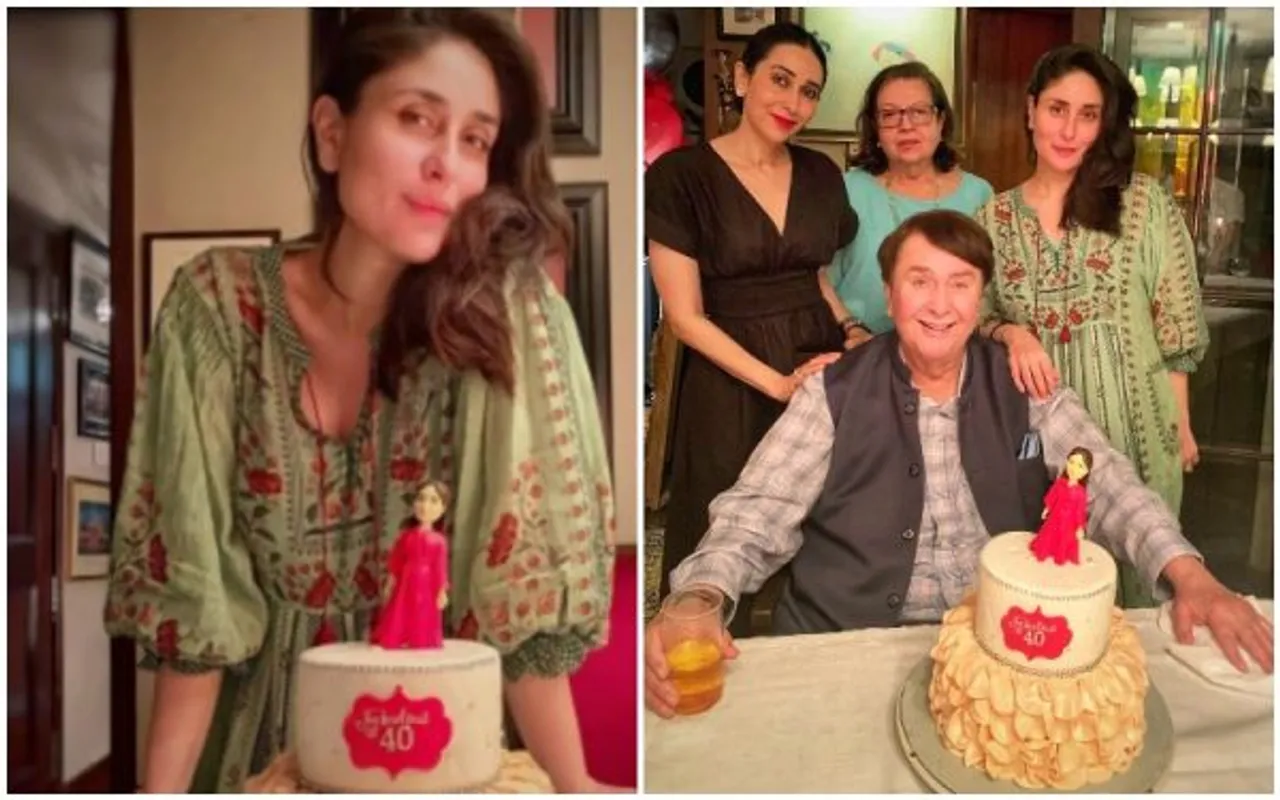 Kareena Kapoor Khan turned 40 today. She reportedly spent the day with her family; her father, Randhir Kapoor, her mother, Babita Kapoor, her sister, Karishma Kapoor and her husband, Saif Ali Khan. Kapoor shared an Instagram post in which she is wearing a green floral dress and standing next to a magnificent cake.
On the eve of her 40th birthday, she posted, "As I enter my 40th year... I want to sit back, reflect, love, laugh, forgive, forget and most importantly pray and thank the strongest force up there for giving me the strength and thank my experiences and decisions for making me the woman I am... Some right, some wrong, some great, some not so... but still, hey BIG 40 make it BIG."
Also Read: Kareena Kapoor's Dietician Rujuta Diwekar Shares Her Eat-Right Diet
Kapoor was first seen in the film Refugee along with Abhishek Bachchan. So, far she has received six Filmfare awards and is considered to be one of the Bollywood's highest-paid actress.
Here is a look at some of her iconic roles:
Aitraaz: Kapoor played the role of a lawyer-wife. In the film, her husband is falsely accused of physical harassment by his boss and she proves her husband innocent. Her role was path-breaking in a conventionally modelled Bollywood where the woman is always portrayed as the damsel in distress. It became the tenth highest-grossing Bollywood film of the year. 
Kabhi Khushi Kabhie Gham: Kareena's Poo is loved by all. Poo is a style icon and shows how self love is important. It was India's second highest-grossing film of the year and Kapoor's highest-grossing film till date; also became one of the biggest Bollywood success of all time in the overseas market.
Also Read: Kareena Kapoor And Saif Ali Khan Announce That They Are Expecting Second Child
Heroine: This movie reflected the journey of an actress in a male-dominated industry. She played the role of an actress who goes through many ups and downs in her life and career and has a complicated relationship with fame and money. It highlighted the less talked about side of the film industry and choosing acting as a career.
Ki and Ka: Khan's Kia is a working woman and doesn't want marriage to be a roadblock in her ambition to reach the top. This movie portrayed the life of a young married couple who embrace reverse gender roles and highlights how their relationship changes after the backlash from the society.
Kareena Kapoor and Saif Ali Khan are currently expecting their second child. The couple has a son together, Taimur, who is three years old.
Also Read: Someone Please Tell Kareena Kapoor Khan That Feminism Means Equality
Khushi Gupta is an intern with SheThePeople.TV