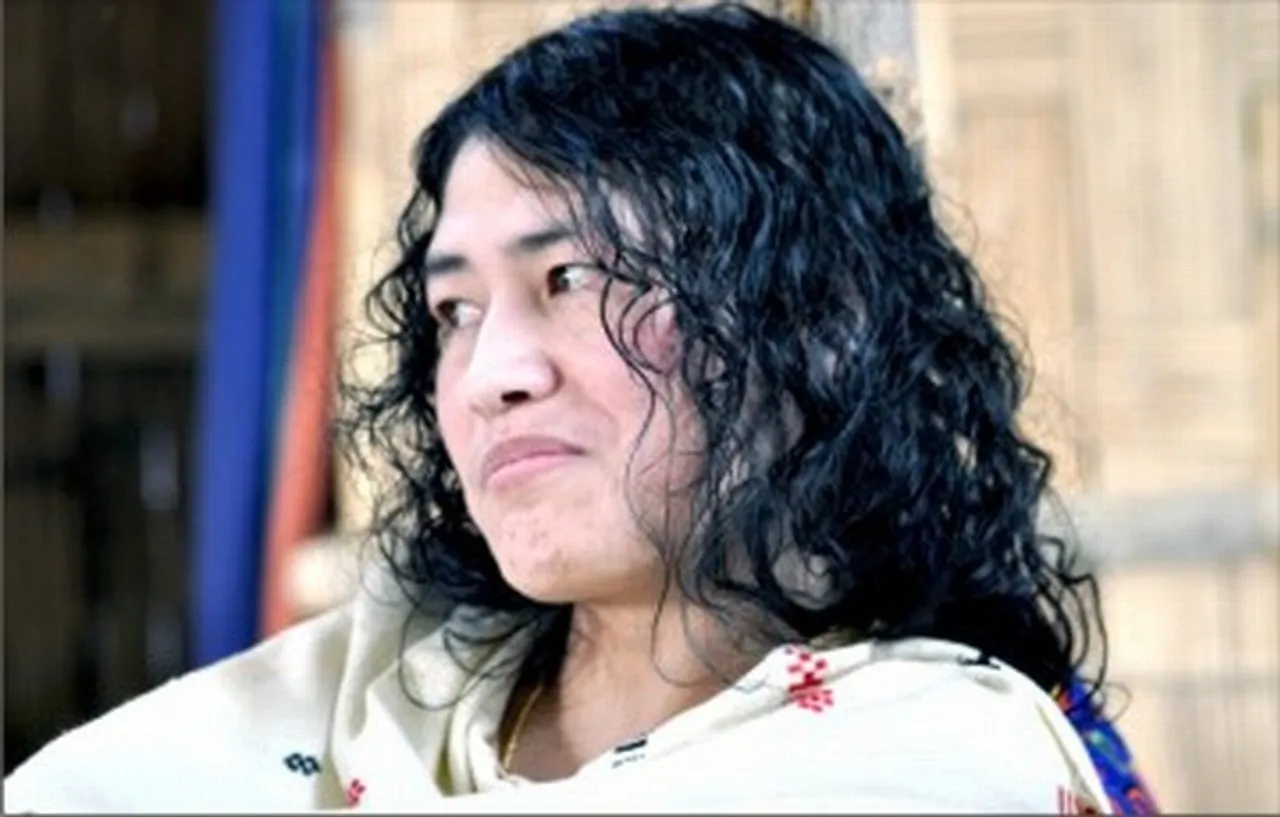 Popularly known as the 'Iron Lady of Manipur', activist-turned-politician Irom Sharmila is soon to get hitched! Sharmila was talking to reporters in Imphal on Thursday, when she surprised us all with the happy news that she will marry her long-term fiancé, Desmond Coutanho, after the assembly election session is over.
Desmond Coutanho, an Irish national, is of Goan origin. And, to be frank, his attitude towards Irom's party and the supporters has never been polite.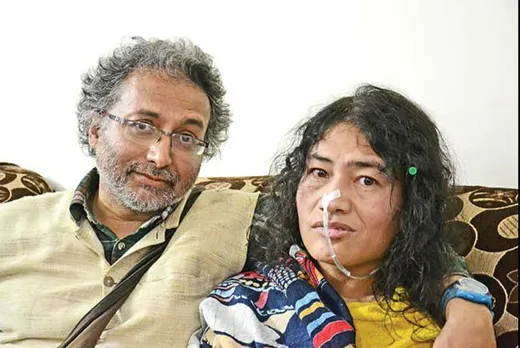 Irom with fiancé Desmond (Pic Credit: The North East Today)
Recently, in a media statement, the Manipuri leader was seen apologizing on behalf of her boyfriend, who allegedly posted abusive remarks on Facebook targeting her supporters. After saying sorry to the people of Manipur, who were hurt by the apparently abusive and unparliamentary words, she announced that she would marry him when the election is over. Earlier too, Sharmila had declared her intention to get married without giving a particular date.
"On behalf of Desmond, I tender my apology and seek forgiveness." she apologized, Hindustan Times reports.
The full statement reads: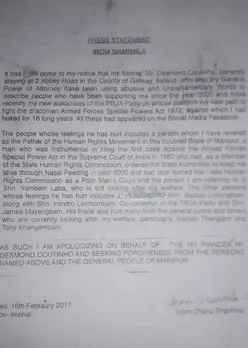 READ: Hunger Strike Over, The Iron Lady of Manipur Aims for CM
During the time Sharmila was trapped in the hospital and they put her under house arrest, Sharmila got strength from Desmond's letters. Once, when they were seen holding hands inside the courtroom, women activists had beaten up Desmond on the court campus. Since then, he had never set foot in Manipur but has been her strong backbone.
Also read: Challenging the system: Some gutsy women
Sharmila recently launched her new political party, People's Resurgence and Justice Alliance (PRJA), and since then has been on a "crowd-funding" drive to ensure they collect enough funds from the people to contest the Manipur Assembly elections this year.
She ended her nearly 16-year hunger strike against the Armed Forces (Special Powers) Act in Manipur on August 9, 2016. She founded the party with a few youth supporters, who have been supporting her since year 2000, to challenge the Congress party's rules. The party also has its own website – prja.in.
Also Read: Eye on Imphal: The Irom Sharmila story
Sharmila is a contestant in the Manipur elections, scheduled to be held on March 4 and 8. We hope this crucial phase too shall pass for the 'Iron Lady'. And, we wish the couple best of luck for their future together!
READ: Six Things You Need to Know about Irom Sharmila
Feature Picture credit- propelsteps.files.wordpress.com
Join Us on https://www.facebook.com/SheThePeoplePage
Follow Us on https://twitter.com/SheThePeopleTV