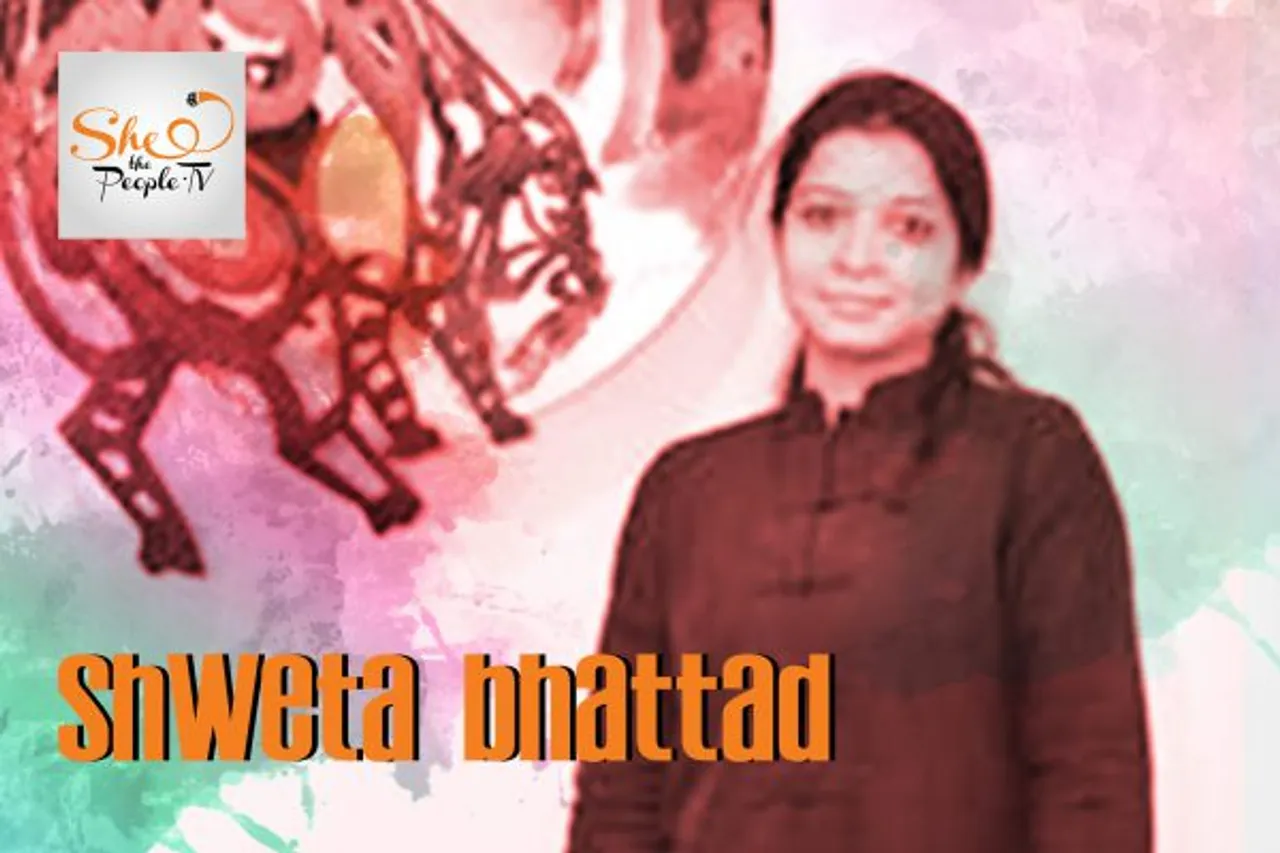 Shweta Bhattad's work is the essence of 'art for social change and reform'. Her work is designed to give a voice to those who are without one or perhaps need a platform to be heard and acknowledged. Shewta sees her work as manifestations of truth, she is socially concerned and uses her art as a form of activism for a range of causes such as women's education, women's safety, and work with farmers. She sees art as a catalyst to social and behavioral change and is determined to familiarize it to the masses.
Background
Born and raised in Nagpur, Shweta completed her bachelor's degree in sculpture in her hometown and went on to complete her masters in sculpture from MSU Baroda. She has been trying to investigate different mediums and the various possibilities that come out of them through either sculptural works or even performance pieces. Like, most modern-day new-age artists, performance has become central to her repertoire.
Shweta believes that: "This collective act by like-minded people, and community-based art practices by collaborating with concerned people from around the globe to think and act on a particular thought or concern can be the major aspect which leads to awareness, social-cultural-economic innovation and can be a great catalyst for change... "
Bharat Mata
She performed a piece called 'Bharat Mata' in Taiwan as a part of a residency program in Bamboo Curtain Studio Taiwan that was supported by Khoj. In this piece, she revealed her struggle in conquering her fears as an Indian woman in her own country.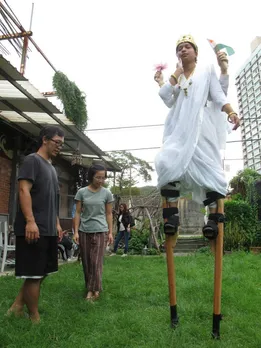 Picture Credit: Sweta Bhattad/Facebook
Her craft has been showcased in a range of group shows such as: 'And the Falcon Passed Through his Neck' at LATTITUDE 28, by Jasmine Wahi, A New York-based curator, Art Asia Miami, Lalit Kala National Exhibition, Bombay Art Society etc. She has also held a solo show: "Wax Magic" at the (South Central Zone Cultural Center), Nagpur in 2005. She now lives and works from her studio in Nagpur.
"I Have A Dream" community project
Drawing inspiration from the Biennale's Residency program Theme from Martin Luther King's speech she innovated the "I Have A Dream" community project and global farming initiative. She takes notice of decreasing farmland and puts her concern to action by drawing attention to farmer communities and their distinct practices, she does this by inviting artists to collaborate with farmers and sow seeds and cultivate gardens in the shape of " I have a dream" in their own language.
Thus, she is able to bring her craft out of the studio and into the farming communities while also making them shareholders in the project. She aims to use this collaborative approach to give farmers a voice and also empower their initiatives.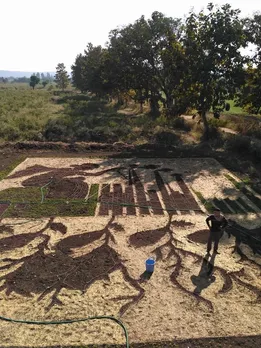 Sweta Bhattad, Facebook
This project that originally began with a handful of countries on board has now grown to represent farmers, artists and community members from 27 countries. They have begun a dialogue on the importance of the issue and have engaged their communities and global media through their wooden installations. These large-scale letters spelling out: "I Have A Dream" showcased video interviews from participants from the all the countries and the woodwork was made possible with the help of Masahiko Masuda, who volunteered his time to help build the structures.
Also Read: India's Women Artists: Meet the Artist-Activist Priyanka Paul