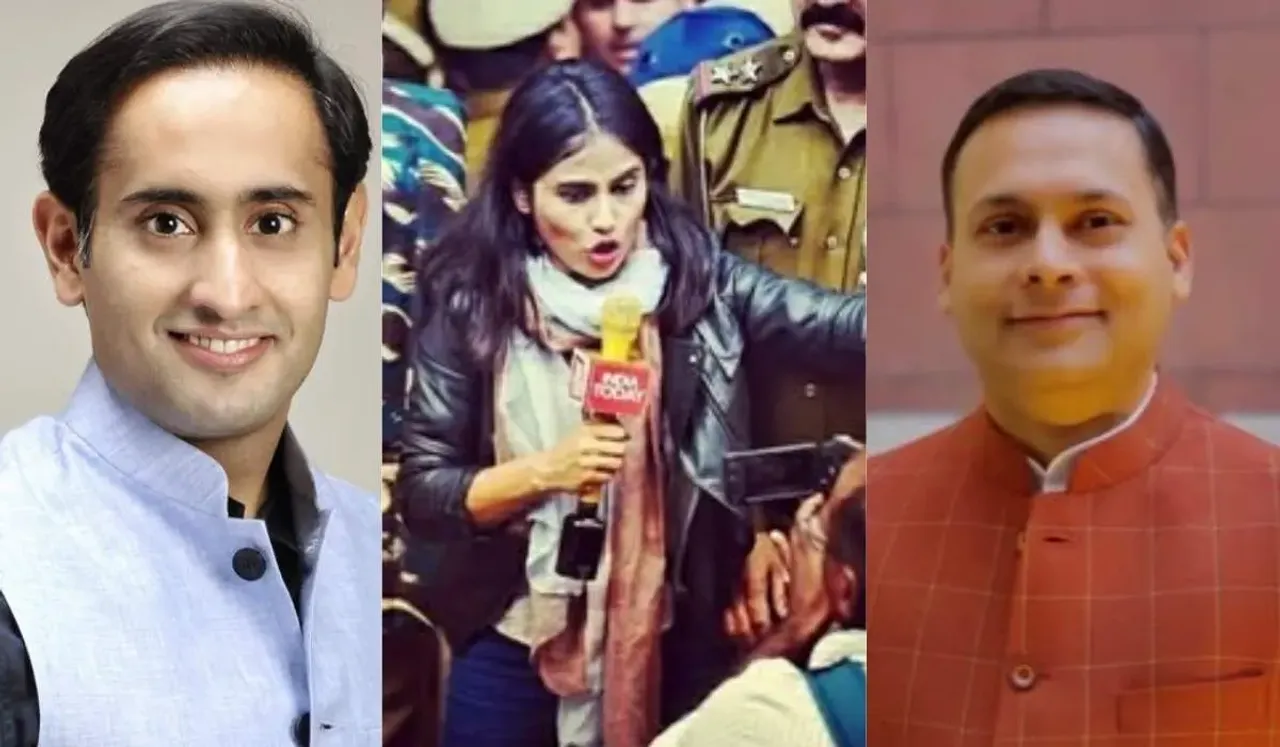 One young female reporter is at the centre of a war thats broken out between journalists and politicians. On social media, a phone call conversation clip has emerged, reportedly between Aaj Tak journalist Tanushree Pandey and the Hathras victim's family member, claiming Pandey pressurised the victim's family to say that the 'UP government hadn't done enough.' Although the clip is widely available on social media and reproduced below, SheThePeople couldn't confirm the veracity of this clip independently.
In the audio that was leaked, the reporter asks the victim's brother to shoot a video of the father saying that he has been pressurised by the Uttar Pradesh government to issue a statement that he is satisfied with the probe so far.
Pandey is now the target of many politicians including Amit Malviya of BJP.
यूपी को बदनाम करने की साज़िश रचने वालों को एक्सपोज़ करने वाला वीडियो, घटना के तत्काल बाद माँ का बयान।
Aaj Tak journalist refers to this video in her leaked call with Sandeep, victim's brother, in which she can be heard tutoring him to make leading statements but doesn't report... pic.twitter.com/495AhQFn0A

— Amit Malviya (@amitmalviya) October 2, 2020
Pandey fearlessly reported through midnight the cremation of a young Dalit girl who was brutally gang raped and murdered, and showed video clips that alleged inadequate action by the police. What started out as politics over a caste based gang rape, has now turn into a battle between BJP and Indian media. The allegation is that a reporter's phone with the victim's family was intentionally leaked to portray the media in a negative way.
Rahul Kanwal, lead anchor of television news channel India Today on Friday tweeted, "Right to report freely must be strongly defended by journalists of this generation. Why is Hathras victim's family being treated like they were the accused? Why have their phones been snatched? Rule of law must prevail in our country. A state cannot be run like a banana republic."
India Today took a stand and lashed out against the government in Uttar Pradesh via releases.
Effort to try and spin a fake narrative fall spectacularly flat. Family members of #Hathras tell reporters on open camera that UP officials are trying to threaten and intimidate them. UP officials should stop treating the victim's family like they were accused of a heinous crime. pic.twitter.com/J8dEhdiBDr

— Rahul Kanwal (@rahulkanwal) October 3, 2020
Other journalists and media watchers reacted to this sharply as well.
Naomi Datta, on what is happening to Pandey, told SheThePeople, "It is shocking that a journalist is being targetted for doing her job. That isn't tutoring. That is convincing a witness to come on record. That is legit journalism. Tanushree Pandey has single handedly undone the damage done to Indian television journalism in the wake of the SSR case with her reportage on Hathras. Instead of setting things right, the messenger is being targeted."
"The government does not like criticism. It uses its ecosystem to drown out any voices that are raised against it," media watcher and independent film maker, Harini Calamur says. "We are seeing it in the Tanushree Pandey case. They take on all your causes and sort of corrupt it. What's happening with her is what the government has been doing with everyone who opposes it – by calling us urban naxals, feminazis. This time they've gone a step ahead and told us – of course, we tap your calls."
Delivering events from ground zero by calling a spade a spade is what an objective journalist is expected to do. Why then are the authorities keeping a check on her by way of unethical methods such as phone tapping?
Calamur adds that this is unfortunately not a new occurrence. "It's been happening for a very long time… for the last six or seven years. It wasn't happening to people in the English media. But regional journalists – they have been shunted out, they have been threatened, they are facing charges. Now it's happening in English media so we're sitting up and noticing."
Datta adds to this saying, "Phone hacking is unacceptable in any democracy and is an infringement of the freedom of the press and personal liberty too. Even Rupert Murdoch had to close down News of The World after a phone hacking scandal in the early 2000s. That is how grave an infringement of rights it is in the developed world. As the largest democracy in the world, this is unacceptable."
What's worrying is that the leaking of the conversation between Pandey and the victim's family sets the wrong precedent as far as honest journalism is concerned. How will journalism stay credible? Media persons exist to show mirror to the establishment and not be political spokespersons.
On 14 September a young Dalit girl was raped allegedly by four upper-caste men while she was collecting fodder for animals in the fields. She died on 29th September due to the brutal injuries. Tanushree Pandey has been fearlessly reporting from Hathras on the death and her cremation.