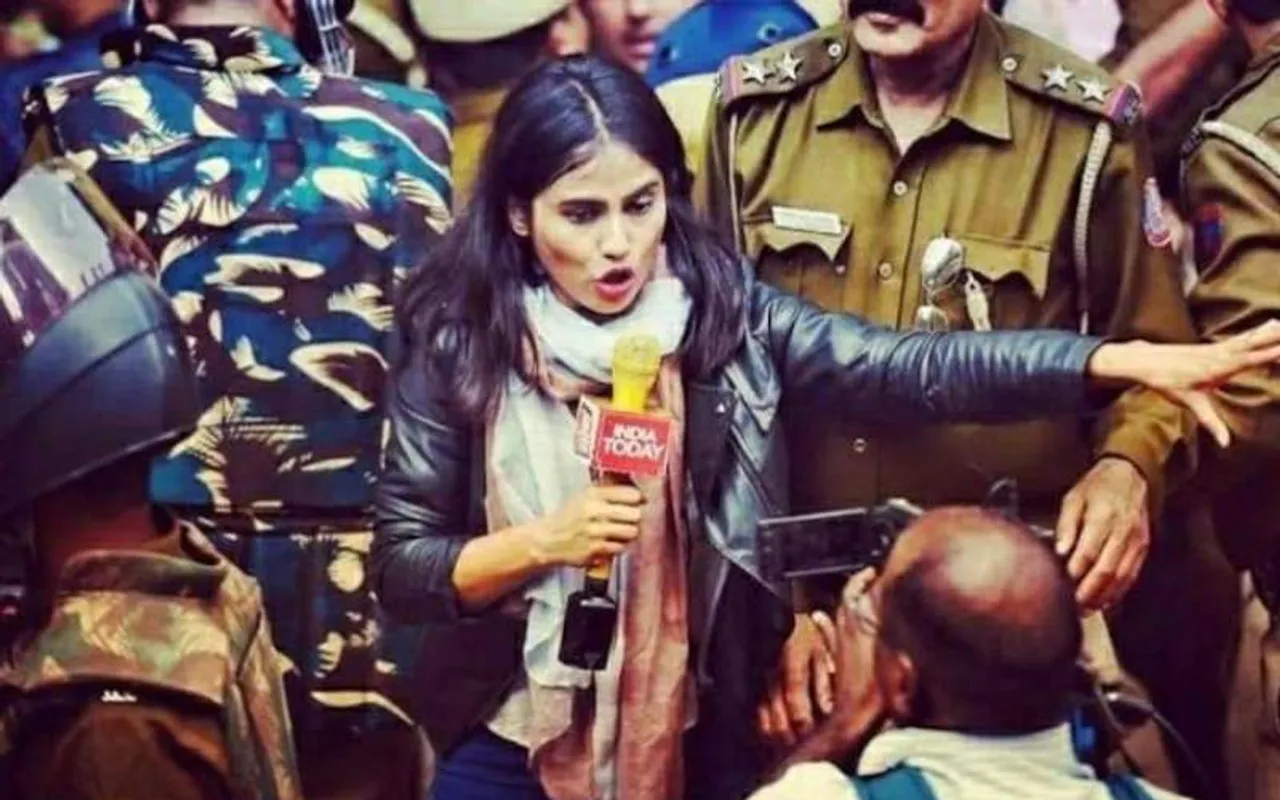 The Hathras gangrape case is currently caught in murky waters, with the Uttar Pradesh government and police facing critical backlash on their handling of the entire incident. A media clampdown of sorts was being exercised in the state with no journalists and opposition leaders being allowed inside. However it has since been lifted. After the body of a 19-year old Dalit woman who was gang raped by four upper-caste men on September 14 was "forcibly" cremated by the UP police on September 29, the police even went on to deny all charges of rape being involved in the case. Further, evidence emerged of the Hathras District Magistrate issuing what is being called a "veiled threat" to the Dalit woman's family, asking them to change their stance in the case.
In the thick of it all has been one female journalist, whose relentless and crucial ground reporting ensured that this truth reaches the public: Tanushree Pandey.
Tanushree Pandey's Fearless Reporting On Hathras
Pandey, who works with the India Today Group, had been reporting on Hathras since September 29, the day the Dalit woman was cremated by the UP police post-midnight against the family's wishes. Through video clips of her first-hand reports from ground zero in Hathras, Pandey was keeping social media updated with all that was happening that night. These videos that show her trailing the police, her confrontation with them, and the follow-up that included recording the District Magistrate's (DM) conversation with the bereaved family, have now gone viral as some of the only standing proofs of the situation in Hathras.
Through her reporting, Pandey is taking on no less than the UP administration itself, and by extension Chief Minister Yogi Adityanath. Her reporting is aiming to wedge out the truth from between the media clampdown and suspect handling of the case. It is something to be lauded: one woman journalist dutifully fulfilling her responsibility while the highest powers abandon theirs.
ABSOLUTELY UNBELIEVABLE - Right behind me is the body of #HathrasCase victim burning. Police barricaded the family inside their home and burnt the body without letting anybody know. When we questioned the police, this is what they did. pic.twitter.com/0VgfQGjjfb

— Tanushree Pandey (@TanushreePande) September 29, 2020
What's India Today's stance?
India Today is questioning how phones of reporters are being tapped. Earlier, an audio that was leaked, suggested that Pandey asked the victim's brother to shoot a video of the father saying that he is facing pressure from the UP government. This has led to a media uproar about the access to journalists' calls and whatsapp by authorities such as police, government and other agencies. From India Today several senior journalists spoke up.
Right to report freely must be strongly defended by journalists of this generation. Why is Hathras victim's family being treated like they were the accused? Why have their phones been snatched? Rule of law must prevail in our country. A state cannot be run like a banana republic.

— Rahul Kanwal (@rahulkanwal) October 2, 2020
Why are telephone calls of journalists reporting on #HathrasHorror being tapped? BJP rep on #Newstrack spoke of elaborate process for phones being tapped by Govt. Under what provision of law was the call recording of a victim's family member and a journalist leaked by police?

— Rahul Kanwal (@rahulkanwal) October 2, 2020
How the Hathras Reporting Has Cost Pandey
Expectedly, Pandey's deep-dive into the Hathras case has cost her her privacy. India Today Group

Official statement by the India Today Group on the #Hathras phone tapping incident (2/2) pic.twitter.com/1vgWqSUYMo

— IndiaToday (@IndiaToday) October 2, 2020 that Pandey's phone conversations with the victim's brother Sandeep, where she was encouraging "the family to speak out in the face of government intimidation and threats", have been tapped and leaked. They have stood by their journalist in an ethical show of solidarity and insurance of good journalism.
Official statement by the India Today Group on the #Hathras phone tapping incident (2/2) pic.twitter.com/1vgWqSUYMo

— IndiaToday (@IndiaToday) October 2, 2020
Further, the media clampdown in UP was explained by BJP spokesperson Amit Malviya as a result of Pandey's reporting. In a news interview, he brazenly blamed Pandey's leaked phone calls as the reason media has been "disallowed" into the state, calling it "misreporting."
Pandey's Journalism
That Pandey has dared to stick by the tenets of journalism - by reaching into the recesses of Hathras and bringing the real narrative out in the face of the counter-narrative being pushed by the government - is a quality that notable people across the social media spectrum are appreciating. Rajdeep Sardesai, consulting editor of India Today, wrote on Twitter, "My colleague @TanushreePande has been terrific in her reporting... By targeting her, the messenger is being shot but the message will not go away. Face upto the truth!"
Journalist Marya Shakil wrote:
Hey @TanushreePande you stood with the family of #HathrasHorror through & through. This smear campaign to discredit you has fallen flat. Your reporting has been outstanding. Your ability to convince victim's family to give a sound byte will be remembered as good journalism! pic.twitter.com/2zYUhQAXRv

— Marya Shakil (@maryashakil) October 3, 2020
While news anchors shout and debate in their newsrooms it is reporters like Pandey who lay the ground work for journalism. Without their coverage would we have known that the Dalit woman was cremated at the dead of night? Would we have seen images of women wailing and villagers throwing themselves at police vehicles? Would we have know how real the tension was that night in Hathras if not for account that Pandey gave us first hand?
Views expressed are the author's own.