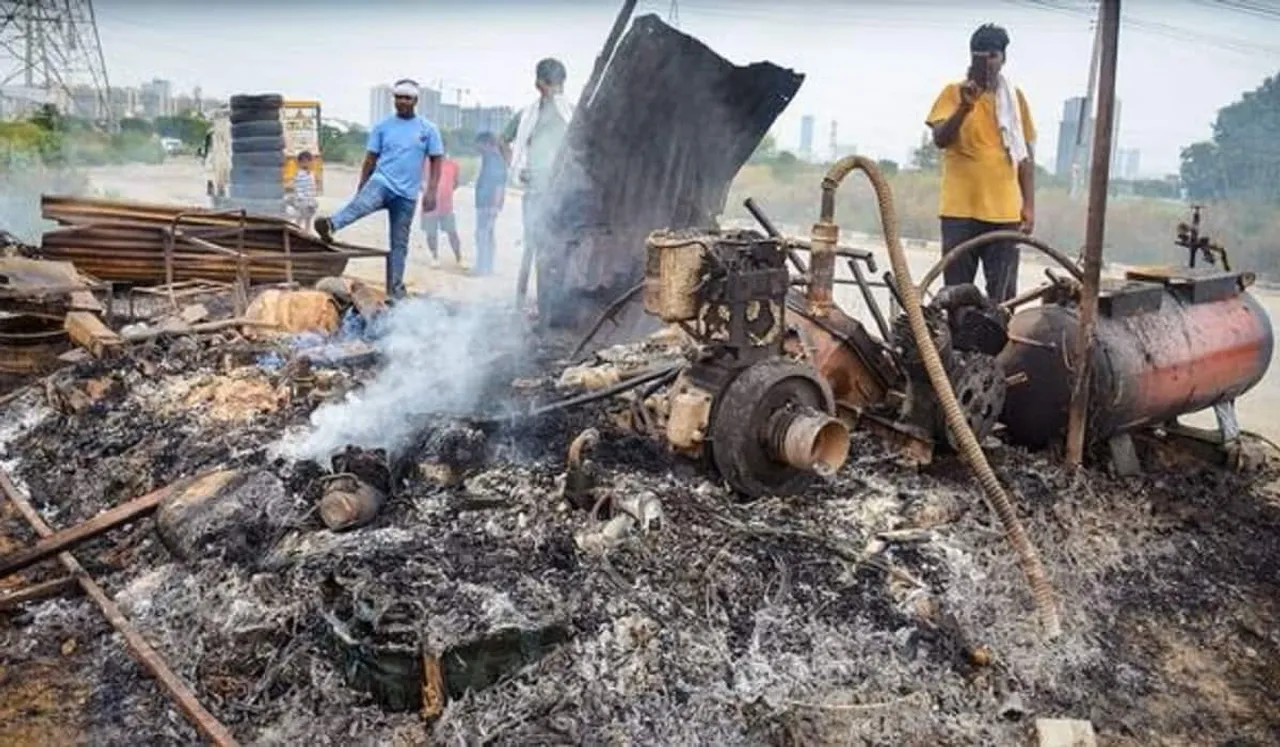 An additional chief judicial magistrate of Nuh and her three-year-old daughter had a narrow escape when their car was attacked and set on fire by a mob during the communal violence in Nuh.
The incident came to light after a processor server in the court of ACJM, Tek Chand filed an FIR against unknown people in the incident at the City Nuh police station.
Anjali Jain, the additional chief judicial magistrate (ACJM), and her daughter had a tough time running for their lives on Monday, as the attackers were pelting stones and firing, said the FIR registered at City Nuh police station on Tuesday.
The judge, her daughter and staff had to take shelter in a workshop of the old bus stand in Nuh. Later, they were rescued by some advocates.
The FIR revealed that Jain and her three-year-old daughter along with gunman Siyaram had gone to the SKM Medical College at Nalhar to purchase medicine around 1 pm on Monday. They were travelling in her Volkswagen car. While returning from the medical college, they were attacked by around 100-150 rioters near the old bus stand on Delhi-Alwar road.
"The rioters were pelting stones at them. Some stones hit the car's back glass, and the rioters opened fire in the area. All four of us left the car on the road and ran to save our lives. We hid at a workshop of the old bus stand and later some advocates rescued us. On the next day, when I went to check on the car, I found out that the rioters had torched it," the FIR was quoted by news agency Press Trust of India.
The duo had to take shelter in a workshop of the old bus stand before being rescued by some advocates.
A case was registered against unknown people under sections 148 (riots), 149 (unlawful assembly), 435 (fire with intent to cause damage), 307 (attempt to murder) of the Indian Penal Code and appropriate sections of the Arms Act. 
Meanwhile, the Supreme Court has issued notices to Uttar Pradesh, Haryana and Delhi in the wake of communal clashes in Nuh, Gurugram and neighbouring areas. The apex court directed the Centre to ensure no hate speech or violence takes place in Delhi-NCR. 
A bench of Justices Sanjiv Khanna and SV Bhatti also ordered that additional police or paramilitary forces be deployed and CCTV cameras be installed in sensitive areas.
---
Suggested Reading: Men In Power Fail To Support Women's Struggle Against Sexual Violence