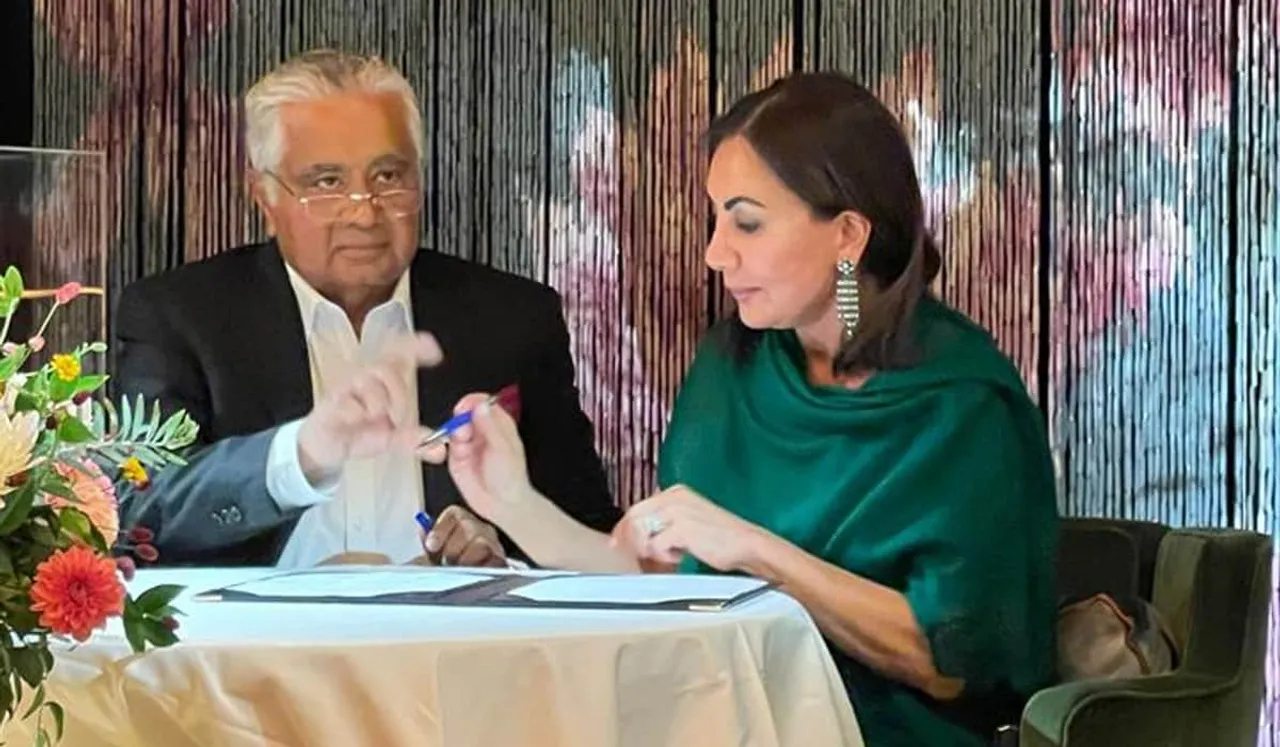 Renowned Indian lawyer Harish Salve, formerly the Solicitor General of India, celebrated a private wedding ceremony in London on Sunday. Harish Salve and his bride, Trina, exchanged vows among close friends.
This marks the 68-year-old senior lawyer's third marriage. Harish Salve was previously married to Meenakshi, his first wife, Salve and Meenakshi ended their over three-decade-long marriage, during which they had two daughters. Later, he tied the knot with Caroline Brossard in 2020. 
Among the notable guests were industrialist Mukesh Ambani and his wife, Nita Ambani, who flew to London to attend the wedding. Other prominent businessmen present at the reception included Sunil Mittal, LN Mittal, SP Lohia, and Gopi Hinduja. Former IPL chairman Lalit Modi and his girlfriend, model Ujjwala Raut, were also photographed at the wedding.
Who Is Trina?
Harish Salve's Third Wife
While there isn't extensive information about Harish Salve's third wife, numerous videos and photos from the prominent lawyer's wedding have surfaced on social media.
Former Solicitor general of India, #HarishSalve got married for the 3rd time. Nita Ambani, Lalit Modi amongst others attended the ceremony.

Hopefully he is lucky the third time. pic.twitter.com/RVSPXyTujC

— Kumar Mihir Mishra (@Mihirlawyer) September 4, 2023
More About
Harish Salve
Harish Salve, a distinguished Supreme Court lawyer, boasts an illustrious legal career enriched with numerous high-profile and politically significant cases. Salve is renowned for his involvement in numerous high-profile cases, including the trial of Kulbhushan Jadhav, who was sentenced to death by a Pakistani military court on charges of espionage. He notably charged a nominal fee of only Rs. 1 for representing Jadhav, a gesture that earned him widespread acclaim.
His list of prominent clients includes the Tata Group and Reliance Industries. His clientele includes prominent business magnates such as Mukesh Ambani and Ratan Tata, as well as seasoned politicians like Mulayam Singh Yadav and Prakash Singh Badal, among others.
In 2015, Salve was honoured with the Padma Bhushan Award, one of India's highest honours. During the same year, he took on the infamous hit-and-run case of Salman Khan from 2002, who had initially been sentenced to five years in jail. However, Khan was eventually acquitted of all charges for the 2002 hit-and-run and drunk-and-driving cases following the Bombay High Court's decision in December 2015.
Salve served as the Solicitor General of India from November 1999 to November 2002 and was appointed as the Queen's Counsel for the courts of Wales and England in January.
---
Suggested Reading: Meet Tharman Shanmugaratnam, Indian-Origin Singapore President