"How can girls play? How can girls wear shorts or sports gear? Why should girls and boys play when they have home chores and school work that they can't even manage? How can girls play with boys or be coached by men?" These are just a few questions that Neha Sahu, co-founder of Just For Kicks, deals with on a regular basis.
It was in the early 2000s that Sahu, along with Vikas Plakkot, co-created the Just For Kicks (JFK) programme to bring together knowledge-gaining and co-curricular activities involving football for kids in schools. They first began in Pune. Then in 2014, JFK extended itself to include girls in its programme and came up with Girl Effect.
Pune, Mumbai, Bengaluru, Hyderabad and Chennai are some of the states where this programme is in operation. Girl Effect also runs a rural program in Dharwad in Karnataka.
ALSO READ: Meet Tanvie Hans: Indian Footballer Playing Professionally In England
Unleashing girl power
Talking about starting Girl Effect, Sahu says, "In 2014, Just For Kicks made a very key decision to include girls as a part of the program. Until this point, we'd focused on only boys due to the significant gap in mindset in getting girls to the field from the point of view of schools and parents. We even changed our logo to reflect this change such that it trickles down to every single stakeholder in the community."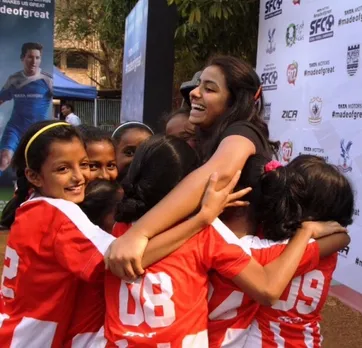 Neha Sahu
Sahu explains why she chose football as a game and how it acts as an equalizer in society. "Once you step onto the pitch -- gender, socio-economic background, social class don't matter. This pitch then becomes symbolic of a free society wherein all are equals, thus affording a girl child the freedom to express herself, uninhibited by constraints of our society. This expression then translates into various values such as grit and confidence being built up in the girl child that nudge society to view them as equals and subsequently create a cycle of systemic change led by a mentality shift," says Sahu.
She adds, "Thus, in addition to the life skills focused training program, we work within the community spaces to run training for the parents and other community members such that each one of them embraces the idea of girls playing, understand child nutrition and girls' health needs, and lets their girls have opportunities equal to their boys."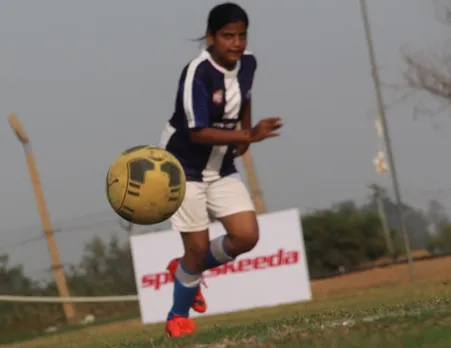 Just For Kicks
JFK claims to have deep impact on the children it deals with. To name a few, "It helps in skill development and changing mindset. One football being thrown amongst a bunch of girls with the right guide can create wonders! Since the program isn't extremely resource intensive, this is extremely sustainable and quickly scalable."
Sahu sheds some light on the immense societal pressures and challenges that the girls have to tackle to get to the football ground. And that itself is a huge achievement for them. "They are not given access to outdoor sport and activities, as opposed to their male counterparts, who have these opportunities through various avenues, even though it is limited."
Parents of girl children have a major mindblock in allowing them to focus on anything apart from academics or household chores. This is largely due to the fact that 90-­95% of parents of kids in our target group are illiterate, she explains
ALSO READ: How Shakti Girls Is Empowering Slum Girls In Vidarbha With Football
"Adolescent girls have even more trouble getting access to these activities as menstruation is a taboo in all communities -- urban to rural."
These issues make girls severely under-confident. "They lack the cognitive skills that we can only build in them through various experiential activities with sport being a key factor. Most importantly, this leaves the girl children unfit through their lifetime too."
Over the last three years, Girl Effect has been able to register 900 girls in the programme with the growth rate jumping from 10% to 40%. They hope to raise it to 48% this year by reaching out to 1,420 girls.
Success stories
Neha also narrates the success stories emerging out of Girl Effect. "Our most powerful example came in the form of a team of girls - SGV Foxpassers. It is a group of classmates at Shree Gita Vidyalaya in Govandi area of Mumbai. These girls came from very conservative communities. Their society doesn't allow them to even sit in their classrooms without burqa or hijab. After enrolling in the JFK program, we did not inform the parents for the longest period about the children playing a sport post-school hours."
Keeping it a secret with the parents allowed JFK to work with the girls. "The kids went on to play in our league wherein they got the opportunity to play against children from some of the elite schools and other nearby government schools, eventually culminating in a defining win. The girls took the trophy back to the community to big outrage -- one that died soon after they learnt of the girls making the community proud. The team had not only opened doors for themselves but also for many other girls in the community, that are now part of our program," she explains.
With this support, the girls in this community are now pushing the status quo and dreaming big.
Join Us on https://www.facebook.com/SheThePeoplePage
Follow Us on https://twitter.com/SheThePeopleTV