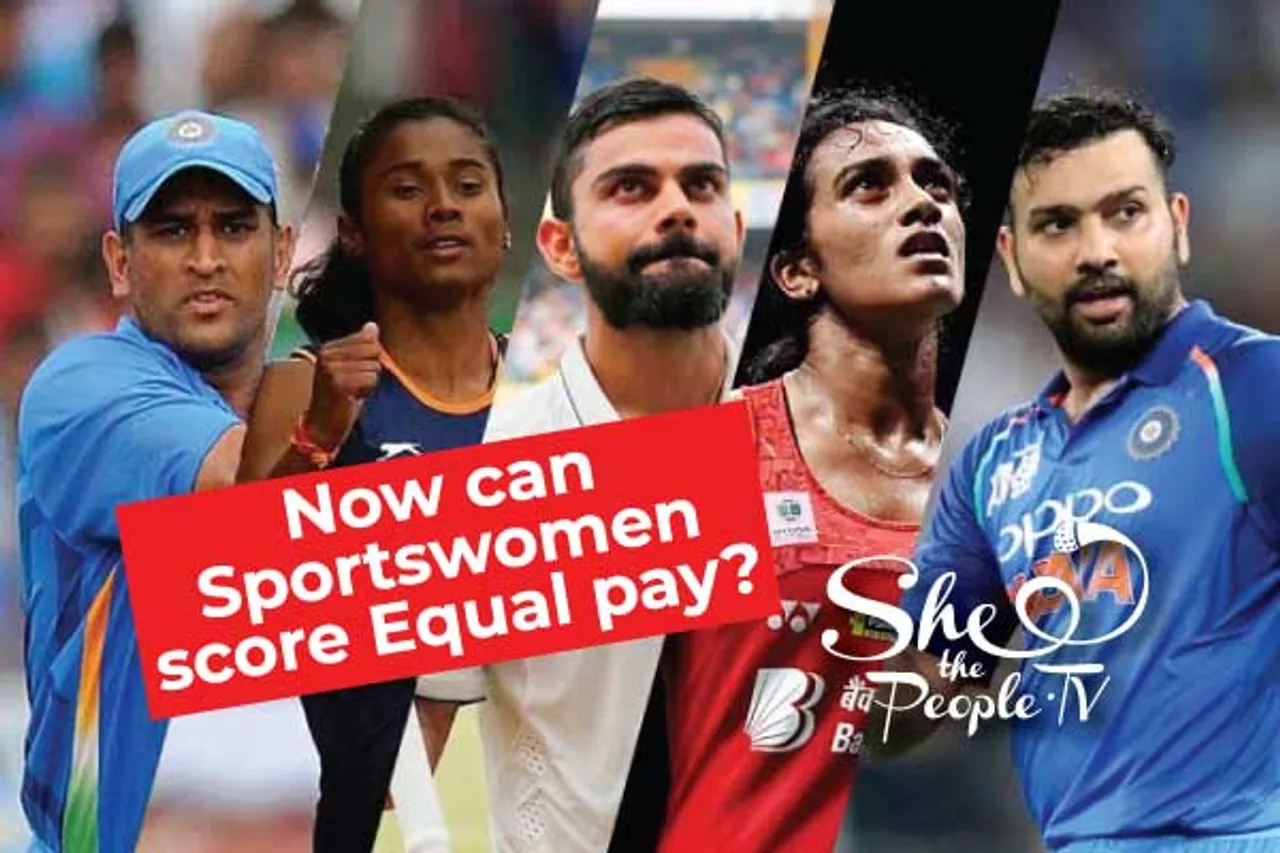 The world is championing for gender equality and trying to bridge the wage gap, but numbers don't lie! The US Women's World Cup title win undoubtedly paves the way for gender equality. After their fourth stunning victory on Sunday at the World Cup, the enthused crowd inside France's Stade de Lyon started cheering and chanting "equal pay!" for the powerful team. The US women are at the top of their game and, the athletes not surprisingly claim that they should be paid equal to men.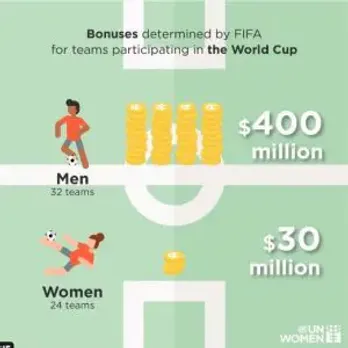 Image credit: UN Women
There's a staggering gap between the salaries/prize money of female sports stars as compared to their male counterparts. Example – the disastrous wage gap in football in America. Let's get an overview of the numbers in different sports:
Cricket: Female v Male
India not drumming up for equal pay
The Board of Control for Cricket in India (BCCI) received love after they increased the salaries of the women cricket team ahead of the 2017 Women's World Cup. Even the daily allowances were brought at par with the male cricketers in addition to flying business class for tours.
But that doesn't change the fact that the women cricketers in the top brackets earn only 7% of what their male counterparts do, a comparison worth discussing is between what Virat Kohli and Mithali Raj earn, as revealed in BCCI's new pay structure. While players from the men's cricket team have been divided into four categories – Grade A+, Grade A, Grade B and Grade C -- the top bracket will receive Rs 7 crore annually while the others in the remaining categories will receive 5, 3 and 1 crore annually, respectively. For women cricketers, the contracts is settled across three categories. The women's team has been divided in three grades, where the Grade A ones will be getting Rs 50 lakh, those in Grade B will be paid Rs 30 lakh and the ones in Grade C will be handed Rs 10 lakh each.
Last year, during the Women's Asia Cup T20 in Malaysia, ICC ignored the deep-rooted prize money disparity between male and female cricketers. India's star players Mithali Raj and Harmanpreet Kaur were awarded prize money for their match performance.
What caught our attention most was Raj's prize money, which was  as low as US $250 (approximately Rs 16,778) for being the player of the match, far less than Man of the Match, Liton Das who received US $5000 (approximately 3,42,127 INR) after winning the Asia Cup 2018 final. What other male cricketers earned might shock you! Forget Virat Kohli, even a domestic player receives more money than that.
This glaring disparity between women and men cricketers is infuriating.
Shebani Bhaskar, captain of the US women's national cricket team, talked to SheThePeople.TV stating, "When compared to the huge annual financial outlay, the government has not done a great job of results-oriented sports promotion in India."
"Government's Ministry of Sports has so many SAI Institutes and National Institute of Sports and coaches and programs for decades at a huge outlay to the treasury. The result is worse than what poor coaches without such financial support have accomplished. From Abhinav Bindra, Leander Paes to Sakshi Malik, PV Sindhu and Saina Nehwal, individual coaches have won more medals for India in the Olympics than the entire sports fraternity on government salaries," she further added.
Kikam Bhutia, 29, became the first woman from the North-eastern states to be appointed as a member of the coaching staff of the Board of Control for Cricket in India (BCCI). Surely, the lack of facilities haunts her state too. She said, "Government plays a very vital role in the development of any sports. I believe our state government should provide better infrastructure. Also, financial security should be provided to senior players (men and women). As of now, due to lack of financial security, a lot of talented women players are losing interest and forfeiting the game."
Are they wrong to point out the most important obstacle India faces today in terms of sports? Not only cricket, but other sports in other countries too face similar problems when it comes to providing basic equal wage to players.
Cricket in Australia
In latest ground-breaking news, Cricket Australia is set to ensure the country's women cricketers receive the same prize money as their male counterparts at next year's Twenty20 World Cup, thus batting for equal pay.
Football: Female v Male
According to mansworldindia.com, in India an average professional football player gets between Rs 65 and 70 lakh while a female footballer earns between Rs 5 lakh and Rs 10 lakh.
SheThePeople.TV spoke to one of India's brightest talents in Football, Dalima Chibber to go deep into the issue at the ground level. She claims, "I feel women's football lacks the financial security and support. It is hard for us to think of sustaining on the money we get from playing. Most of the players are working side-by-side which hampers training schedule as it is also important for us to financially support our families. Since some players are working, one major problem is to get holidays sanctioned by the firms each time we aim to hit the ground for practice."
"The norm that it's a 'man's field is definitely changing and yet there is a lot more required. We are each day, paving the way to prove women are no less. Now that all the women achievers are getting recognised for their effort, aspiring girls are getting motivated to take up sports as a profession," she expressed hope for a better future ahead in the game.
Numbers in the States
The much-needed World Cup win may have given the spotlight to the United States Women's National Team but according to the New York Times, the prize for the 2018 men's World Cup was $400 million, while female players will only receive $30 million this year. These disparities are questionable since US women's games generated more total revenue than US men's games over the last three years.
In fact, the wage gap is so crucial that Forward and one of the team's co-captains, Megan Rapinoe is helping the team fight for equal pay. Rapinoe has led the way in the Women's National Team's lawsuit against U.S. Soccer, accusing the federation of gender discrimination.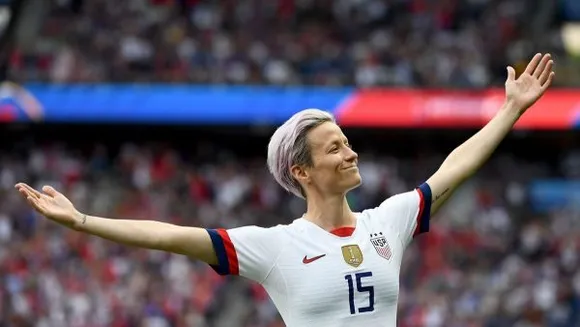 Megan Rapinoe: She Made America Great Again At The World Cup!
READ: No Coverage For India Vs. SA; Apathy Towards Women's Cricket Continues
England
Figures from the Football Association show the average hourly pay for a man at the organisation was 23.2% higher than for a woman, The FA states.  The Rugby Football Union also reported a 23% gender pay gap between the average hourly wages of men and women.
Also the average earners of the English Premier League get paid 100 times more than the women in the equivalent FA Women's Super League. And finally, to top it all, the Forbes 2018 Highest Paid Athletes does not include a single sportswoman within its top 100 list.
These numbers are not always bad. In a ground-breaking move for gender equality, Norway equalised the salaries of its male and female footballers. The Scandinavian country took positive steps by cutting down the budget for its men's team by 550,000 kronor (Rs 44.2 lakh) and raised the budget for women's team by 3.1 million kronor (Rs 2.5 crore) for them to meet at the six million kronor mark.
In a landmark decision this year, the professional women soccer players from Australia started receiving the same minimum wage as their male counterparts. They are offered to be given the same base pay as men in a one-year extension, Reuters reported.
Other Sports: Female v Male
In India, Hockey world suffers too. The inequality widens when we see a minimum of 10-fold wage gap between the two genders' salary when it comes to the national sport.
In Squash, India's best female squash player Dipika Pallikal made headlines when she refused to play in the squash nationals, protesting against the unequal rewards on offer for male and female players. Male winner's prize money was fixed at Rs 1,20,000, while the female winner would only get Rs 50,000. Unfair? Yes, it is!
A 2017 report claims, PV Sindhu, in her year of glory, made more money for each day of endorsing brands, beating the former India skipper MS Dhoni. When the 21-year old won a silver medal at the Rio Olympics, she became a household name. And, eventually she is marked as the second on the leader-board of Indian sports-earners for each day of endorsements, only behind the current Indian cricket captain Virat Kohli. Her rise even surpassed fellow sporting champions such as Saina Nehwal and tennis ace Sania Mirza.
PV Sindhu and Sakshi Malik have led to non-cricket endorsements growing by 83.5% from Rs 42 crore in 2015 to Rs 77.1 crore in 2016, according to a GroupM ESP – SportzPower report.
Also Read:  At last, gender parity in daily allowances for women's and men's cricket teams
Sindhu on being a top earning player in times of unequal wages and unequal attention
Sindhu, who is one of the top 10 highest earning sports players, said it's taken a long span of time for women to participate in all forms of sport. "Women are doing very well in all forms of sports. Speaking for myself, it's just been a step-by-step journey. I knew that I wanted to play and win matches. That's all in my mind all the time. Every day has been a learning process and being at the top at the earnings feels good. However, my main focus is just on badminton," SheThePeople.TV reports.
Coach Gopichand added that although things have changed, but the depth of the earnings is not enough for the sport. "The reality talent is available all over India, but we need a system and more cash inflow. Saina, Sindhu, Srikanth, Kashyap, we all have worked under the radar. I had a feeling that I need to make these players champions. Today, the results you see have been because of the efforts since 2003. You need time to see such results."
In the States
In the Gender Inequality Issue of the Global Sports Salaries Survey, 2017, the National Basketball Association (NBA) is paying its women's players maximum $111,500 each, a huge gap in comparison to men who are getting the minimum salary of $525,093.
The disparity here is unbelievable since the Women's National Basketball Association (WNBA) is highest paid women's league in the World.
Wherein in Tennis – the leading sports overall — offers equal prize money in all grand slams since 2007. Both Rafael Nadal and Sloane Stephens, for instance, received $3.7 million for winning last year's U.S. Open while Roger Federer and Serena Williams both took home $4 million as Australian Open champions, reports claim.
However, according to The New York Times, female tennis players earn 80 cents for each dollar earned by male players, this gap translates to a difference of roughly $120,624 in total earnings.
Inequality reflects on Forbes
Different sport, same inequality! Forbes reported that the highest earning male tennis player (Roger Federer) earned $58 million in 2015 from this income stream, whereas the highest earning female player in 2015 (Maria Sharapova) earned less than half – $23 million.
So, we cheered for the U.S. Women's Soccer Team's fourth World Cup win. But how can we expect women to play on equal footing when it promotes a disturbing pay disparity? And, don't even get us started on gender-biased coverage!
We agree wages depend on how much revenue a match is generating, or what's the turnout but it's also about raising the right questions. Until and unless we question the authorities the focus will not shift, people will avoid watching women's sport, which in turn will affect their wages. So, we want to draw attention towards the need of equal pay and equal air time to bring about parity between the genders.
In the end putting out a simple question expecting a simple answer: Does the world take its sportswomen seriously?