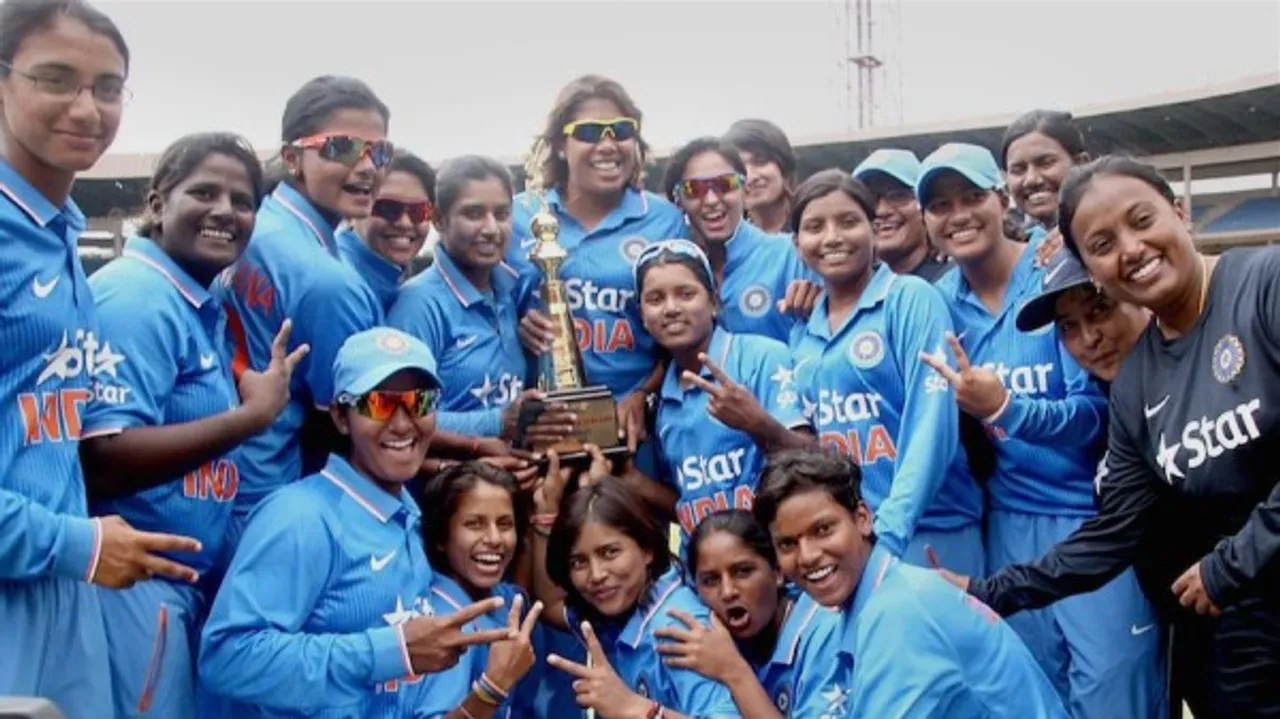 Does Indian media take its sportswomen seriously? Currently, both the men's and women's teams are playing ODIs in South Africa and as usual there has been no  broadcast for Women's Games in the country. The Apathy Towards Women's Cricket Continues...
After the great performance by the Indian cricketers at World Cup stage last year, it is that time of the year when Mithali Raj and Co are to face their next international game in South Africa. The three-match One Day International series is a part of the ICC Women's Championship and will decide the players' fate for the next World Cup.
In the first ODI on February 5 at the Diamond Oval in Kimberley, the women's team played tremendously well and knocked out South Africa by 88 runs.
But as we know, media prefers male players at the center stage and the matches were being shown live.
BCCI's Excuse
According to BCCI representatives, "BCCI does not have the rights for the matches that are played outside India," a media representative of the Board of Control for Cricket in India told The Field.
In fact, the only way Indian fans could keep tracking the live scores was from the official Twitter handle of Cricket South Africa. Notwithstanding, the Twitter handle for the India's women's cricket team and the account for ICC Live Scores sat there idle.
Couldn't have asked for a better to play cricket. After 13 overs @BCCIWomen have moved steadily along to 44/0 Raut 16 and Mandhana 28 #AlwaysRising #ProteasWomen #SAvIND pic.twitter.com/geKDUnawq5

— Cricket South Africa (@OfficialCSA) February 5, 2018
Improved Yet Suffering
Even with a good number of cricket fans in the country, women's cricket as a sport has been overlooked. Even if the girls overcome societal pressure the biggest challenge they face is lack of support from the government.
In the 2017 ICC Women's World Cup final at Lords Mithali Raj-led team was inevitable. Yet, do women players stand a fair chance? Well, looks like despite all the buzz and hype, nothing has changed for the women's cricket team in India. Unless, people can see them playing how can the form get popularity?
Smriti Mandhana scored a fantastic 84 off 98 balls while pace duo of Jhulan Goswami (4/24) and Shikha Pandey (3/23) took seven wickets which led India to a striking victory.
The ongoing Championship gives both the teams a chance to directly qualify for the next World Cup, which will be held in 2021. But how can we expect women to play on equal grounds when it promotes a disturbing gender-biased coverage?
Obviously the fans were disappointed. This is How they Reacted...
Cricinfo's scorecard may be" live" now but yet not accurate. Crazy that the 3rd & 4th best teams in the world are playing in a World Cup qualifying match, but we have to piece together what's happening via twitter. #SAvIND #ICCWC https://t.co/U92aPh91am

— hypocaust (@_hypocaust) February 5, 2018
@BCCIWomen and @OfficialCSA, you have a great chance to consolidate women's cricket fan following but no broadcast of the women's #SAvInd series is unpardonable. @ICC @SuperSportTV @SPNSportsIndia #SSCricket #IndvSAonSonyTen3

— Jason Monserrate (@jasonzmad) February 5, 2018
Why you are not telicast women's cricket matches. Why you are not supporting them. Why?

— bishoyibandana (@bishoyibandana) February 6, 2018
@BCCI shame on u you are the richest cricket board nd u r not able to upload atleast highlights of women's cricket match... atleast south Africa give mini highlights. So embracing for our country...

— abhinaw (@abhinaw13) February 6, 2018
It's sad how women still have to fight for equality! @BCCI this is how you treat the women who are making our country proud!? SHAME.

— Paulomi⚡️ (@iipaulomi) February 6, 2018
There you go. The viewership momentum gained after the Women's World Cup is being squandered on a daily basis while team performances keep rising. Women's cricket is very competitive now. Deserves TV coverage and a platform of the sort women's tennis has. https://t.co/4Ge9m8SzkT

— Nikhil Mehra (@TweetinderKaul) February 6, 2018
READ: Why Are Female Athletes Judged By Their Appearance?
Also Read: Team India Flaunts Mothers' Names On Jerseys