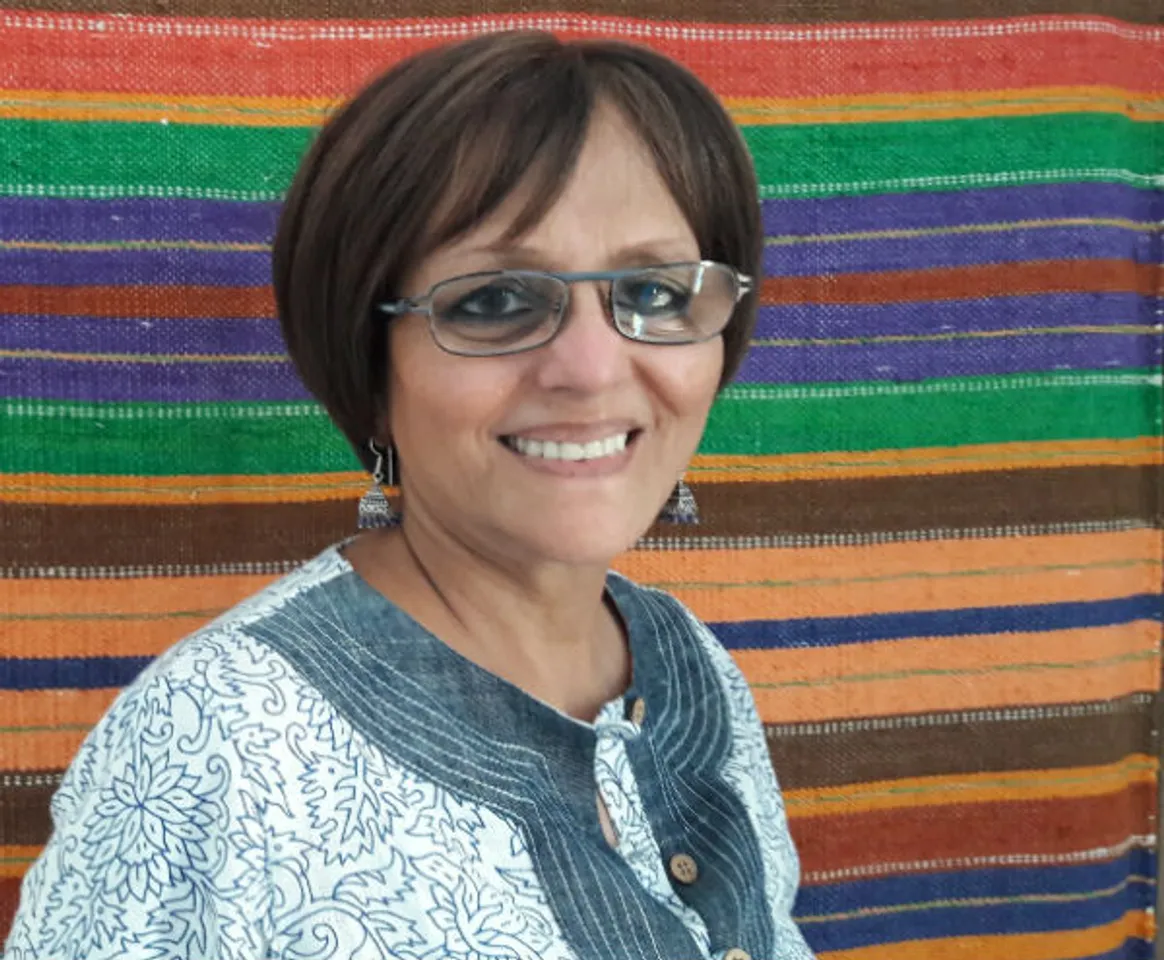 Imagine if the dye of your top could actually harm your skin? The same thing happened with architect-turned entrepreneur Shailini Sheth Amin when one day she got affected badly and contracted an infection. That's when she decided to do something with handcrafted fabrics. In 2008, Shailini ventured into 'Moral Fibre Fabrics' -- a venture which promotes the Khadi tradition, handcrafted fabric and has created work opportunities for over 3,000 workers -- mainly women living in remote villages in Gujarat.
Tell us about your journey as an architect and since when you thought of becoming an entrepreneur?
My training and career as an architect was spread between India and England for over 20 years. I was closely involved with various aspects of green energy, efficient and sustainably built environment projects. I was passionate about conservation and heritage support of buildings, people and places.
Also Read: Khadi Chic: Can it Power Rural Employment?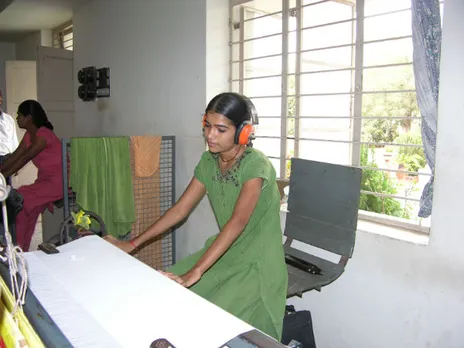 Artisans at work
A few years ago, on a humid monsoon day, while I was visiting my hometown Ahmedabad, I was out all day and, in the evening when I came home to change, I saw that my whole body had turned blue! The colour of my peacock blue, 'bandhani' top, had run all over and even after a hot soapy shower I could not get rid of it completely. Next, I came up with a nasty, red rash. I first thought it was prickly heat but it was not. A doctor friend told me that the dye of my top had something poisonous in it and thus the effect on my skin. They also affect the dyers very badly and the villages where it is made, many artisans have their hands and fingers damaged. I was so shocked; I was turning red and blue. With anger!
This made me think:  How much do we know about what we eat, wear and use? Where do they come from? Who makes them?How are they made?
In 2006, when I moved back in Ahmedabad after 22 years, my first project was to build a house for my family and myself. Designing my house was the experience of finding our roots again and experimenting at 'grounding' ourselves.
Clothing with a Conscience, an innovative business model deeply committed to the principles of environmental and social sustainability.
This took me beyond architecture and I became very passionate about handcrafted fabrics. It stems from a profound influence I had of my aunt Indumatiben Chimallal, right from my childhood. Our family had a close association with Mahatma Gandhi, and India's Freedom Struggle. Along with her pioneering work in education and women's empowerment, she was a lifelong worker and promoter of Khadi fabrics and, the ethical, moral and social values the movement generated. She had set up the first Khadi shop in Ahmedabad. Khadi was the most important and unifying symbol of 'swatantrya' - freedom and 'swavalamban' - self-sufficiency for India.
Also Read: This woman will help put your small business online
What was the idea behind 'Moral Fibre Fabrics'? Briefly describe the work process…
In 2008, I set up Moral Fibre – Clothing with a Conscience, an innovative business model deeply committed to the principles of environmental and social sustainability. I worked to give new identity to handcrafted fabrics - Khadi for today's generation. I have been working to reinvent and promote this traditional hand crafted fabric making industry that supports thousands of spinners and weavers - mainly women - living in remote villages and those who have limited chances of earning their livelihood. This is decentralized home-based work that does not use electricity or heavy chemicals. It can give life of dignity to millions of people. And all this is possible without costing the earth!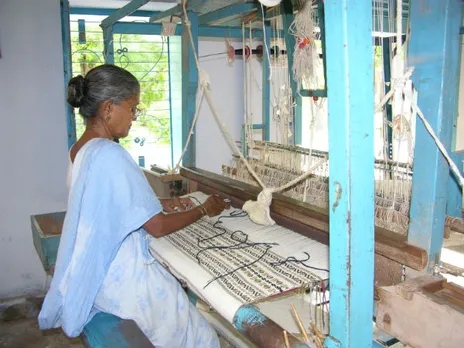 Artisans at Bhal
I am pleased to see that we have slowly created a quiet revolution in Gujarat. Within five years, Moral Fibre has played a pioneering role in re-invention, revival and creation of the next generation of this almost forgotten fabric making technology and, it is finding regular buyers internationally. My company is a registered member of Fair Trade Forum, India, and a part of WFTO -Asia. We have created work opportunities for over 3000 workers - mainly women living in remote villages. And the numbers are growing. It is simple. All big talks, means nothing unless the artisans have more money in their pockets.
As Mahatma Gandhi said, "There is no beauty in the finest cloth if it makes hunger and unhappiness." Hand crafted fabrics are closest to my heart!
Also Read: Designer Agnimitra Paul: 'I admire new age women'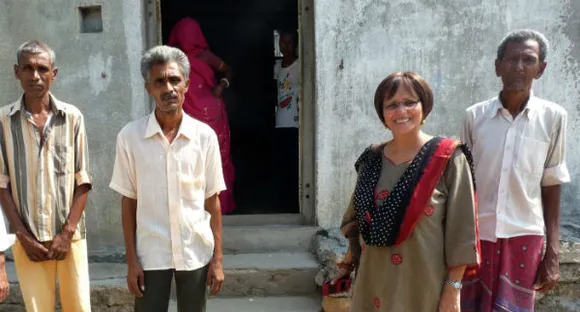 Ms. Amin with some of the artisans
At a global level re-inventing hand crafted fabrics have even greater significance. Clothing and Fashion industry is now the second most 'resource consuming', exploitative industry. And garments have become 'throw away' items. People's consumption has increased 500 times in the last decade. The brands make huge profits; yet the workers are very badly paid.
Tell us your experience as being a part of the films like the latest "Beauty And The Beast' by Disney and earlier 'Pan' by Warner Bros? How are these films promoting sustainable fabrics and fashion?
One of the latest milestones is that Moral Fibre has supplied fabrics to Hollywood films -- started at early 2014. Our fabrics were seen by one of the Sourcing Agent for a film in a London shop and she got in touch with us. She was very pleased when she heard about the social and environmental sustainability credentials of these fabrics.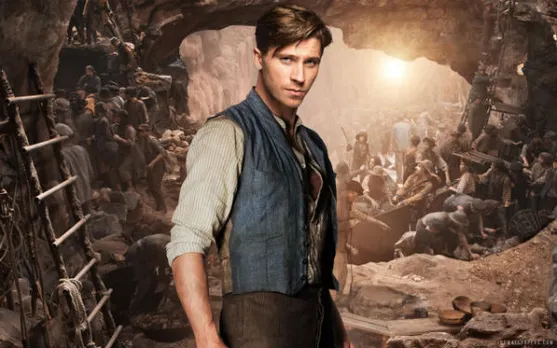 Garrett Hedlund (as James Hook) wearing the khadi fabrics in Pan
Jacqueline Duran, the Oscar-winning costume designer for 'Pan', who has been our regular buyer says: "When working on the costumes for the upcoming film "Pan" for Warner Brothers, I was looking for fabrics to use on the principal character "Hook". In the movie, Hook is discovered working in a mine, and the style of his costume is based on 19th century American miner's clothing. Finding fabrics that look authentically 19th century is very difficult. When we chanced upon Moral Fibre, we were delighted! The traditional, artisanal hand methods used to weave these fabrics, married with natural dyes and an array of patterns is why we keep turning to Moral Fibre for a variety of period costumes.
In 'Beauty And The Beast', lead actor Emma Watson is now widely promoting sustainable fashion. In fact, after working with us once, Jacqueline and her team were 'sold' onto this idea and for 'Beauty And The Beast', she used Moral Fibre again.
Also read: PM Gifts Women Charkhas at Handloom Expo
I have been working to reinvent and promote this traditional hand crafted fabric making industry that supports thousands of spinners and weavers - mainly women - living in remote villages and those who have limited chances of earning their livelihood. 
Also read: Creating 'inclusive' fitness fashion: Arshiya Kherani of Sukoon
What's the difference you see between India and other garment industries?
We, in India are at a very special place right now (a bit like China in the 90s!). We have a special proposition. We are one of the biggest producers of cotton and our garment production is also on a big scale, though not one of the tops. More importantly we are also one of the fastest growing consumer base in the world. Any action we take will have a larger impact.
I believe that 'People's energy' and renewable energy should play a significant role in new growth in textile industry in India. By promoting sustainable textile industry and fair trade in a transparent and committed way, we will be able to fulfill our promise to our people to bring them above the poverty line. We can do this without costing our natural resources and harming the environment."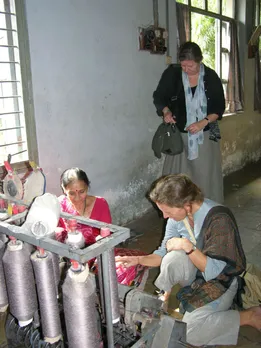 Artisans
What future plans do you have to take it to the next level?
We have found that there is an immediate need for improving and upgrading various facets of Khadi and Khadi producing industry to meet its full potential. This would help to innovate and enhance the technology, increasing the number of artisans supported by Khadi craft, making required changes in the product placement and re-orienting marketability and using different approaches to alter 'people perception' of these fabrics. An organization structure can be developed to meet social empowerment, environmental sustainability along with setting up.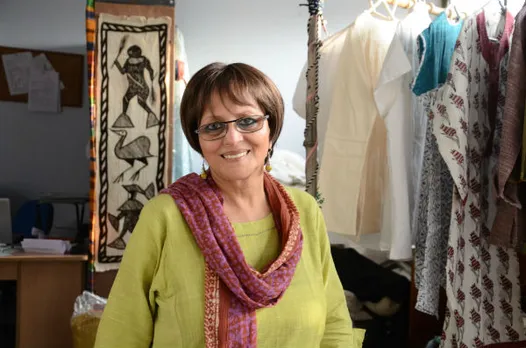 How did you manage funding for the base operations initially?
Our work had started with very much on a shoe string budget!! I had put in around Rs 10 lakh as startup funds. We are not in IT or technology sector and there were no chances of high growth and quick returns here. It was not possible to get big investors interested for this hand crafted, slow, ethical business! But we did not cut corner with recruiting qualified, motivated and committed team and maintaining high quality of service standards. Though our growth was a bit slow initially, we could develop and strengthen our core values and our unique proposition without any interference.
Now that we are venturing into garments and e-commerce retail, we are actively looking for funding partners.
What are the biggest challenges you've faced as an entrepreneur and a social changer?
I could see that there was a need to upgrade and re-invent Khadi as the most environmentally sustainable fabric and expand its varied uses. I realized that the lack of marketing orientation and technological obsolescence are the major factors for Khadi to play a larger role in the Indian textile arena. It was not easy to start with. I met with hurdles and rejections from almost everywhere.
When I started, almost no one believed in what we did. In fact most of the people I came across in the field, they themselves also did not believe in the hand-crafted fabric – Khadi!!
I would like to think that women are the 'half' that is underutilized. When more women come to the table, it completes the circle and the organization as a whole becomes better!
At the age of 53, I became even more determined to make new beginnings alone. I spent the first couple years, educating myself along with educating almost everyone!
Educating the potential buyers about 'slow, sustainable fashion with fabrics crafted and energized by artisans' this is when new throwaway, cheap, garments pop up in shops every month.
Educating the artisan co-operatives about quality, managing consistent production, and working with new designs. The fabrics themselves did the rest and then orders started flowing.
How digitization helped you set up?
Connectivity, Internet and social media have been at the core of Moral Fibre right from its outset. We are a web-based social enterprise. In keeping with the principles of minimizing carbon footprint, we make effective use of technology. We approach buyers and potential buyers through networks. More importantly, with the use of technology, we have been able to bring in transparency in our full supply chain.
Also Read: Weaving magic for transgender women: A unique initiative by a Kerala designer
A key achievement of Moral Fibre is a tie-up with UK-based company 'Where Does It Come From?' founded by Jo Salter. Now, after almost two years of exchange of ideas, endless flow of communication, sharing photographs and drawing up work plans,  a classic range of clothes line is ready for children.
Just like the Internet and today's communication systems connected two of us; we are now attempting to connect the children and parents of to-be owners of these clothes in the UK with artisans and workers who have been involved with their production based in remote villages of Gujarat.
With a click of a button a child can see the pictures and read the story of making of the dress, jacket, skirt or a trouser he / she is wearing. This is the story of a complete supply chain: from farming the cotton, hand spinning, hand weaving, dying, hand block printing, designing and stitching of the garments. Along with that, they get introduced to the artisans and their life. A child can also leave a message, which we are committed to pass on to the artisan.
And this is just the beginning of the shared dream of making vital connections.
Join Us on https://www.facebook.com/SheThePeoplePage
Follow Us on https://twitter.com/SheThePeopleTV