Two Women Below 50 Yrs Enter Sabarimala; Shrine Shut For Purification
As per recent reports, the Sabarimala temple in Kerala has been shut for purification after the two women entered the shrine in the early hours of Wednesday. A high alert has also been declared across the State and the police have also tightened security around.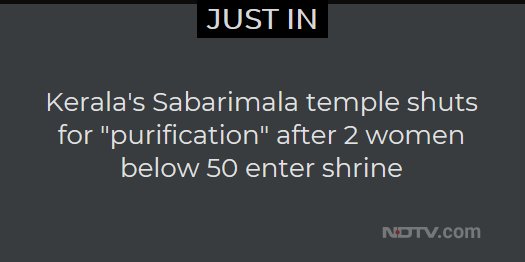 According to reports, the two women — Bindu and Kanakadurga — successfully completed their trek and managed to worship the deity inside the temple. Their first attempt on December 24 was interrupted amid protests.
#WATCH Two women devotees Bindu and Kanakdurga entered & offered prayers at Kerala's #SabarimalaTemple at 3.45am today pic.twitter.com/hXDWcUTVXA

— ANI (@ANI) January 2, 2019
This is the first visit by women of the barred age group after the Supreme Court ended the ban
The two claimed that Kerala police had ensured their security on their way to the shrine today. Kanakadurga hails from Malappuram, while Bindu belongs to Kozhikode.
The women, both in their 40s, arrived at Pamba around 1 am and managed to get darshan around 3.30 am. A small group of police personnel in civil and uniform reportedly accompanied the women.
They did come back and scripted history
"We don't want to go down. But since the police have said that there is a law and order situation, they should promise to bring us back to the temple another time when the situation is better," Bindu had told media persons while climbing downhill on December 24 after their failed attempt.
In the centuries-old ban, all women in the menstrual age group of 10 to 50 years were traditionally barred from visiting the Sabarimala temple. However, the Supreme Court reversed the ban on September 28, 2018. While women, and all right thinking people rejoiced at the ruling, several others condemned it, leading to a widespread protest across Kerala
Yesterday, lakhs of women from across Kerala formed a 620-km state-sponsored 'Women's Wall' to endorse 
gender equality
 and social reforms. Formed entirely by women, a human chain was formed from Kasaragod district in northern Kerala to Thiruvananthapuram in the south. Women from all walks of society participated in this event. The wall is said to be formed by the side of the national highways across all 14 districts.
While political parties and religious institutions are constantly hustling to make their mark and establish their agendas, the women today stand together – shoulder to shoulder – to demand their right to an equal space and opportunity, everywhere.