In a recent poster by the Ministry of Health and Family Welfare, it resorted to fat shaming Indian women, to put across the message of Ayushman Bharat. The ad, which has now been taken down, not only singularly dumps the quota of obesity on the female gender but also shows a preference for vegetarianism. It uses fruits and vegetables to define the skinnier figure, while non-vegetarian food (eggs too!) and alcoholic drinks are linked to weight gain.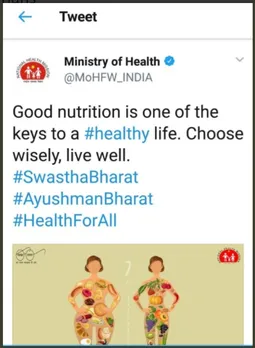 MOHFW Poster, Picture Credit: Twitter
This alarmingly biased stand is either deliberate or stems from ignorance. Either way, it does not put our Health Ministry in good light.
Imposing prejudices on the female gender
This poster, which asks us to choose wisely, should have paid more attention to its own advice. Does the ministry think that all Indian men are walking, talking definition of fitness? Or that Indian women are too naïve to understand what is good for their body and what is not? It seems like their choice of gender for this campaign stems from sexism.
Richa Singh founder of Blogchatter and TEDx speaker says, "The irony of that photo is that after imposing all forms of prejudices onto us, from body shaming to sanskari food - they had the chutzpah to ask us in the same breath 'What is your choice?'".
As if, it isn't enough that women have to carry the burden of everything from dignity to cultural dictates on their shoulders, the Health Ministry now wants us to be the role models of healthy lifestyle too. But then again is our ministry right in defining what being "fat" is, especially considering our current lifestyles?
"Fit not fat' is fine and everything but do we really need the ministry of health and family welfare to define what fat is for us?" enquires author Andaleeb Wajid.
While it is easy to say that fruits and vegetables make us healthy, did our ministry consult any dietitians before categorising all non-vegetarian food in the fat section? Also, why is it defining good nutrition by using the singular parameter of fat? It's not as if non-vegetarian food is devoid of all nourishment except fat. Yes, diet plays a critical role in fitness. But it's not necessary that consumption of vegetarian food will give you a lean figure. Similarly, a non-vegetarian diet may not essentially lead to weight gain.
Ruchita Dar Shah, founder and CEO of First Mom's club puts it as it is, "First of all non-veg can't be put in the unhealthy category and secondly forget the fat shaming, in today's time the government should be extra careful and not use a 'female shape' to portray anything."
Nutrition does play an important role in fitness. But there is a lot more to nutrition and proper diet than categorising a handful of food choices on a whim.
Such posters are widely shared; hence they should be backed by solid data and expert opinion. As for using a female form to distinguish between "fat" or "fit"; women have been under social pressure to maintain aesthetics since forever. Such posters only add fodder to the mentality that beautiful girls are "slim". While women are trying to break stereotypes and push the agenda of body positivity, the least our Health Ministry can do is to show some empathy.
Being unfit and being fat are two separate things. One does not essentially mean another. Most Indian women are very conscious of this difference and make well-informed dietary choices. Their choices are based on tons of aspects such as lifestyle, preference and the simple right to choose. Most women today accept their bodies without the tag of fit or fat. They are moving away from fat shaming to accepting their bodies as they are, proudly. But can we say the same for our Health and Family Welfare Ministry?
The definition of fitness, beauty and body image has undergone a lot of change in the past few years. Being slim or skinny is now no longer a parameter of beauty. In fact France put a law which bans use of unhealthily thin fashion models, to effect last year. They did so with an aim to fight eating disorders and inaccessible ideals of beauty. The increasing awareness about body positivity now aims to normalise body acceptance.
Various beauty bloggers and plus size models have emerged as icons in recent times. These women have not only challenged the age-old notions of beauty, but are also motivating women to stop chasing that perfect figure and live a little. While I do not endorse unhealthy eating all the time, it's no fun if one has to constantly count calories under every breath, to simply fit into the social idea of perfect figure.
Photo Credit : Twitter
Also Read : Contraceptive Use Falling In India, Trend Driven By Men: Health Ministry
Yamini Pustake Bhalerao is a writer with the SheThePeople team, in the Opinions section.  The views expressed are author's own.