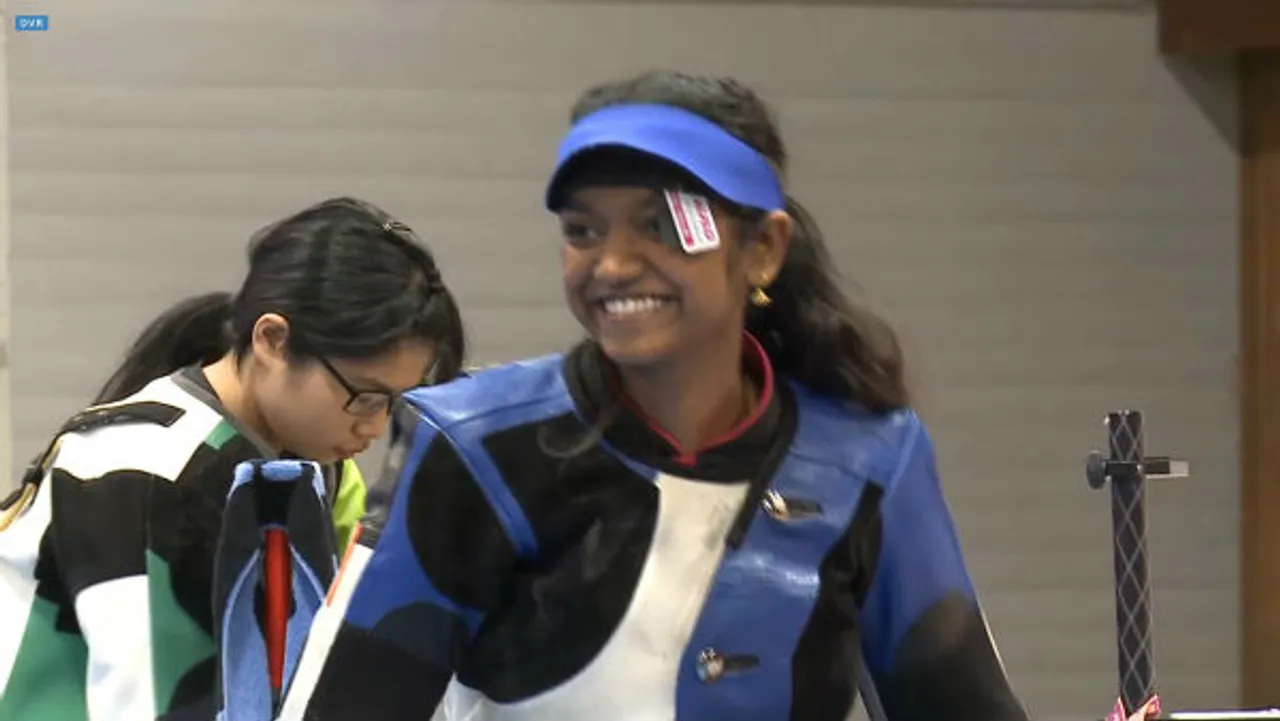 India's Elavenil Valarivan has clinched gold in the women's 10m Air Rifle event at the ISSF Junior World Cup in Sydney. The 18-year-old set a new world record with this feat on Thursday (March 22).
#Shooting Elavenil Valarivan wins 10m Air Rifle Women Gold at Australia Junior World Cup. @OGQ_India pic.twitter.com/tWRhFhbkkk

— Olympic Press (@OlympicPressOrg) March 22, 2018
Valariven beat Chinese Taipei's Lin Ying-Shin to win the gold. Chinese shooter Wang Zeru, 18, settled for the bronze with 228.4 points.
Broke fellow Indian's record
Valarivan broke the previous record held by fellow Indian shooter Mehuli Ghosh. This was her first participation in the finals. The teen knocked out shooters from Chinese Taipei and China and claimed gold with 249.8 points.
READ: #KheloIndia Will Hone Young India's Sporting Talent
Arjun Babuta wins BRONZE 🥉in 10m Air Rifle at @ISSF_Shooting Junior World Cup!

Congratulations Arjun! 👏🇮🇳#ISSFJWC pic.twitter.com/YCEJHFZo4v

— OGQ (@OGQ_India) March 22, 2018
In the junior men's Air Rifle, Arjun Babuta won bronze. He finished behind Yuqi Liu of China and Zalan Pekler of Hungary.
In her first final participation, Elavenil Valarivan Elavenil of India 🇮🇳 climbed atop the Junior World Cup podium in Sydney. #ISSFJWC pic.twitter.com/BWCq2ro9rq

— ISSF (@ISSF_Shooting) March 22, 2018
Valarivan has set a new Qualification World Record with 631.4 points.
Second time lucky
This is the second time the teenager has competed in the ISSF event. She came 28th in last year's Junior World Championship in Suhl.
Also Read: Does India take its sportswomen seriously?
Meanwhile, India's other finalists, Shreya Agrawal and Zeena Khitta, finished sixth and seventh, respectively.
Indian junior shooter Elavenil Valerivan broke the Junior Women's World Record during the ISSF Junior World Cup in Sydney, Australia beating the previous record held by fellow Indian shooter Mehuli Ghosh#ISSFJWC pic.twitter.com/AIaVdj9A12

— Sports N Sports (@SportsNSports2) March 22, 2018
India also shone at the FISU World Shooting Sport Championship last week. The tournament was a major success for India (3 gold, 2 silver, 3 bronze). The shooters ensured India finished third on the medals tally among 24 teams. The top two spots went to Italy and Korea. Valarivan also won a bronze medal in the FISU championship.
READ: 5-Yr-Old Shooter Bags Gold, Breaks Heena Sidhu's Record
Junior Women's World Record of @GhoshMehuli 629.1 🇮🇳 is broken in 2 weeks by Elavenil 631.4🇮🇳! Speaks volume of the depth of talent the new breed of Indian Shooting Team! This competition for supremacy is here to stay.. and we see a new Golden era. @OfficialNRAI @OGQ_India

— Joydeep Karmakar OLY (@Joydeep709) March 22, 2018
On the way back from the tour, the shooters were stuck at the Kuala Lumpur airport due to poor logistical arrangement.
Requesting @Ra_THORe Ji to extend help to Indian shooting squad stuck at Malaysia Airport. These shooters, Anmol Jain, Ela Venil, Arjun Babuta & Aditi singh are taking part in Junior Rifle Shooting Cup in Aus. Some bad arrangements by Univ team has got them stuck in Malaysia pic.twitter.com/ope0smJZbS

— Manjinder Singh Sirsa (@mssirsa) March 18, 2018
In reply, the Sports Minister, Rajyavardhan Singh Rathore wrote:
Thank you for drawing my attention to this @mssirsa ji. We at @IndiaSports @Media_SAI have taken cognizance of the matter

Seems there was confusion on part of immigration authorities. The matter has been sorted.

Squad is now on its way to Australia & my best wishes are w/ them. https://t.co/CUCuAK8EO6

— Col Rajyavardhan Rathore (@Ra_THORe) March 19, 2018
READ: How Afshan Ashiq Became the Captain of J&K Women's Football Team
Feature Image Credit: Olympic Press/Twitter
Also Read: Heena Sidhu Bows Out Of Iran Games Over Hijab
Also Read: Sport Can Be A GameChanger For Women In India