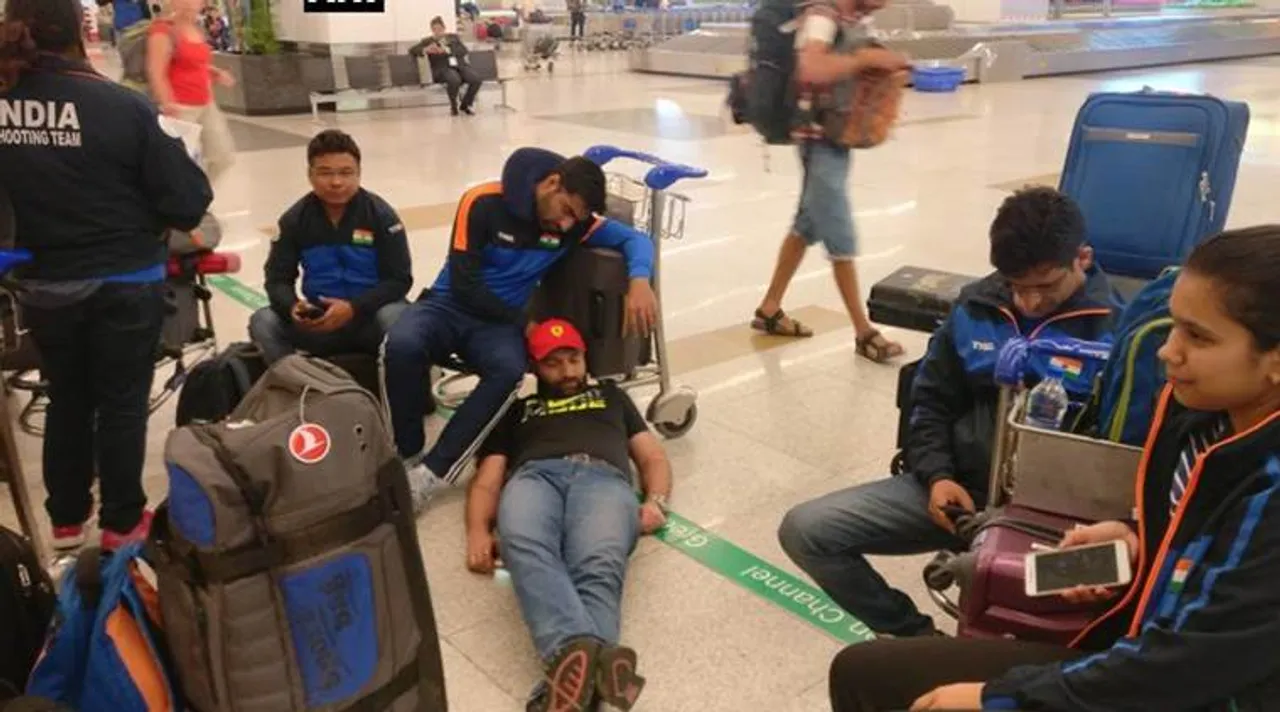 High on their win at the Plzen shooting Grand Prix, Indian shooters were in for major embarrassment when they were detained by the customs department at the IGI airport in Delhi on Tuesday.
The contingent included shooters Heena Sidhu, Gurpreet Singh and Kynan Chenai who were returning after bagging 7 medals for the country.
#UPDATE Weapons of 13 members of National Shooting Team which were seized by Customs at Delhi's IGI Airport, have been returned to them.

— ANI (@ANI) May 9, 2017
Earlier visuals of National Shooting Team members waiting at Delhi airport: Weapons of the team were seized by Customs, were later returned pic.twitter.com/alpRqLU8Gw

— ANI (@ANI) May 9, 2017
The team has represented India internationally in such a niche sport, but seems the customs department had issues with the guns which were not cleared. The shooters were detained for more than 12 hours at the airport.
Outraged by the incident, Olympic gold medallist Abhinav Bindra came as a supporter of the athletes and vented his anger on Twitter. He lashed out at the National Rifle Association of India for their apathy. He pointed out the height of humiliation the shooters have gone through when the officials did not come to their aid after their ammunition was denied clearance for several hours.
Saddened to hear that the National Shooting Team is detained at The IGI Airport with the customs refusing to clear their guns. 1/3

— Abhinav A. Bindra OLY (@Abhinav_Bindra) May 9, 2017
Chatted with a few athletes and the lack of support coming through from the national federation is pathetic. @RaninderSingh @TheNrai

— Abhinav A. Bindra OLY (@Abhinav_Bindra) May 9, 2017
The official team manager of the shotgun team left this morning leaving the athletes to fend for them selves.

— Abhinav A. Bindra OLY (@Abhinav_Bindra) May 9, 2017
An upset Bindra posted a series of tweets alleging and questioning if it would have been the same if the cricket team had landed at the airport and received the same treatment.
They are our countries ambassadors and should not be treated like this. Would this ever happen to our cricket team ? 2/3

— Abhinav A. Bindra OLY (@Abhinav_Bindra) May 9, 2017
Later, Sidhu, too, tweeted about the negligence:
Shooters held up at IGI airport for no valid reason or any fault of theirs. Dats d price v pay for always following d rules. been 10 hrs now

— Heena SIDHU (@HeenaSidhu10) May 9, 2017
Shooters need to learn to live at airports before learning to shoot.

— Heena SIDHU (@HeenaSidhu10) May 9, 2017
Triple Olympic shooter Anjali Bhagwat tweeted:
Is this the way to treat our Olympians? This is mental torture before major tournament. I know how bad it feels as this has happened before.

— Anjali Bhagwat OLY (@Anjali__Bhagwat) May 9, 2017
Apparently, the officials had issued each player stamped letters with serial numbers to the guns but could not clear the same after the athletes returned. The situation occurred at 4 am after the athletes reached to the terminal and were jet-lagged from a long flight. According to reports, most of them were hungry and sleepy, and also had missed their subsequent connecting flights as they were waiting for their shooting equipment.
This kind of disturbing situation raises one question -- with the World Cup also scheduled to take place in the next ten days, how long will it be till our officials take pride to acknowledge other sportspersons too other than cricketers? Won't such pathetic welcome hamper the shooters' preparation for the event?
According to a shooter, an official also mistreated athletes with foul language while talking to them and even went on to say, 'You won't die if you don't eat,' Sportskeeda reported.
A source close to NRAI told Sportskeeda, "There is no question of not having a manager and Abhinav Bindra's claims are wrong. Amar Jung travelled with the team back to India but there was a change in SOP (Standard Operating Procedure) last week after the Meerut case."
He added, "The NRAI wasn't aware of this (incident) since it has just happened. In the meeting inside customs, only the shooters owning the guns are allowed. Hence, NRAI officials can't even enter. The information received by Abhinav Bindra is relatively inaccurate."
The nation is disappointed!
Also Read: Heena Sidhu Bows Out Of Iran Games Over Hijab
Join Us on https://www.facebook.com/SheThePeoplePage
Follow Us on https://twitter.com/SheThePeopleTV