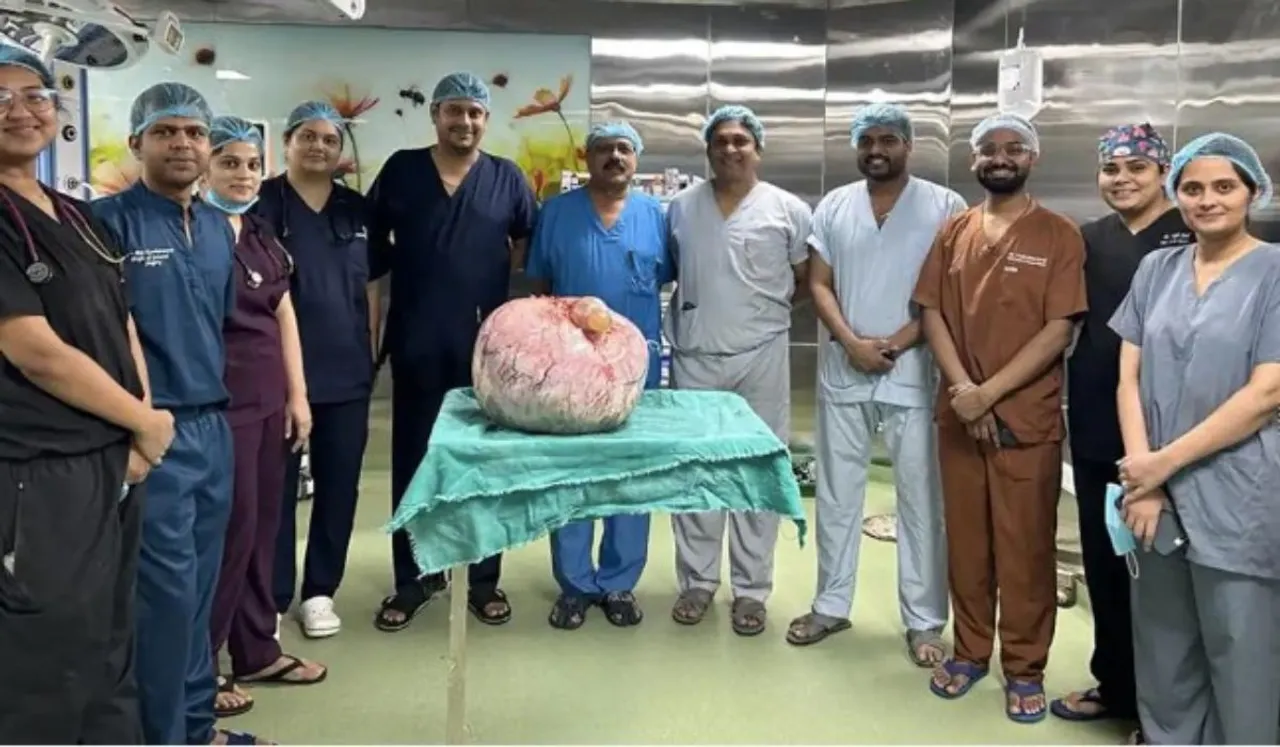 Doctors in Indore removed a 15-kg tumour from a woman's body who visited Index Hospital in the city complaining of a stomach ache. A team of more than a dozen doctors and support staff performed a two-hour-long surgery and succeeded in removing the malignant growth from the 41-year-old woman's abdomen.
The woman, a resident of Ashta, weighed 49 kg and carried a 15 kg tumour inside her, according to the doctors. 
Indore Doctors Remove 15Kgs Tumour
Dr Atul Vyas, who was part of the team of surgeons, said they decided to perform the medical procedure because the tumour was huge and causing trouble for the woman while consuming food and even while walking.
A family member of the woman said they took her to numerous hospitals before visiting Index Hospital. The doctors diagnosed the woman with an ovarian tumour and advised that surgery was needed.
Hospital Chairman Sureshsingh Bhadouria and vice chairman Mayankraj Singh Bhadouria commended the efforts of the team of doctors who performed the surgery.
Delhi Doctors Remove 22 Kgs Tumour
Earlier in January 2023, doctors at Dharamshila Narayana Superspeciality Hospital removed a 22-kg cancerous tumour from a 32-year-old woman. They managed to save her uterus and an ovary. The woman will be able to conceive in the future, despite the major surgery, as one of her ovaries has been preserved.
Dr Satinder Kaur, who performed the surgery, said that it was surprising how malnourished the woman had become because of the tumour inside her. The doctor said that the woman's hormonal functions were back to normal and that she was doing well.
Ahmedabad Doctors Remove 47 Kgs Tumour
In February 2022, a team of eight doctors at Apollo Hospitals in Ahmedabad removed a 47-kg tumour from a 56-year-old woman. The tumour is reported to be the biggest non-ovarian tumour to have ever been surgically removed in India.
The woman had carried the tumour for 18 years and had been bedridden for a few months prior to the surgery. The team of eight doctors headed by Dr Chirag Desai removed the abdominal wall tissues and excess skin, which weighed around seven kg during the surgery.
The woman had developed unexplained weight gain in the abdominal region 18 years ago, and subsequent sonography revealed the tumour. Dr Desai said that all the internal organs were displaced and that her heart, lungs, kidney, and uterus were all pushed aside by the tumour in the stomach wall. The woman was discharged after a couple of weeks of postoperative care.
---
Suggested Reading: How Kanishka Atal Fought Her Way Through Brain Tumour Challenges