While in Hyderabad if you ever find children assisting the vendors or tagging along farmers to plough the fields, don't mistake it with child labour or any kind of forcible activity. It's part of a bigger expedition. Urban kids are often seen with a group of  people exploring the rural life here, courtesy Dirty Feet.
These trips by Dirty Feet are basically classrooms without the walls, led by Nivedita Mummadi and Archana Londhe, graduates from the Institute of Rural Management, Anand, Gujarat.  SheThePeople.TV catches up with Nivedita  to talk about what interested them to dabble into entrepreneurship.
"It is a journey from Farmville to real farms, from play-stations to natural playgrounds, from virtual realities to just the real," claims Nivedita.
Tell us about the voyages you take with the kids and how is it helpful for the mental health of today's urban kids who juggle so many things at a time?
Through our trips, we put together unique itineraries for kids to experience the everyday elements of rural lives, lifestyles and landscapes.Our trips are designed in a manner to promote and foster frequent and repetitive interactions between kids and the rural set-ups. On these trips, kids learn not just about paddy, potatoes and pottery but capture the rhythm of life they have never seen before.
READ: Meet the Sister duo behind this Organic Farmstay – Dyo
The want to do it and the will to ensure that there is no dilution of the concept or the passion behind it paved the way for our entrepreneurial journey. From the word go, we both were very clear about running Dirty Feet as a social enterprise.
So far, more than 10,000 kids in the age group of 3 - 16 years have dirtied their feet featuring 300 trips spanning 35 different themes.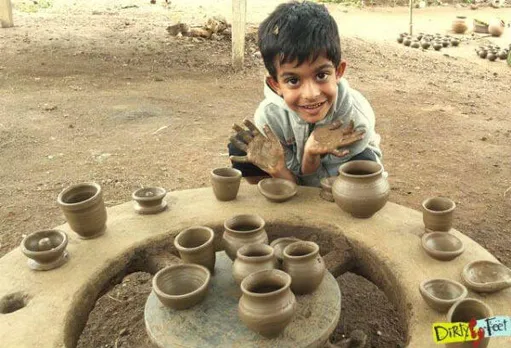 Dirty Feet Activities
What interested you to become an Entrepreneur?
In 2011, I had shifted base to Hyderabad and was revisiting the villages that I had worked in during my earlier professional stints. My 14-year-old nephew accompanied me for a three-day that we spent in an island fishermen's village on the coast of Andhra Pradesh. This laid the foundation for Dirty Feet.
Being an entrepreneur comes from within to see one's own dreams in action and to do whatever it takes to make it successful.
He tried his hand at whatever the locals did - initially he had to be coaxed to try out things, eventually he was asking for more and seeking new experiences by himself. In the absence of TV and mobile connectivity, he started interacting with the people in the village and totally took us unawares by volunteering to assist them both in their household chores and in their fishing activities. He did not mind the peak summer heat, the slushy waters, the stink of fish, the absence of urbane amenities. He was connecting to the kid in him whilst living those three days to the hilt.
READ: Avantika Jalan, on Sustainable Management of her Family's Tea Estate
The realisation that a "child enjoys and learns the most when she or he gets a chance to be – A child" dawned on to me and the idea of Dirty Feet was born.
Illuminate how 'Dirty Feet' works and what's your vision behind it? 
Our belief is in a childhood that connects children to the world around them and nurtures them into conscientious citizens.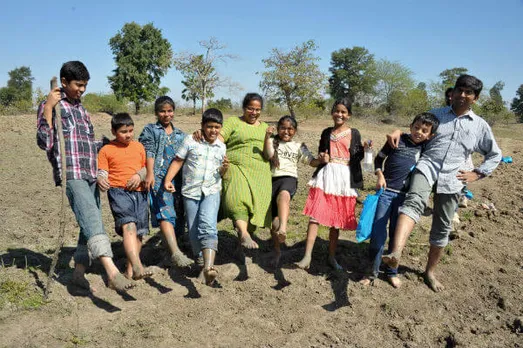 Founder Nivedita Mummadi With Kids
Local communities are engaged as hosts, trainers, guides, co-ordinators and volunteers in the course of Dirty Feet's trips. Usage of indigenous and natural products is also promoted on the trips. The intent is to ensure a supplementary income to the villagers, encourage local leadership and to finally bring forth community ownership of this responsible rural tourism initiative.
Read Also: Striking a chord with nature: Preeti Narula, Founder of Living Balconies
Could you also please tell us about your future plans with 'Dirty Feet'?
We will make efforts to work with more number of institutions to increase the reach of Dirty Feet. We plan to add to our portfolio of trip themes with the focus on turning green. Once that is done, the next move would be to address the requests for Dirty Feet experiences in other cities as well and go the whole hog whilst at it.
Currently, we organize outdoor trips for kids aged 3 to 16 years across Andhra Pradesh only.
What inspired you two to befriend with the farmers and artisans?
The two years at IRMA taught us to promote sustainable and equitable socio-economic development of rural communities through professional management. Farmers, weavers and all other communities are primary producers - supplying all that we need to sustain our lives. Despite most of them lacking the modern-day education and urbane sophistication, there is deep-rooted wisdom underlying their practices and processes which is fast getting eroded for want of adequate encouragement and support.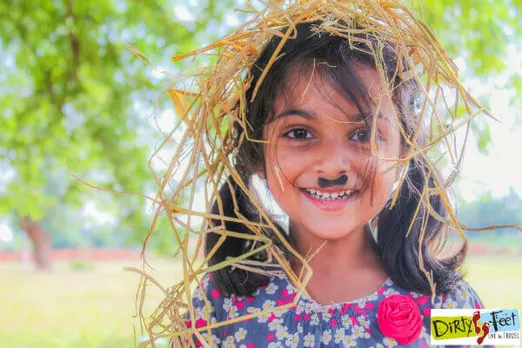 Previously, Archana had set up a school for underprivileged children in Ahmedabad. I have toured extensively in Telangana and Andhra Pradesh during her earlier work stints and as a freelance consultant working with INGOs and NGOs associated with counter-trafficking initiatives, women empowerment and child welfare issues.
READ: Uma Preman's Santhi Gramam Is Changing Definition Of Social Work
What market gap are you trying to address by bringing your venture into the society?
Children's lives have become increasingly structured, sanitised and media oriented. Milking a cow, building a mud wall, weaving with leaves, collecting silkworm cocoons, making jaggery, riding a catamaran, trekking in the forest with tribal communities, cooking in bamboo, dancing to folk music, interacting with a rural functionary or a village entrepreneur - all of these activities help students experience learning in a new way.
READ: How Lalita Nijhawan Empowers Poor Women, Kids With Education
What were the initial days like - what kind of challenges you've faced and still facing as an entrepreneur?
We started with weekend outings and were very particular about not letting parents on board. It was very difficult to convince parents to send their wards - some parents even took our photos at the time of drops as a precautionary measure :)
Read: Lending a helping hand: 5 Women Social Entrepreneurs
Apart from actual need of intensive marketing efforts, getting schools to come on board for a Dirty Feet experience is the biggest challenge that we are facing currently. We are being pitted against amusement parks, resorts, adventure and activity centres, which can handle 300 plus students in one day at much lesser costs. We are constantly asked if one needs to pay for our village trips - the basic assumption being that there is nothing of worth in a village that needs to be paid for. Also another trend fast catching up among schools is to opt for tourist destinations and out of the state and out of the country locales. We rarely get kids above 10 years.
Also Read: Jyotika's Bhatia's Srujna Trust, is Giving Hope to Underprivileged Women
And, of course, getting the right kind of people to work with Dirty Feet is an ongoing challenge...
In our sphere of work, the ability to appreciate the underlying ethos and an understanding of people's choices without being condescending and preachy is a requisite skill.
READ: Dr Priya Virmani's Paint Our World Heals Trauma Of Abused Kids
Watch: She Leads India: Three Women, A Baby Monitor & A Ray Of Hope
READ:Entrepreneurship Always Fascinated Me: Saumya Vardhan Of Shubhpuja
Join Us on https://www.facebook.com/SheThePeoplePage
Follow Us on https://twitter.com/SheThePeopleTV