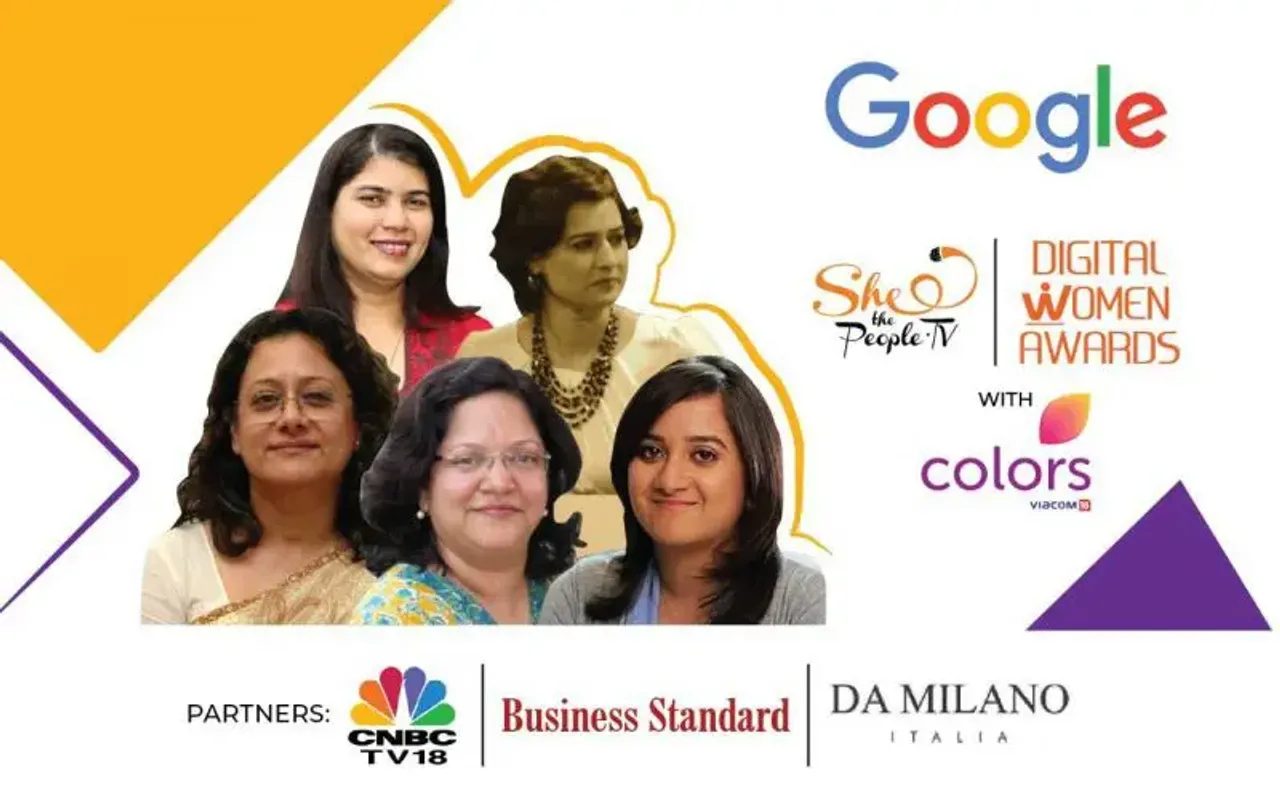 The SheThePeople.TV Digital Women Awards is a yearly celebration of women entrepreneurship which has grown leaps and bounds in the digital space. Replete with powerful conversations and true inspiring stories of everyday Indian women leaving an indelible mark in the digital space and our lives, the evening celebrates both entrepreneurship and womanhood.

This year as well, the Digital Women Awards by SheThePeople.TV, presented by Google, will see India's top digital start-up stars come together to celebrate the finest women entrepreneurs breaking new grounds by leveraging the power of digital. The event will be a true celebration of woman power with women entrepreneurs showcasing their innovative ideas and solutions.
The Digital Women Awards ceremony to be held on Nov 23, will honour India's top women digital start-up stars at a power-packed function in Gurgaon.
The Jury for the awards is led by a panel of strong industry names such as Shivya Nath, Travel Blogger, Elsa Marie D'Silva, Founder Safecity, Akila Urankar, President Business Standard, Deepali Naair, Director (Marketing) at IBM and Shaili Chopra, Founder of SheThePeople.TV. The combined expertise of the jury members in the spaces of tech, digital and consumer offerings brings invaluable insight into the judging process.
Shivya Nath, who founded the blog The Shooting Star, is one of the most influential travel bloggers and a digital nomad. Her debut book, The Shooting Star, went on to become a national bestseller, and she's been living the dream that most people only aspire to, living out of her suitcase and travelling the world. Elsa Marie D'Silva, founder and CEO of Safecity.in, is also an Aspen New Voices Fellow, a Vital Voices Lead Fellow, a mentee at the Cherie Blair Foundation for Women in Business and an alumnus of the Swedish Institute. Akila Urankar is the President of Business Standard Limited, and brings to the table decades of experience across industries like Banking, Telecom and Appliances. She has been instrumental in growing Business Standard to a 13 edition newspaper in English, with eight Hindi editions. Deepali Naair, a veteran in the field of marketing, is currently Director (Marketing) at IBM for India and South Asia. She has a wealth of experience across industries like wealth management, hospitality, banking, insurance and consumer products to name a few. She is also an acclaimed speaker, and has spoken at some of the most prestigious tech and digital forums. Shaili Chopra, the founder of SheThePeople.TV is an acclaimed journalist and has been awarded the prestigious Ramnath Goenka award. She also is the bestselling author of three books.
Digital helps break down the language barrier and has been a great help to even uneducated women who are now able to reach out to a lot more people and start their small businesses. - Akila Urankar
SheThePeople.TV, India's largest storytelling platform for women is the force behind Digital Women Awards. Founder Shaili Chopra states, "This is a proud moment for all women start-ups. Women are great examples of leadership, excellence and entrepreneurship, all of which SheThePeople.TV stands for. Our mission is to continue to build this platform for future leaders who will shape the Indian digital eco-system and the Digital Women Awards are just one of the steps in achieving that goal."
The Future is Female. Women across the world are actively joining the workforce, asserting themselves on issues and networking to become a strong force. "From leaders, game-changers, board members, executives and entrepreneurs, sportswomen and politicians and every woman engaging in her goals, we are changing the conversation about them. We believe we are an active positive part of that change," Chopra says.
D'Silva says, "Digital gives women the ease and convenience of operating and thus helps them break through barriers." Urankar agrees, adding that digital has emerged as a big aid to uneducated women running small businesses. Says she, "Digital helps break down the language barrier and has been a great help to even uneducated women who are now able to reach out to a lot more people and start their small businesses."
So what are the judges looking for this year among nominees? To this Urankar says, "A lot of people have excellent ideas but they fail when they have to execute them. So I'm looking for women who were able to execute their ideas well."
Says D'Silva, "We're looking for women who have the resilience and perseverance of making their idea come to life."
ALSO READ: The Shortlist of the Digital Women Awards 2019 Is Here