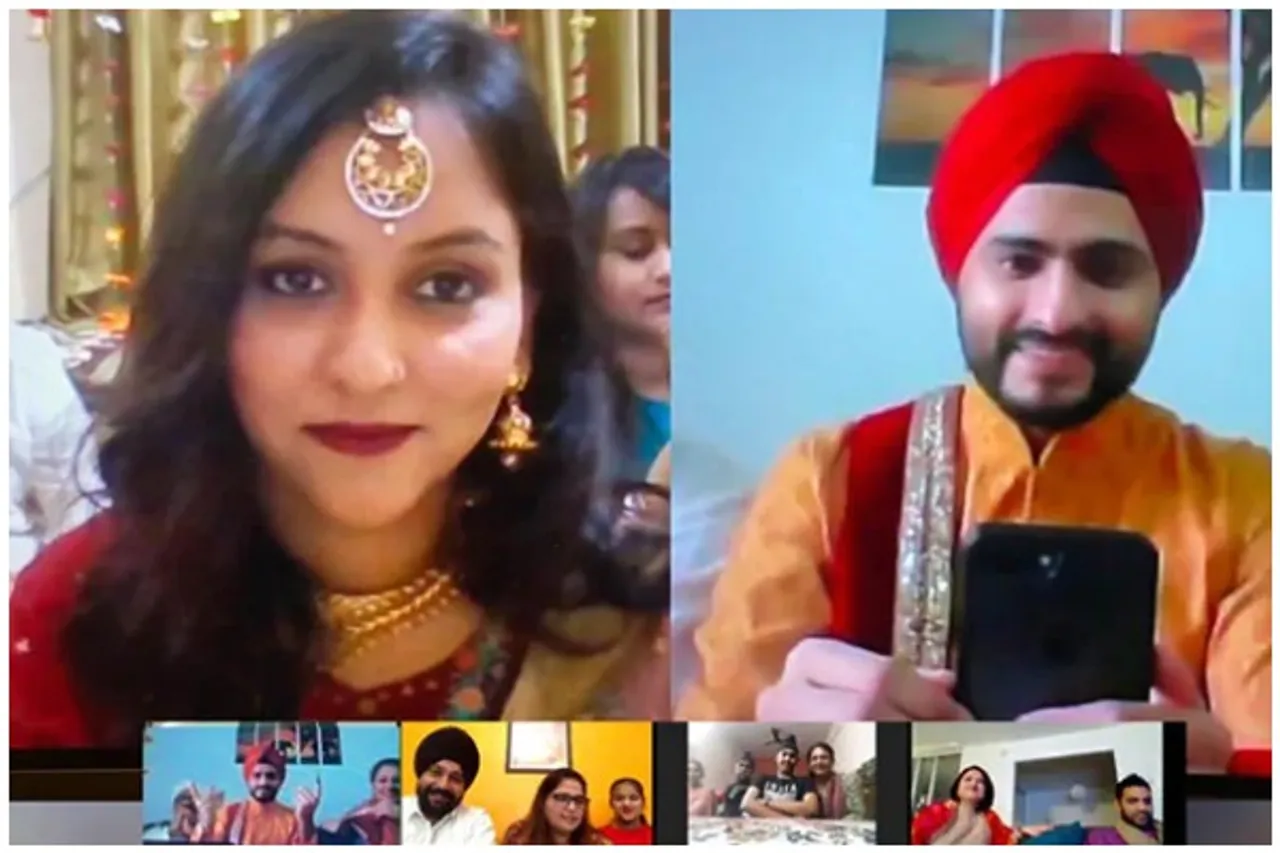 All social gatherings now stand postponed due to the coronavirus outbreak. Be it an official meeting, school function or even a wedding. As social distancing is the only way now to contain the spread of the coronavirus. However, this Mumbai-based merchant navy engineer and his Delhi-based fiancee decided to have a wedding over online video-calling platform Zoom as a gurdwara wedding, according to the traditions, is out of bounds under current circumstances.
Virtual wedding
This couple didn't want to compromise on the wedding date decided much before the outburst of the pandemic which has now engulfed the world. So, the couple decided to make the most of technology and on Saturday, the bride Neet Kaur and groom Preet Singh solemnized their wedding via video call on Zoom.
Read Also: Kerala: Marriage can wait, Patients cannot says Dr Shifa Mohammed
Blessings and dance
Relatives joined in from far and wide too. Their family members in Dubai, Australia and Canada joined the call dressed in all the wedding finery. At the end of the ceremonies, everyone danced and showered blessings on the newly wedded couple.
From the newly wedded
"Since we believe the wedding is incomplete without the blessings of Waheguru Ji, we will head to a gurudwara at the earliest opportunity to conduct the wedding ceremony as per Sikh tradition" says Preet, the groom. He went on to say that it is difficult to not meet each other after our wedding but yes they will abide by the present social norms.
"The wedding we had been dreaming of was with our family in India and abroad and with all Punjabi pre-wedding ceremonies of mehendi, sangeet, etc, followed by the wedding at a gurdwara and then a reception. Of course we never imagined getting married on Zoom," NDTV quoted the couple.
The groom Preet Singh confessed that he first thought about the virtual wedding. Preet said, "I do not have the privilege of working from home. In a few months, once things start to improve, I will have to return to work which ruled out the possibility of postponing the wedding. We wanted to stick to our date of April 4. So we decided to just go ahead with the plan and also, I wanted to set an example of social distancing in times of a lockdown."
Read Also: Coronavirus Dating: NYC man using drone to ask girl out, goes out in a bubble
Similar cases
This is not the only case. People all over the nation are adopting this unique way of marriage. Another couple in Mumbai got married via Facebook live.
Coronavirus cases
According to the latest announcement by the Ministry of Health and Family Welfare, the total number of Coronavirus positive cases has risen to 4684 in India. This includes 4209 active cases, 346 recoveries and 129 deaths.
Read Also: We Women Sure Do Not Have Any Dearth For Masks!
Saumya Tiwari is an intern with SheThePeopl.TV