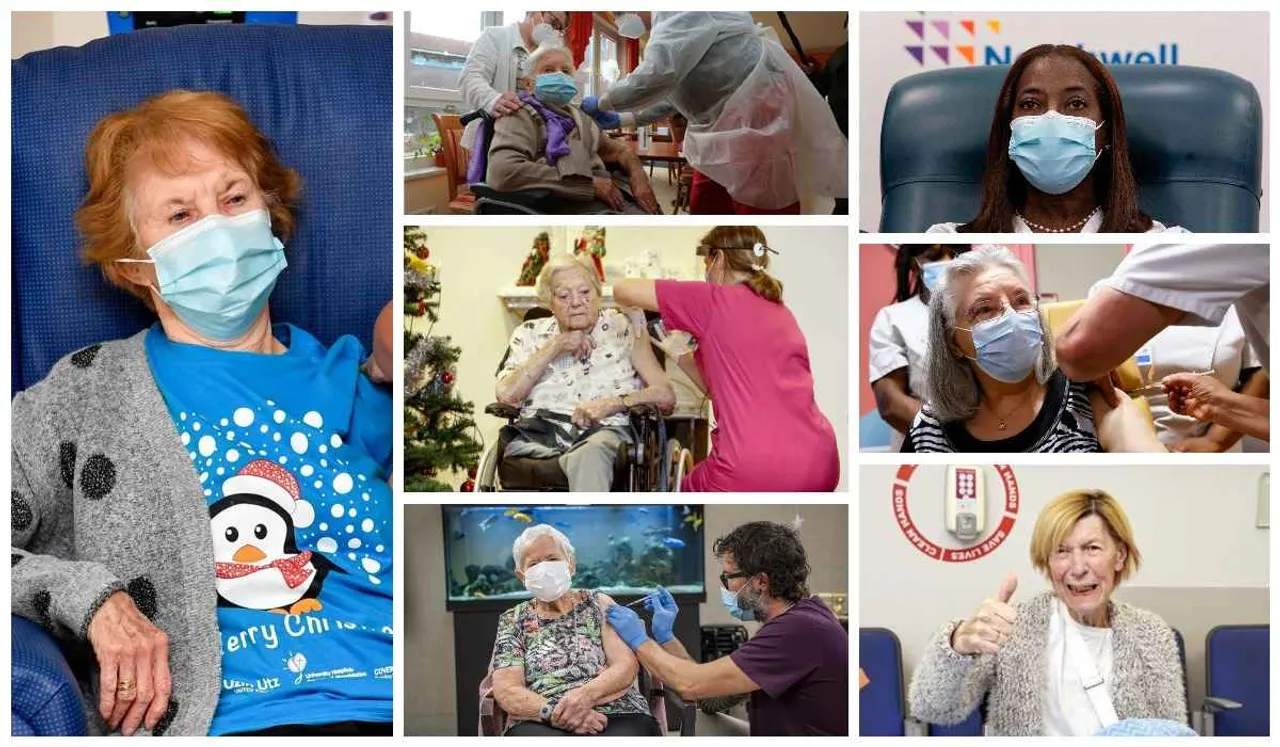 As the COVID-19 vaccine rollout begins across the world, many countries have chosen to administer the first shot to a female citizen. Margaret Keenan, a 90-year-old British grandmother, made headlines in early December when she became the first person in the UK and the world to receive a vaccine shot, outside of clinical trials. Now, as December closes, putting the lid on 2020, several other countries too have given their first vaccine shots to women. Other countries too, like the US, Germany, and France, have followed a similar pattern of vaccinating an elderly woman in the first rollout.
Also Read: Chinese Journalist Sentenced To Four Years Of Prison For Wuhan COVID-19 Reporting
Here's looking at these women across the world who made history: 
1. Margaret Keenan, UK
Just one week short of her ninety-first birthday, UK's Margaret Keenan became the first person in the world to be vaccinated against COVID-19. She lives in Coventry and received the Pfizer-BioNTech COVID-19 vaccine a week after the UK became the first country to approve its use. A former jewellery shop assistant, 'Maggie' Keenan has a daughter, a son, and four grandchildren. "I feel so privileged to be the first person vaccinated against Covid-19, it's the best early birthday present I could wish for because it means I can finally look forward to spending time with my family and friends in the New Year after being on my own for most of the year," she said. 21 days after her first shot, Keenan received her second "booster jab" this week to make immunity effective against the virus. Read more here. 
Margaret Keenan, the first patient in Britain to receive the coronavirus vaccine, hopes to set an example for people hesitant to become vaccinated. pic.twitter.com/kMGEp7F4Vy

— The New York Times (@nytimes) December 8, 2020
2. Sandra Lindsay, US
Sarah Lindsay, a critical care nurse was among the first to receive the COVID-19 Pfizer vaccine in the US. The Jamaican-American health worker is employed at Long Island Jewish Medical Center in Queens, New York. "I want to instill public confidence that the vaccine is safe," she was quoted saying. It was earlier reported that as vaccines roll out, critical care and frontline medical workers would essentially be the first ones to receive it. Lindsay further added, "We're in a pandemic so we all need to do our part." Read more here.
Our nation took a collective sigh of relief in mid-December when @LehmanCollege alumna Sandra Lindsay became the face of hope as the first person to receive the COVID-19 vaccine in the United States.

Read more: https://t.co/yLMP1iXOOh pic.twitter.com/5oZIp2ZYz9

— The City University of New York (@CUNY) December 27, 2020
Also Read: Afghanistan:Journalist And Activist Malalai Maiwand Shot Dead By Gunman
3. 90-year old, Switzerland
A 90-year old woman in Lucerne was the first person to get vaccinated in Switzerland. The Swiss military distributed around 1,000,000 doses of COVID-19 vaccine in and around the country. The cantons (area divisions in Switzerland) of Lucerne and Appenzell Inner Rhodes were one of the first regions to begin COVID-19 vaccine shots. The Swiss authorities had stated that residents of nursing and care homes will be the first to get the COVID-19 vaccine shots. The 90-year-old unnamed woman thus was administered the first shot. Read more here.
A 90-year-old woman living in a retirement home in Lucerne, Switzerland, was the first person in the country to receive the Covid-19 vaccine on Wednesday. https://t.co/ykVTyrQi1X

— The New York Times (@nytimes) December 23, 2020
4. Edith Kwoizalla, Germany
In Germany, 101-year-old Edith Kwoizalla became the first person in the country to receive a shot of the Pfizer-BioNTech vaccine. Kwoizalla, who stays at a care home for the elderly, was reportedly one of 40 residents and some staff who were administered the vaccine on December 26, one day before the official vaccination campaign. According to reports, Kwoizalla hails from Halberstadt located near the Harz hill range in the German state of Saxony-Anhalt. The government hopes to distribute over 1.3 million vaccine doses to health authorities and the elderly population will reportedly receive vaccines on priority.
#Germany #Halberstadt #SachsenAnhalt #Coronavirus #VACCINE

The resident Edith Kwoizalla from Halberstadt in Saxony-Anhalt is 101 years old and is the first to be vaccinated against Corona on Saturday before the official vaccination start in Germany. She received the first doses pic.twitter.com/eZJg3irjeL

— Xy5Z89🇩🇪🇪🇺 (@Xy5Z89) December 26, 2020
5. Gun-Britt Johnsson, Sweden
Gun-Britt Johnsson, aged 91, was the first in Sweden to receive a vaccine dose, as per local media. Like several others on the list, the aged woman reportedly stays at an elderly care home in the city of Mjölby, located between Stockholm and Gothenburg. "I didn't feel a thing. It feels great. I have never had any doubts about getting the jab," she was quoted saying. However, Johnsson said she hadn't been alerted she would be the first to receive the vaccine in Sweden and that it came as a "surprise" to her. "They came into the room and asked if I wanted the jab," she said during a press conference. She even mentioned she was happy she would now be able to meet her grandchildren without apprehension. Sweden hopes to make vaccines available to its entire adult population by mid-2021.
Bugün İsveç'te ilk Covid-19 aşısı, Gun-Britt Johnsson adında Mjölby'de bir huzurevinde yaşayan 91 yaşındaki kadına yapıldı. pic.twitter.com/ZXecGvglHK

— Inci Aksoylu (@AksoyluInci) December 27, 2020
6. Mauricette, France
A 78-year-old woman, identified as Mauricette, was reported to be the first to be vaccinated against the coronavirus in France. She received a dose at the René-Muret Hospital in Sevran, located outside of Paris, local media claims. "I am moved," she was quoted saying upon being administered the shot over the weekend. In France, the launch of the vaccination programme is said to be divided between Sevran and Dijon. To mark the event, French President Emmanuel Macron wrote on Twitter, "We have a new weapon against the virus -- the vaccine."
Covid-19 : à 78 ans, Mauricette est devenue dimanche à Sevran la première Française à recevoir le vaccin pic.twitter.com/9Y2n8T7Zfn

— LCI (@LCI) December 27, 2020
Also Read: Melanie Bassett Becomes UK's First Woman To Give Birth To Triplets From Two Different Wombs
7. Annie Lynch, Ireland
As Ireland began the rollout of the Pfizer-BioNTech vaccine in Dublin today, 79-year-old Annie Lynch became the first to be administered a shot. A grandmother of ten, Lynch received the vaccine at Dublin's St James's Hospital. Commemorating the event, she was quoted saying, "I feel very privileged to be the first person in Ireland to receive the vaccine. Like everyone else, I have been waiting for the vaccine and I really feel like there is a bit of hope there now... Everything was explained very clearly to me beforehand." According to Irish Times, other centres in Ireland where the COVID-19 vaccine will be administered to healthcare staff include the Beaumont Hospital, Cork University Hospital, and University Hospital Galway.
#WATCH 📺

"Now Annie, here's your vaccine, ok?"

The moment the first #Covid19 vaccine was administered in the Republic of Ireland.

79 year-old Annie Lynch received the jab at St. James' Hospital this afternoon. pic.twitter.com/mBx9rNGzON

— Virgin Media News (@VirginMediaNews) December 29, 2020
8. Vladimir Putin's Daughter, Russia
In early August, Russia launched a coronavirus vaccine - the world's first - according to President Vladimir Putin. He declared that Russia had successfully registered the coronavirus vaccine approved by its health ministry. The vaccine was only in the testing phase on humans for less than two months. Putin also made public that one of his two daughters has already been vaccinated. Not specifying which of his two daughters — Maria or Katerina — he is talking about, Putin also mentioned that after the inoculation she was feeling fine despite a brief temperature increase. Read more here.
Putin says his daughter volunteered to take part in trials of Sputnik V, the world's first registered Covid-19 vaccine. "She's an adult, she simply told me," he explained on Russian TV. He added that she's 'feeling well'l & the vaccine is 'harmless.' https://t.co/JMbUqjL9uh

— Bryan MacDonald (@27khv) August 27, 2020