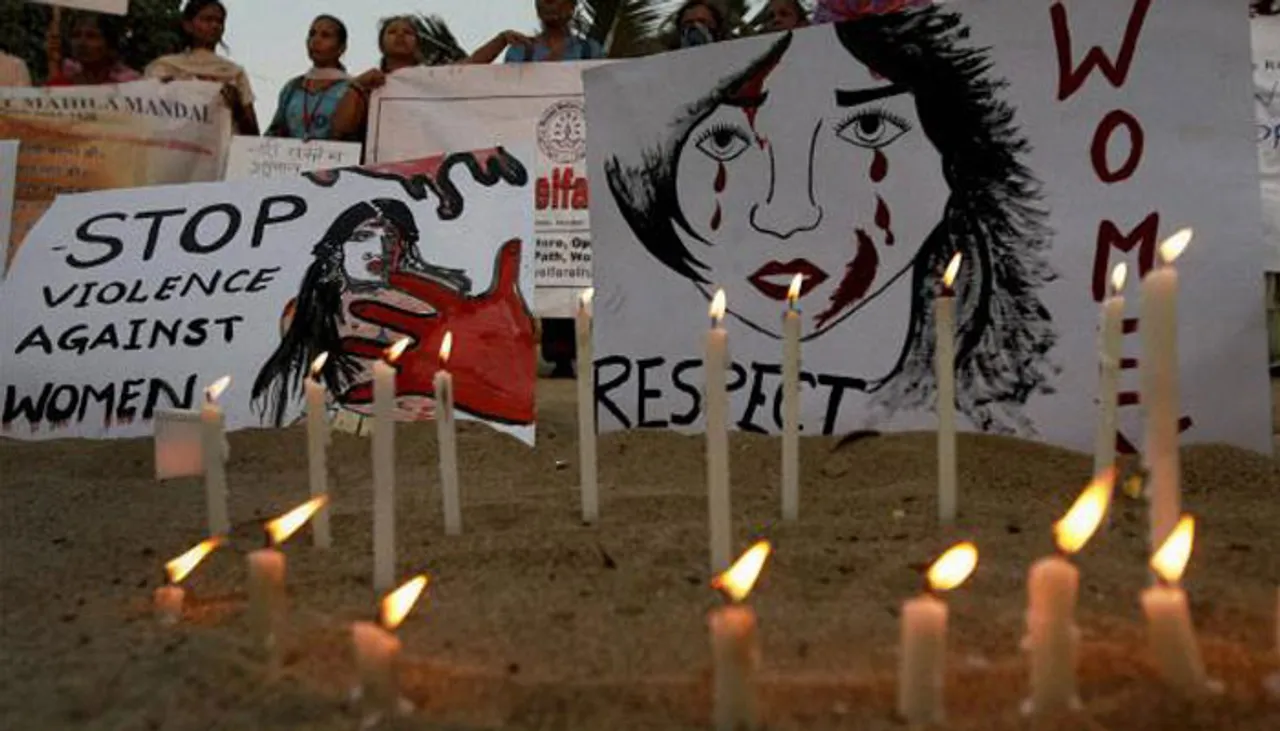 For centuries, women have been subjugated and one of the main weapons that patriarchy uses to oppress women is violence. There is rampant violence across the globe that we read about on a daily basis. However, there are a few cases that dominate the headlines over and over again for the gravity of the violence.
Here are some such cases of abuse, rape, street harassment, workplace harassment that Indian women went through in 2017:
Bengaluru sexual harassment in New Year
2017 did not start on a very good note. The case of mass street harassment in Bengaluru filled the headlines across the country on day one of the year itself. As city women came out of their houses to party on New Year's Eve, groups of men followed them and harassed them. The situation went to such levels that even the city police couldn't control it.
BHU Protest
While the Benaras Hindu University has a liberal and progressive environment, a group of boys harassed a girl in the campus in broad daylight this September. When she yelled at the security guard for help, he didn't oblige. She reported the matter to her hostel warden and Vice-Chancellor, but they shamed her for going out at 6 in the evening. This incident led to a huge protest at the university. The VC was ousted following the protest.
Vizag rape case
What happens when you see a rape happening on the road? You call the police and try to save the women, right? This is exactly what the people of Vizag did not do as they stood there and watched the crime happen. A 21-year-old drunk man allegedly raped a poor woman in Vishakhapatnam in October. Thankfully, an auto-rickshaw driver recorded the act on his smartphone and called the police. But the fact that several people just stood there and watched is a crime in itself.
ALSO READ: Is Our Generation Completely Desensitised to Violence?
Varnika Kundu stalking case
This DJ's case of stalking on the streets of Chandigarh reminds us that all women are vulnerable to crimes. She took on the VIPs by filing a complaint with the Chandigarh police. The accused was the son of the Haryana BJP chief, Vikas Barala, and his friend. Varnika accused them of stalking, intimidating and trying to abduct her in August this year.
Gauri Lankesh murder
Senior Kannada journalist Gauri Lankesh was shot dead at her Bengaluru residence in September, reportedly by a middle-aged man riding a motorbike.
Her murder caused huge protests across the country and the journalist fraternity condemned this act of cowardice.
Gurugram gangrape and death of nine-month old
Another rape case that sent shockwaves across the nation is the gangrape of a 23-year-old woman by three men in an auto in Gurugram in June. Reports say that the men raped the woman for four hours before dumping her on a field. What is more horrifying is that they killed the woman's nine-month-old baby, who was crying, by throwing her out of the auto.
Rohtak gangrape
On May 9, a girl in Rohtak was found brutally gangraped and murdered in an empty plot of the city's IMT area. Her body was found mutilated and the post-mortem report indicated that she died due to "head injury as blunt force injuries with multiple wounds on her skull and scalp". Her fault? She rejected the marriage proposal of the main accused in the gangrape that was committed by him and five of his friends.
Meghalaya woman shunted from Delhi Golf Club for wearing traditional dress
Delhi Golf Club is famous for its elite ensemble of members and visitors. But the murky side of DGC's elitism came to the fore when a tribal woman from Meghalaya entered the premises. The club staff stopped the tribal woman from entering for wearing a dress that looked like a "dustbin". Apparently, she was wearing her traditional dress—Jainsem. Tailin Lyngdoh is a governess and accompanied an Assamese doctor based in Abu Dhabi who the club had invited as guest in June.
TVF sexual harassment case
This year marked the coming out of many survivors of sexual harassment. One such case that dominated headlines was that The Viral Fever's founder Arunabh Kumar. There are charges of workplace sexual harassment against the entrepreneur by his ex-employee. She revealed the details of it through an anonymous post on Medium and it took the nation by surprise. As a result of this, Kumar had to step down from his position as company CEO.
Silicon Valley domestic abuse case
It is cases like these that make us think, "are women really empowered?". Apple's former engineer, Neha Rastogi, filed a case of domestic violence against her husband, Abhishek Ghattani, after bearing through years of abuse in April this year. While she had filed cases against her husband even before this one, due to lack of evidence, she had to reconcile. But even after procuring a video of the abuse, her husband only got 13 days in prison.
ALSO READ: Masculine Men Less Attractive to Women Afraid of Violence: Study
Noida family assaults house maid
This case led to maids across Noida protesting outside the Mahagun Moderne Society. The posh housing society accommodates a family that allegedly beat up and locked up their house help without food and water. All of this, because the employers suspected her of stealing and that she was a Bangladeshi immigrant.
This year, we saw quite a few cases of journalists murdered and threatened for reporting. Freelance journalist Sandhya Ravishankar's case is one such.
Journo threatened for reporting on illegal sand-mining
This year, we saw quite a few cases of journalists murdered and threatened for reporting. Freelance journalist Sandhya Ravishankar's case is one such. She investigated illegal sand-mining in Tamil Nadu. While doing her work, she started getting threat calls, defamation, social media trolling and character assassination in March. She published a four-part series on illegal beach sand mining in Tamil Nadu. The series included articles that busted the corruption and environmental exploitation plaguing Tamil Nadu's sand mining industry.
13. Pakeezah actor abandoned by son
It is a matter of great sorrow when an ailing mother finds no sympathy and care among her own children. Similar is the case with veteran actor Geeta Kapoor. Her son admitted her in a Mumbai hospital in April and never returned to check on her. She said in an interview that he used to beat her up and would give her food sparingly. This news left the whole nation feeling disgusted and sorry for Kapoor.
Join Us on https://www.facebook.com/SheThePeoplePage
Follow Us on https://twitter.com/SheThePeopleTV