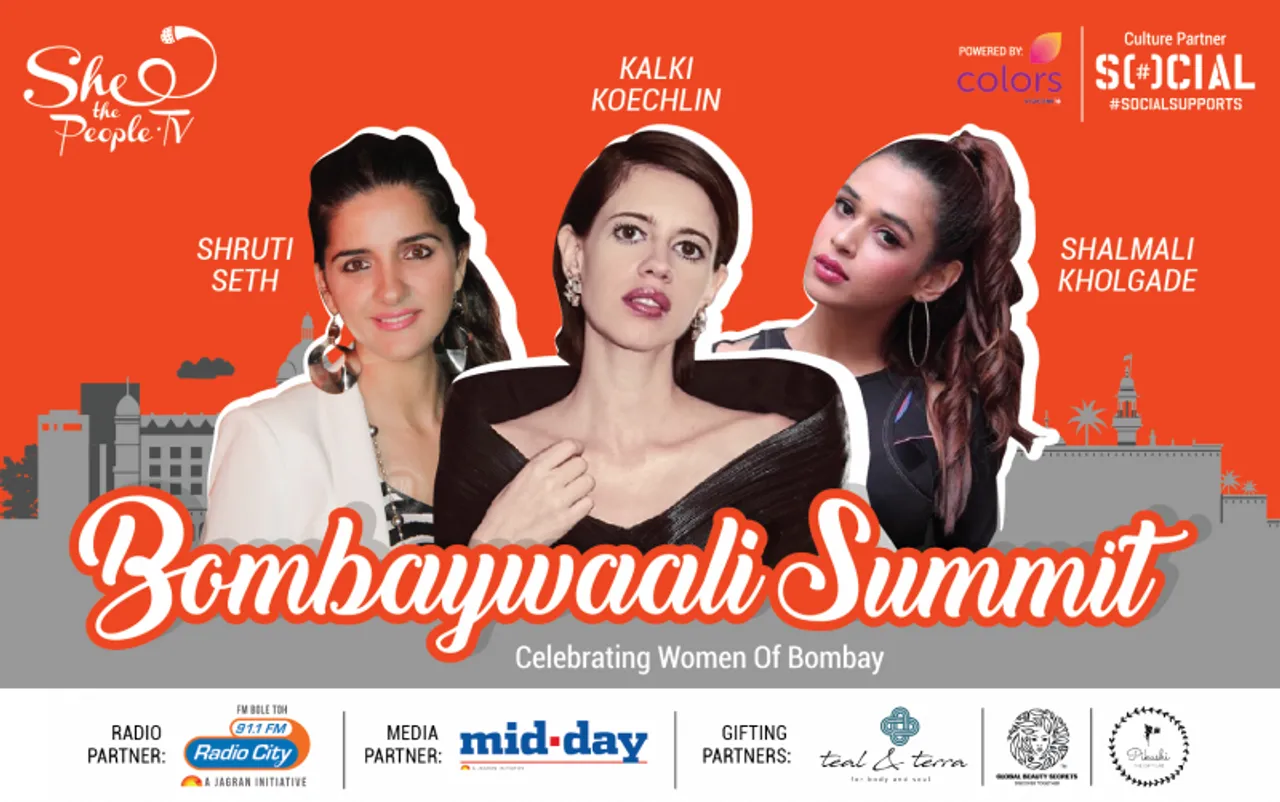 Bombaywaali by SheThePeople is a celebration of women who built the city of Mumbai – intellectually, philosophically, financially, spiritually and literally. A celebration of Mumbai past, present and future, this is a series of engaging conversations with women who observe and storify this city.
This year, the Bombaywaali by SheThePeople Summit brings together an evening of engaging discussions with some of the women who are the drivers of the cultural and social scene in this city, from pop culture to music to entertainment.
To be held at Fun Republic Social, Sept 21 at 4 pm, this year's edition of the Bombaywaali by SheThePeople Summit will have critically acclaimed actor Kalki Koechlin in conversation with Sukanya Venkatraghavan, founder of SheThePeople.TV Shaili Chopra in conversation with mega influencers Shanaya S, Elton J Fernandez, Aanam Chasmawala and Ila Johari. Popular television actor and anchor Shruti Seth curates and moderates a panel on the Bombaywaalis of Content, with screenwriters Nupur Asthana and Suhani Kanwar as well as actor Sandhya Mridul. Editor Rolling Stone India Nirmika Singh along with singers Shalmali Kholgade and Harshdeep Kaur will give the audience a glimpse into their musical journeys.
ALSO READ: Bengaluru Cheers For Women Writers' Fest With A Packed House
Over the past years at Bombaywaali, we have had conversations with powerful and driven women who exemplify the spirit of the city. Pooja Dhingra, Bachi Karkaria, Shobha De, Tasneem Mehta, Sonal Holland, Richa Chhada, Priyanka Chaturvedi, Tisca Chopra, Malishka, Miss Malini, Mahabanoo Mody Kotwal, Gul Panag and many, many more wonderful, feisty women who speak their minds and speak it loud.
Says SheThePeopleTV founder Shaili Chopra, "We are very excited with the conversations lined up at this edition of the Bombaywaali by SheThePeople Summit, from digital influencers, to content creators, to entertainers, we have a stunning array of voices that drive this city, making it as the title goes, Maximum City."
This year, the very first panel on Digital Bombaywaalis has popular beauty and fashion influencers Aanam Chasmawala, Ila Johari, Shanaya S, Tinaz Nooshian and Elton J Fernandez speak with SheThePeople.TV founder and noted journalist, Shaili Chopra about how the digital space has created a platform for democratizing beauty and fashion and making it accessible to everyone. The conversation will focus on how Bombay leads the trend space in India, with and despite Bollywood as an influence.
ALSO READ: Women Need To Tell Their Own Stories: Author Shashi Deshpande
The second panel, curated and moderated by Shruti Seth, has an interesting mix of creators and actors who are changing the narrative when it comes to women on our screen. The panel will be discussing how we are changing the way women are being written and how the advent of new mediums to watch are influencing the content. "Finally our time has come and who better to talk about it than three incredibly talented women. I'm so excited to hear about all the exciting times in content creation and the women behind it," says Shruti Seth, curator and moderator of the panel on content creation with whiz creators Suhani Kanwar, Sandhya Mridul and Nupur Asthana.
The third panel, curated and moderated by Nirmika Singh, editor of Rolling Stone India and a noted poet, lyricist, and performer herself, will have women artists, talking about their journeys and performing a bit. Firebrand performer Shalmali Kholgade and Harshdeep Kaur, popularly known as Sufi ki Sultana will be on this panel.
In the last session, author of Dark Things and entertainment editor, Sukanya Venkatraghavan will be chatting with acclaimed actor Kalki Koechlin. Says Sukanya, "We will chat about what it took for a girl from Pondicherry to navigate the city of dreams and its many mazes, not only as an actor but also an inhabitant of a new place, one that is fascinating and comes with myriad challenges. What does Mumbai mean to Kalki Koechlin, both as an actor and someone who had to make this city her own, both personally and professionally."
An evening of powerful and engaging conversations that provoke, stimulate and inspire, these are conversations you can't miss.
SheThePeople is India's first women's channel inspired by real stories and seeks to change the discourse on, about and for women. Fierce and firebrand, it's a platform for stories of women breaking new ground as entrepreneurs, feminists, mothers, doctors, actors, artists, leaders, activists, homemakers and others who shatter glass ceilings in every sphere of life.
SheThePeople started up in 2015 as an initiative to bring viewers – for the first time – digital views and news focussed on women. Founded by award-winning journalist Shaili Chopra, it is globally recognised as India's go-to safe-space for women's voices.
To register, click here.