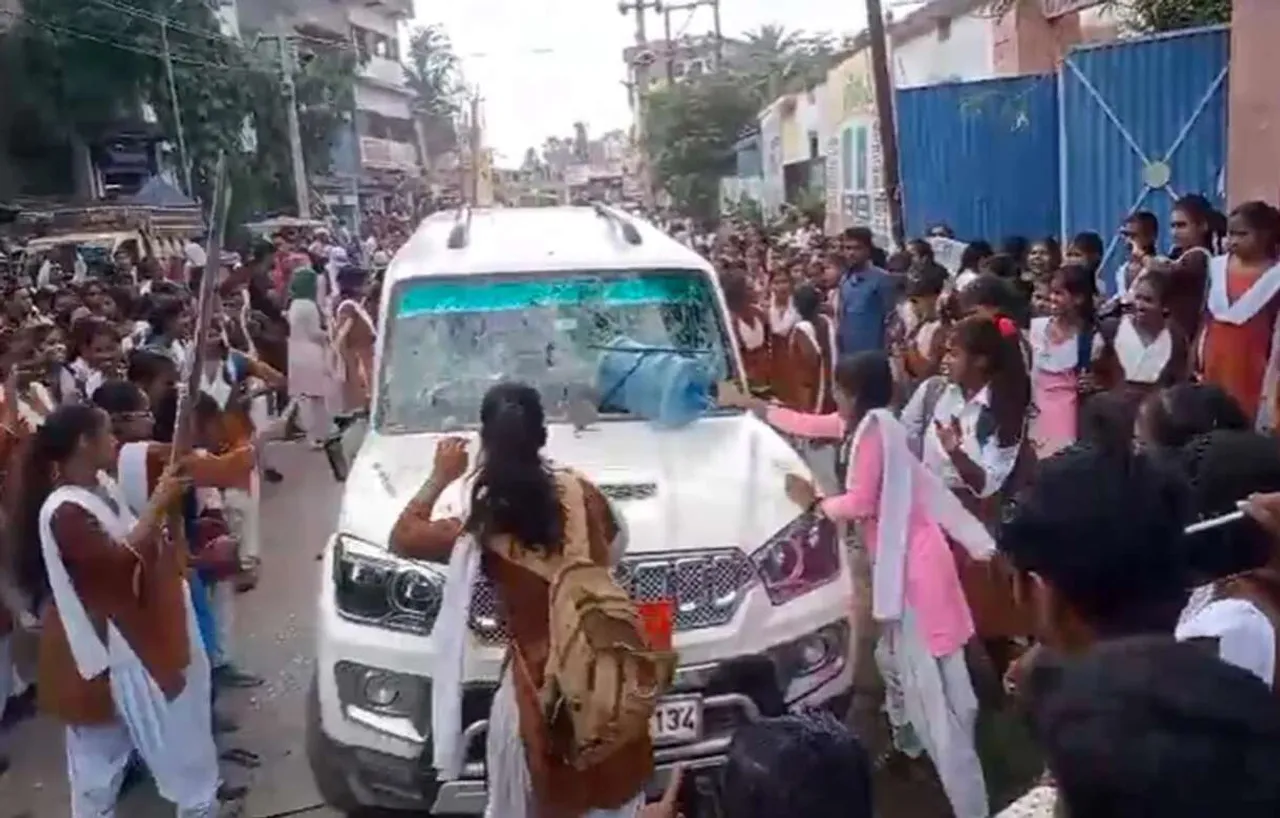 In a dramatic turn of events, a group of girl students in Bihar's Vaishali district resorted to vandalism as they voiced their concerns about inadequate facilities at their school. The incident, which occurred on Tuesday, saw the students from Girls High School in Mahnar village protesting against the dire conditions at their educational institution.
The girls' grievances primarily revolved around the lack of basic amenities such as benches and tables in their classrooms. 
Frustrated by the dire state of affairs, they chose to make their voices heard through a less conventional means.
Vandalism and Road Blockade
In a viral video that has garnered significant attention, the students can be seen encircling the vehicle of Mahnar Block Education Officer Ahilya Kumar. 
Stones were hurled at the vehicle, shattering its windshield. 
This act of vandalism not only damaged the officer's car but also disrupted local traffic, with vehicles lining up on both sides of the road.
Neeraj Kumar, the Sub-Divisional Officer (SDO) of Mahnar, acknowledged the challenges faced by the school, pointing out that they were admitting more students than the available capacity could accommodate. 
In an effort to address the issue, he revealed plans to implement a two-shift system at the school. "The students who did not find a place to sit inside started protesting and blocked a road," he stated.
Students' Side 
On the other hand, the students alleged that their peaceful protest against the school administration had taken an unfortunate turn when a female police officer reportedly slapped some of them. 
This alleged act of aggression further fueled the students' anger, leading to the vandalism of the education officer's vehicle.
Poonam Kumari, a police personnel who intervened during the incident, suffered injuries in the process. 
Mahnar cop Pushpa Kumari placed responsibility on the students, asserting that their demands were being addressed, but they were unwilling to engage in peaceful dialogue. 
She stated, "The students are at fault. Their demands are being fulfilled, but they are not willing to sit and talk. A letter is being written to the education department."
The incident in Mahnar village of Vaishali district serves as a stark reminder of the challenges faced by students in underprivileged areas and the importance of addressing their concerns.
While the students' actions may have crossed the line into vandalism, their frustration highlights the urgency of improving educational facilities and communication between school authorities and students. 
It remains to be seen how authorities will navigate this situation to ensure that the girls' legitimate concerns are addressed and that such incidents do not recur in the future.
---
Suggested Reading: Who Is Michelle Lujan Grisham? Meet The New Mexico Governor
---