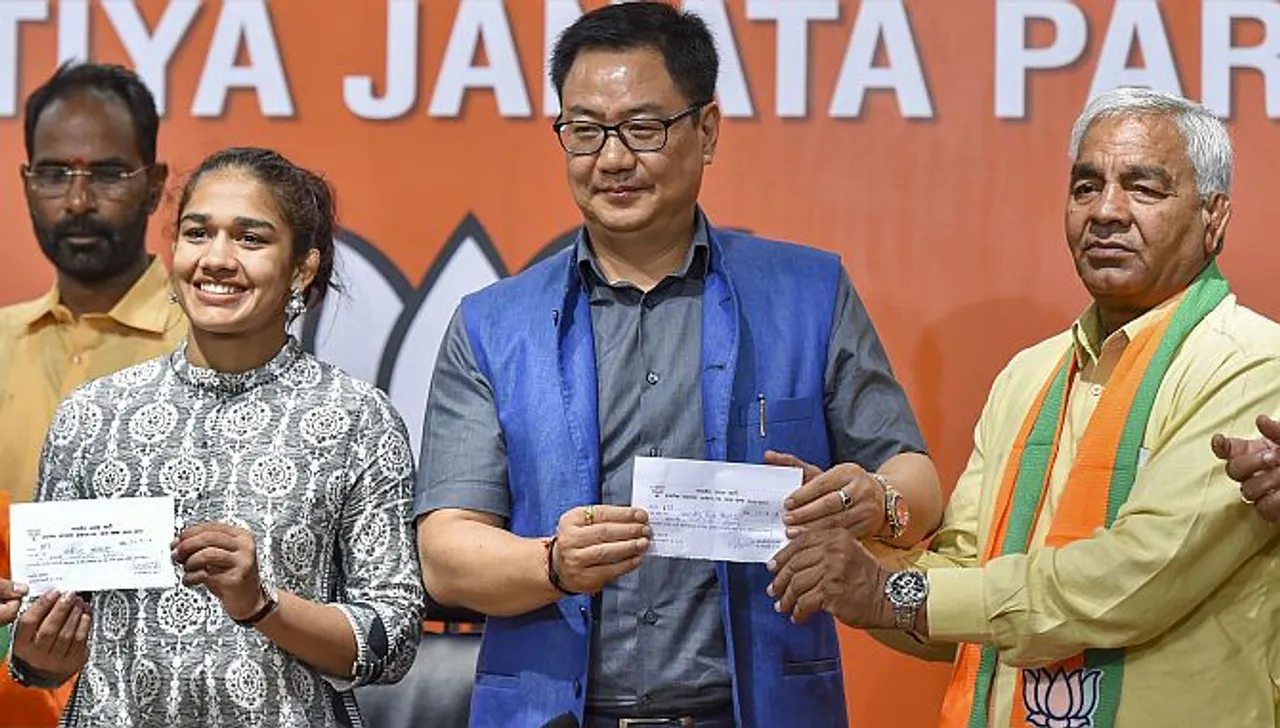 Wrestler Babita Phogat, who is currently a sub-inspector with the Haryana police, and her father Mahavir Singh Phogat, joined the ruling BJP ahead of polls this year in Haryana, ANI reported.
Babita Kumari, who won India's first wrestling medal at the 2018 Commonwealth Games, and her father's journey inspired the 2016 Bollywood blockbuster Dangal starring Aamir Khan. The release of Dangal was just the right tonic to fuel the ambitions of the Phogat sisters. After the movie's worldwide success, Geeta and Babita Phogat became role models for youngsters.
Sources: Wrestler Babita Phogat to join Bharatiya Janata Party (BJP), today. (file pic) pic.twitter.com/8LUOoLhWp2

— ANI (@ANI) August 12, 2019
"I am a very big fan of Narendra Modi. I have been his fan since 2014. He has worked a lot for the country. I think everyone would like to join the BJP," Phogat told reporters at the BJP office.
Delhi: Wrestler Babita Phogat and her father Mahavir Singh Phogat join Bharatiya Janata Party in the presence of Union Minister Kiren Rijiju. pic.twitter.com/p4itp7hxMX

— ANI (@ANI) August 12, 2019
Talking to the reporters, she also supported Haryana Chief Minister ML Khattar, who has provoked outrage with his comment that "some people are now saying as Kashmir is open, brides will be brought from there." The Chief Minister was referring to scrapping of the special status of Jammu and Kashmir under Article 370 while speaking about the worrying gender ratio in his state. "He has not made any statement that is offensive to our sisters and daughters. I urge the media not to misinterpret his statement," said Phogat, according to news agency ANI.
Also Read: Years After String of Feats, Wrestler Family Fights For Their Due
Mahavir Phogat is the Dhronacharya awardee, has also joined the BJP. He had earlier joined the party of former chief minister OP Chautala's son Ajay Chautala. Babita, 29, is a three-time Commonwealth gold and silver medallist. Babita had clinched the silver medal in the 2010 Delhi CWG in the 51 kg weight class. She bagged a gold medal in the 2014 Glasgow Commonwealth Games in the 55 kg weight class.
Babita Kumari won India's first wrestling medal at the 2018 Commonwealth Games
Believes in Girl Power
The Commonwealth gold medallist also launched a wrestling academy in Bengaluru, for girls who want to follow in her footsteps. She had spoken about the kind of confidence every Indian girl should have. "It is important for the girls not to fear about anything. Or else, they will be left far behind. This is one big lesson our father (Dronacharya Mahavir Singh Phogat) taught us right from our childhood. I wish every parent encourages their children, especially girls, to be like that," she had said during the FICCI Ladies Organisation event on women empowerment in Hyderabad, the Hindu reported.
Also Read: Dangal depicts the story of a wrestler himself who mentored her both daughters Geeta Babita to win the championships
Feature Image Credit: Rediff.com