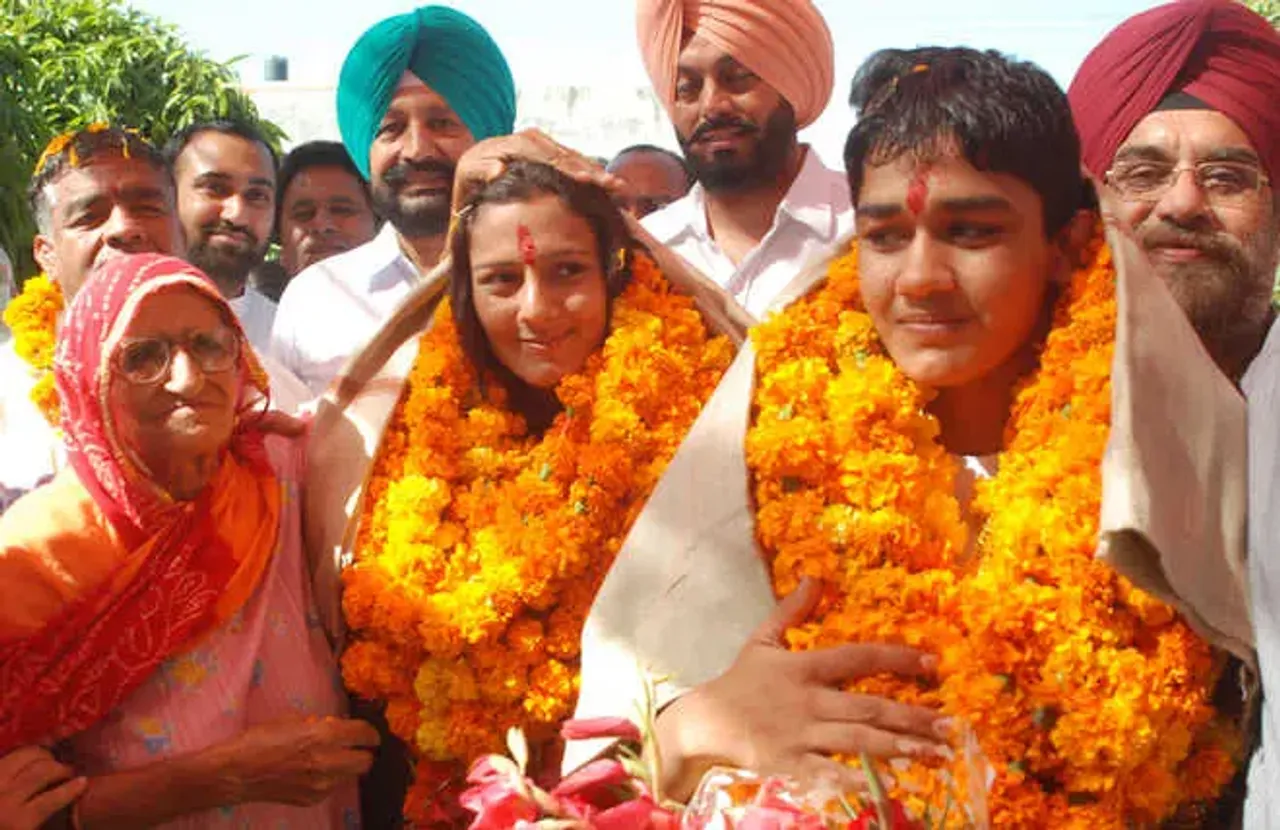 The famous wrestling sisters are leaving no stone unturned to make India a country of sportswomen. Commonwealth gold medalists Geeta Phogat and Babita Phogat will soon open a wrestling academy in Bengaluru on two acres of land in Nandi Hills that was promised to them by Chikkaballapur MLA K Sudhakar.
The release of Aamir Khan-starrer, Bollywood film 'Dangal',was just the right tonic to fuel the ambitions of these Phogat sisters. And, after the movie's worldwide success, Geeta and Babita are all out to fulfil those ambitions. The sisters aim to launch this academy to brighten the chances of girls who want to follow in their footsteps.
Phogat sisters r planning 2open a wrestling academy at in Bengaluru.K Sudhakar(MLA)promised them to provide 2acre of land 4proposed academy pic.twitter.com/qRz9bQcC8O

— डा. भट्ट (@DrBhattashok) February 26, 2017
Both the sisters were in Bengaluru on Saturday on their way to attend a self-defence and yoga camp, and at the end of the day, were gifted the best present they could ever get. MLA K Sudhakar promised to allocate land to set up the academy.
Also Read: Dangal depicts the story of a wrestler himself who mentored her both daughters Geeta Babita to win the championships
"Women should be respected. We need to instil confidence in our women instead of telling them how to dress or behave. Change the way our boys think; women cannot be victims anymore. The system will always support you but the first to come to your rescue is yourself. We want to strengthen women mentally and physically," said the MLA during the inauguration of the camp by Akshar Yoga and Matru Trust on the Palace Grounds, as reported by TOI.
"I have been to Bengaluru in the past, but setting up an academy is so exciting. I am glad we will take women's wrestling beyond Haryana," said Geeta while joining the yoga camp along with sister Babita at 6am.
Also Read: Haryana's Sportswomen fight marriage norms to prep for Olympics
Motivated by the appreciation and love they received during the camp, the duo was enthused about running an academy in the IT city.
On the other hand, Babita Phogat said, "For my sister and me, fighting eve-teasers has been a routine since childhood. I am happy that more and more women in Bengaluru are getting themselves trained in basic self-defence."
They both joined in a camp that was filled with over 3,000 women yogis on Saturday. The participants gathered with the famous duo in physical strengthening sessions, including punching, blocking and kicking, under the guidance of Himalayan Yogi Akshar.
"Not just women, even men and children can practise some self-defence techniques that would come handy when attacked unawares. All men are not fighters by birth, they just have extra strength. But if you look closely, there is no difference between you (women) and them. All that's needed is continuous training," Akshar told the participants. "No one has the right to touch you or attack you and it is definitely your right to fight back. Self-defence will take a lot of practice but it will never fail you if you are confident and ready to tackle any attack," he added.
Also Read: Years After String of Feats, Wrestler Family Fights For Their Due
We are eagerly waiting for the academy to kick-start operations.
Feature Image Credit: The Tribune
Join Us on https://www.facebook.com/SheThePeoplePage
Follow Us on https://twitter.com/SheThePeopleTV