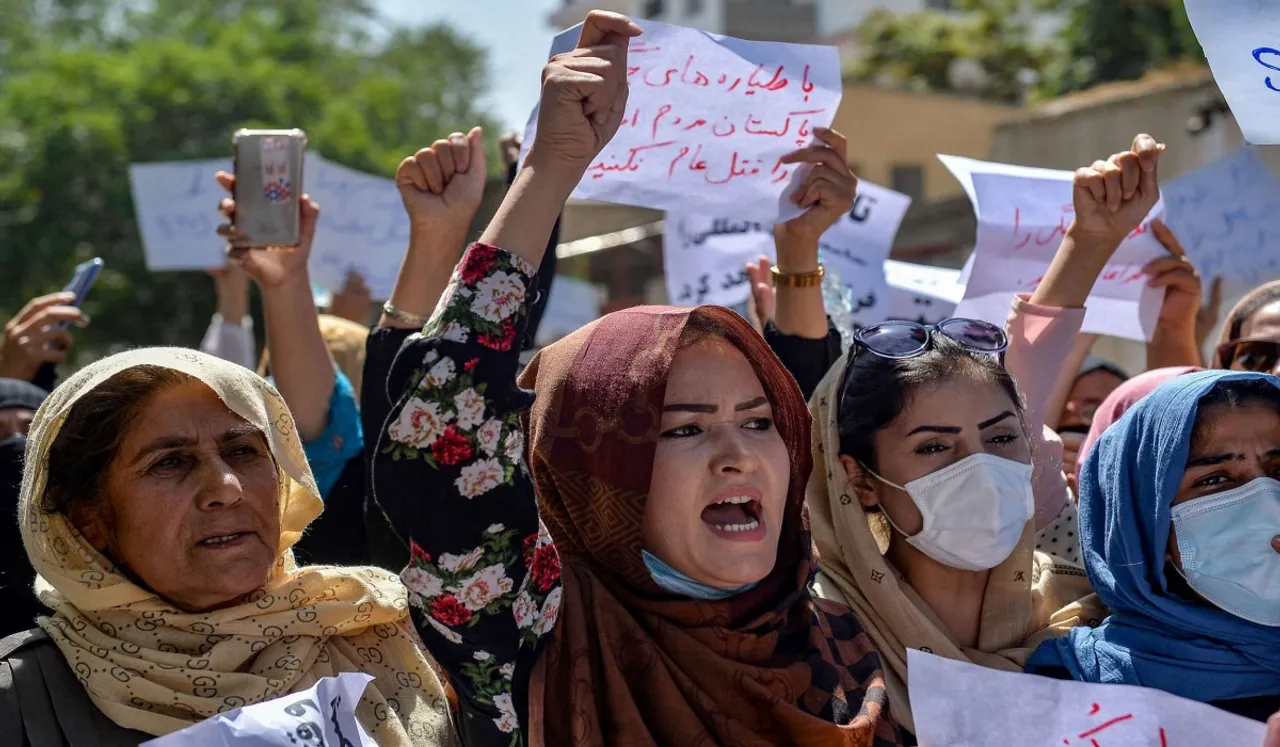 Defying the oppressive restrictions imposed by the Taliban, Afghan women took to the streets on Wednesday to protest against the recent order to close down beauty parlours across the nation. 
Security officials responded with force, firing shots into the air and using water cannons to disperse the demonstrators, who were demanding the right to work, socialise, and express themselves freely.
Since the Taliban seized power in August 2021, their regime has subjected girls and women to severe limitations on their public life. From prohibiting their attendance at schools and universities to banning them from parks, funfairs, and gyms, women have faced a relentless assault on their basic rights. 
The latest order to shut down thousands of beauty parlours, often the primary source of income for many households, further restricts their opportunities to earn a living and interact with others outside their homes.
Afghan Women Protest Against Taliban
"Don't take my bread and water," read a powerful sign held high by one of the protesters on Butcher Street, a vibrant hub of salons in the capital.
In a country where public protests are a rare sight and frequently quashed by force, around 50 women bravely stood their ground on Wednesday, despite the potential consequences. The protesters recorded videos and shared images with journalists, showing security forces resorting to a water hose and aerial firing to break up the gathering.
"We organised this protest to talk and negotiate," said a salon worker, speaking under the condition of anonymity to AFP for security reasons. "But today, no one came to talk to us, to listen to us. They didn't pay any attention to us and after a while, they dispersed us using force."
Last month, the Ministry for the Promotion of Virtue and Prevention of Vice issued the order, providing salons with only a month to close down. The reason cited was that excessive spending on makeovers allegedly caused hardships for impoverished families, and certain treatments at the salons were deemed "un-Islamic." 
The ministry even argued that using too much makeup hindered women from properly performing their ablutions before prayer.
The order, reportedly based on directives from the Taliban's supreme leader, Hibatullah Akhundzada, has had devastating effects on women's lives. Beauty parlours served as safe spaces where women could gather and socialise away from men and played a vital role in supporting female entrepreneurs.
"Gender Apartheid"
International human rights organisations have expressed deep concern over the situation in Afghanistan, labelling it as "gender apartheid." In a report presented to the UN's Human Rights Council last month, Richard Bennett, the special rapporteur for Afghanistan, highlighted the severe discrimination faced by Afghan women and girls.
Akhundzada, who operates from the shadows in Kandahar, proclaimed that the Taliban's Islamic governance was liberating Afghan women from "traditional oppressions" and restoring their status as "free and dignified human beings." However, his words have been met with skepticism by those witnessing the erosion of women's rights on the ground.
Not only are women barred from pursuing work in the UN and NGOs, but many have also lost their government jobs or are being paid to stay at home, further exacerbating their struggles.
As Afghan women bravely continue their fight for equality and basic rights, the international community closely watches the developments in a nation that once promised progress and change. 
---
Suggested Reading: The Idol: Problematic Hypersexualisation of Female Characters