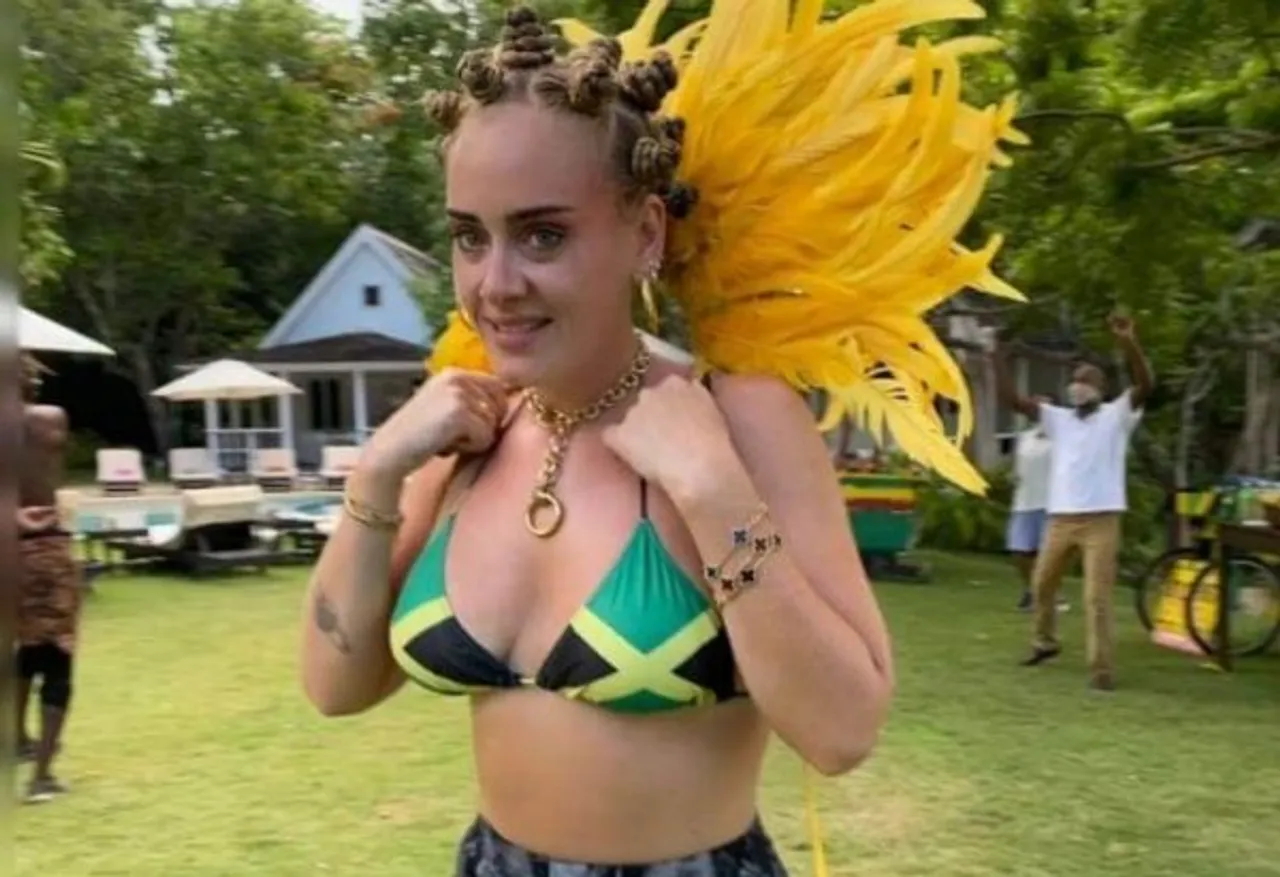 Popular singer Adele has been accused of cultural appropriation for the images that she recently shared in her Instagram post. The British singer who jointly holds the record for most Grammys won by a female artist in one night, along with Beyonce, can be seen in the photograph wearing Jamaican flag bikini top and a feathered headgear popular in Afro-Caribbean culture, with her hair tied into Bantu knots (a traditional African hairstyle).
The post was captioned, "Happy what would be Notting Hill Carnival my beloved London." The caption also had emojis of the British and Jamaican flags. While many of her fans praised her for her body transformation due to weight-loss, others accused her of cultural appropriation.
A Twitter user wrote, "The issue shouldn't be who gets to wear these styles; it's what happens when certain folks wear them. White women need to stand up against these beliefs that they are fashionable, trendy, pretty, professional when wearing these styles, but black women/people are not."
Also Read: The Conversations Around Adele's Weight Loss: Do We Need Them?
Marc Lamont Hill, a BET News host and activist, shared Adele's photo on his Instagram handle with a caption "Why?" Jemele Hill, a sports journalist, shared Adele's tweet with the following caption:
No one.

Absolutely not a fucking soul.

Nary a person.

Adele: pic.twitter.com/Lj0ZflRjyd

— Jemele Hill (@jemelehill) August 30, 2020
However, many fans jumped into Adele's defence, calling her critiques "uninformed". One Instagram user commented on her post, "Anyone who thinks this is cultural appropriation doesn't care enough to do their research on the carnival celebrating Jamaican culture her hair was also done by Jamaicans." Another Instagram user urged people to stop making a big deal out of Adele's look, writing, "As a Jamaican I have no issue with other nationalities appreciating our culture. Stop making a big deal of nothing. Come to Jamaica and feel alright."
The 32-year-old Oscar winner was also recently in news for sending a DM to a fan on Twitter. When a fan posted a story on Instagram tagging the singer, asking her to release her next album, she replied, "I'm absolutely chuffed you like my music." Here's the fan's tweet about his chat with Adele.
IM BAWLING MY EYES OUT pic.twitter.com/bjGoPCMxdF

— Colyn (@colynelliott) August 29, 2020
Previous Cultural Appropriation Accusations
In January, Connes des Garcons, a Japanese fashion brand was forced to apologise after it was accused of cultural appropriation at Paris Fashion Week. During the show, mostly white models went for the catwalk wearing cornrow wigs. In 2018, Dolce and Gabbana were also accused of trivialising Chinese culture during a campaign. Back in 2016, Gucci was reprimanded for dressing all-white models in Sikh styled turbans. Singer Beyonce was accused of appropriating Indian culture in 2018, when she performed in Indian attire at Isha Ambani's pre-wedding bash.
Also Read: Adele breaks Michael Jackson's record, becomes greatest music star
 What is Cultural Appropriation?
Cultural appropriation refers to a particular power dynamic in which people of a dominant culture take elements from a culture of those who have been systematically oppressed by the dominant group and adopt as their own.
Image Credits: Adele/ Instagram
Sanskriti Tiwari is an intern with SheThePeople.TV.