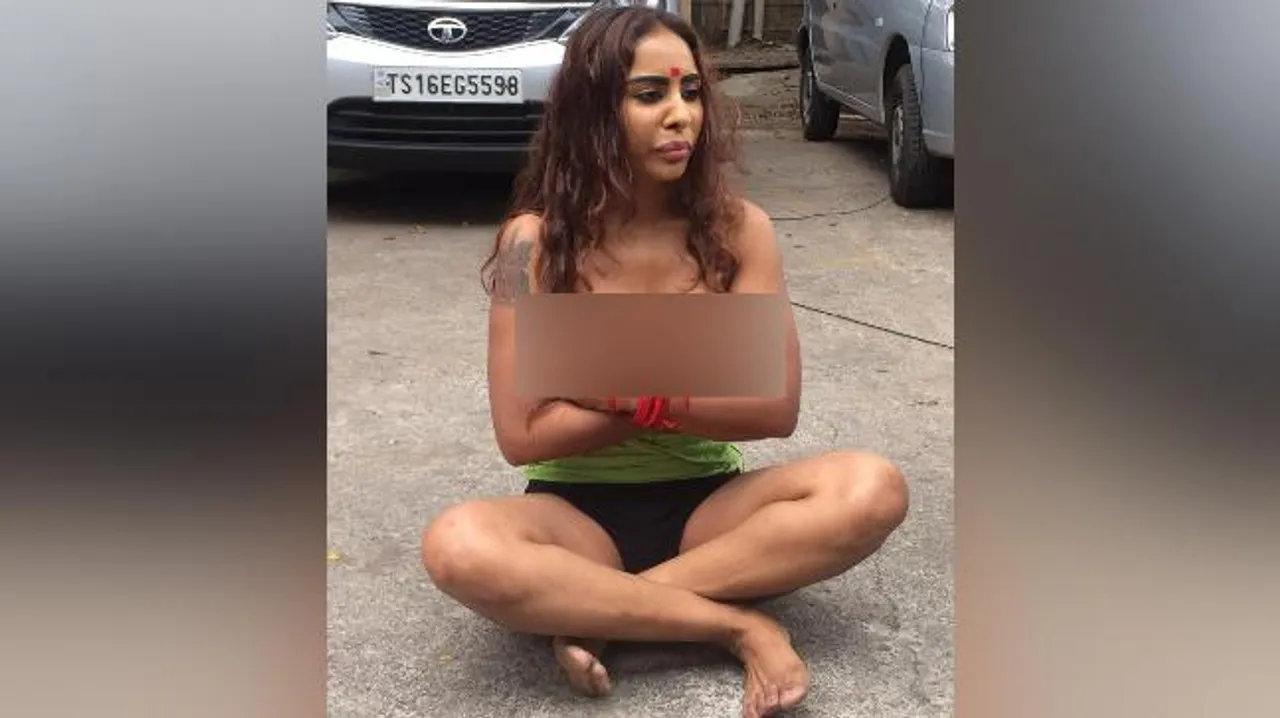 Tollywood actress Sri Reddy on Saturday sat topless outside the Telugu Film Chamber of Commerce in Hyderabad. She was protesting the casting couch prevalent in Telugu film industry.
#SriReddy goes nude & protests on road for not getting a membership in Movie Artists Association (MAA) #srileaks #Sivaji, #KadambariKiran @sivajiraju13 @Rakulpreet @LakshmiManchu @Murlimohan11 @themohanbabu @UVKrishnamRaju @actorsrikanth @NameisNani pic.twitter.com/S4QZhB9yvr

— PRO Sai satish (@Saisatish9999) April 7, 2018
Protesting sexual exploitation of women, Reddy said instead of being a watchdog, Film Chamber remains silent over casting couch incidents.
For a couple of months now, Sri Reddy has been in the spotlight, accusing top directors, producers and male actors of seeking sexual favours from actresses.
READ: Urmila Chaman's campaign to break the silence around menstruation is doing a bloody good job
"They will ask us to send inappropriate pictures and videos. Are we girls or things to play with? But we will not get an opportunity," she added.
Asked about the core problem, Sri Reddy said the film industry takes advantage of young actresses who seek work. She said she was denied film roles because she didn't give in to demands of some people in the industry
Sri Reddy also claimed that Telugu-origin actresses were not getting enough work in Telugu films.
Told not to resort to such acts
The aspiring actor was later taken to a police station. "She was there to lodge her protest. We told her to protest in a democratic way and not resort to such acts. She has not given any complaints regarding her allegations to police till now," said a police officer.
READ: Periods Should Not Stop Women From Doing Anything: Radhika Apte
The starlet also fears for her safety. She wants to expose the names of the exploiters in the industry who are frequent casting couch offenders.
Following her allegations, Tollywood director Sekhar Kammula and an actor-turned-politician reportedly approached the cops against Sri Reddy.
Demands film chamber membership
Now the actress has demanded a membership in the Telugu Film Chamber of Commerce.
"Why Telugu actors like me don't get a chance?" she questioned. " They should give 75% chances to Telugu people in films. I want membership in Telugu film chamber. Why are they not giving it? I have done three films," Reddy said, News18 reported.
Feature Image Credit: India Today
Also Read: 'Why Aren't We Comfortable Saying The Word Menstruation?'