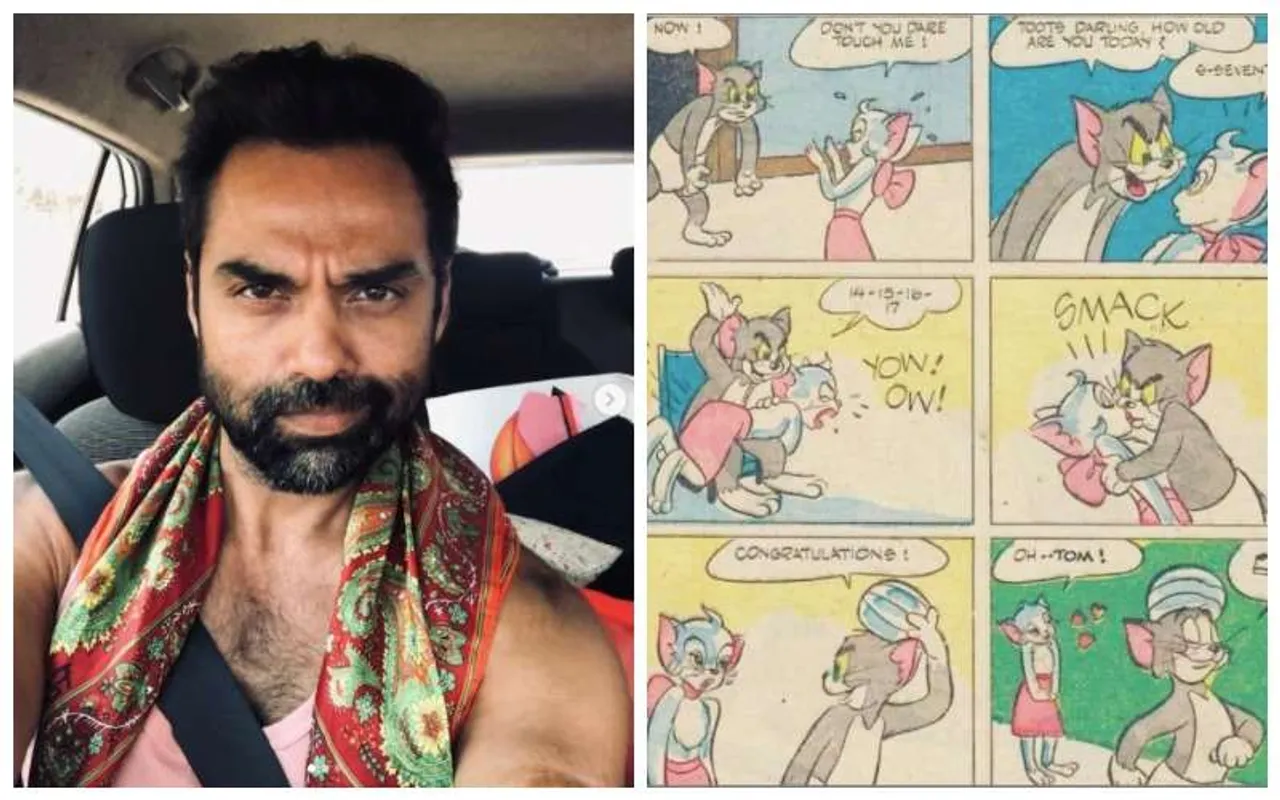 There's a reason Abhay Deol rules over the hearts of so many women in India. Well, actually, there are several, but one of the top reasons is that the dimpled actor has never shied away from speaking out on social issues that need addressing. Often with smart wit and caustic humour, Deol, disregarding the widespread repute his film lineage holds in Bollywood, has taken to social media to let his innermost thoughts be heard on even the most controversial of subjects. He is known to take a stand divergent to the rest of tinsel town's herd opinions, which is what ranks him among the handful of stars with spines in the industry.
 

View this post on Instagram

 

Most recently, Abhay Deol, who is active on Instagram, took to his profile to share a snippet from the classic Tom & Jerry comics, using the cartoon to take a sharp jibe at his industry's poor understanding of a woman's consent. The comic strip shows Tom Cat kissing, spanking, and hugging a female cat, despite her warning him not to touch her. But Tom's aggressive charms work wonderfully on her, and she is left lusting after him as he walks away after violating her. Deol captioned the post, "#tom must have been watching a lot of Bollywood movies! #nodoesnotmeanconvinceme."
Also Read: Indoo Ki Jawani Trailer: This India-Pakistan Romcom Hits The Wrong Mark With Garish Humour
The Dangers Posed By Bollywood's Representation Of Consent
Countless Bollywood films have been built upon this faulty premise of a woman's "no" actually meaning a "yes." "Ladki ki haan mein hi naa hai." From Darr to Dilwale Dulhania Le Jaayenge to Raanjhanaa, the glorification of stalking as a form of love has been packaged as wholly valid without condemnation. Pursue the girl to the point of terrorising her until she gives in to your wily charms and falls head-over-heels in love with you: this has consistently been Bollywood's go-to tip for Indian men wanting a prospective lover to reciprocate their love.
And needless to say, a country that worships and prides itself on its film culture has tried to apply this solution liberally to real life. We saw it happen with the Ballabgarh shooting case recently, and then again, over the years. In 2015, an Indian man in Australia, who was reportedly accused of stalking two women over a period of one year, pleaded guilty in court with the defence that he learnt this behaviour from Bollywood films.
Also Read: Where Is The Outrage Over Demeaning Portrayal Of Women In Films?
To beckon a change in our films, as regards a woman's choice of love and marriage, we need more personalities like Deol to speak up in all boldness. For them to call a spade a spade, without unfounded worry about losing out on fat pay-checks and audience appeal.
Views expressed are the author's own.